Virginia football steals 4-star receiver off of Tobacco Road
By Jerry Ratcliffe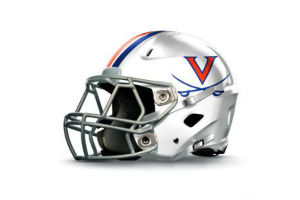 There was lots of drama during Dakota Twitty's football commitment announcement on Wednesday at Thomas Jefferson Classical Academy in Mooresville, N.C.
Surrounded by his family and coaches, the 4-star wide receiver had caps from his final four schools spread out on the table: N.C. State, Georgia Tech, Yale and Virginia. After thanking his family and coaches for their sacrifices in helping him get to this point, Twitty pulled off his Thomas Jefferson sweatshirt to reveal his college choice, another Thomas Jefferson school, Virginia's Cavaliers.
At that point, Twitty's parents and three siblings also removed their sweatshirts to display Virginia T-shirts underneath.
It was a great recruiting coup for UVA and Bronco Mendenhall who stole the big-time receiver out of Tobacco Road. North Carolina had been in hot pursuit, while Indiana, West Virginia, Pitt, Louisville, Kentucky, Ole Miss and Howard (Twitty's father, Derrick played there). NC State felt good about its chances until the sweatshirts came off.
At 6-foot-5, 215 pounds, and a 4.3 GPA, Twitty is a natural. He's rated the No. 8 rising senior in the state of North Carolina according to 247Sports composite rankings. Twitty has hauled in 25 touchdown receptions in three seasons (one season shortened to seven games because of the pandemic).
"I would say, being a big receiver, not only can I go up and get the jump balls but I'm able to run all the routes that smaller guys are able to run," Twitty told Fayetteville (NC) Observer recruiting analyst Sammy Batten. "I'm able to get into the slot and I'm able to manipulate defensive backs like some of the smaller guys are able to do.
ESPN national recruiting director Tom Lemming agreed.
"He has great length, long arms, quick hands and feet to play either wide receiver or tight end," Lemming reported. "Very impressive player who can run routes from the slot or outside. Great hands."
Virginia offered Twitty on April 20 and aggressively recruited the highly-sought after wide receiver from that point onward. One of UVA's advantages was wide receivers coach Marques Hagans, who has produced several top-notched receivers for the Cavaliers.
"Coach Hagans is just a great guy," Twitty told 247Sports/North Carolina. "Talking to him and building a relationship with him, he's good to be around. He doesn't sugar coat things. He tells you but he always wants you to get better so he is always doing his best to help you get better, even if you are not a receiver. He always preaches to do better in every aspect of your life, not just football."
Twitty called Mendenhall well in advance of his announcement to inform the UVA coach of his decision to become the Cavaliers' fifth commitment for the Class of 2022.
"It was me and my parents, and Coach Hagans and Coach Mendenhall on a Zoom," Twitty said. "When I told [Mendenhall], he was sitting in a roller chair, and like spun around."
The Twitty's are a committed family. Thomas Jefferson coach Jerry Cash pointed out that they drove Dakota several hours to get him with his personal trainer, a former All-American at Florida.