Virginia Hoops Notebook: Complete Update On 'Hoos In NBA, World Cup & Recruiting
By Jerry Ratcliffe & Scott Ratcliffe
Virginia basketball legend Wally Walker, hero of the 1976 ACC Championship team, was watching TV last week when he saw the crawl at the bottom of the screen with NBA free-agent updates.
When news popped up that Malcolm Brogdon had agreed to a deal with the Indiana Pacers, Walker became completely engaged. He had talked to Brogdon only a few days before and was highly interested in what would happen with his fellow Wahoo's free agency.
Brogdon, who had just finished up a three-year deal with the Milwaukee Bucks, was an unrestricted free agent who had built value in becoming NBA Rookie of the Year, and followed that with two solid seasons.
Certainly, Walker was intrigued on several levels. One, as a friend and fellow UVA alum, but also from his perspective as a former NBA player, a former NBA general manager and president (Seattle Super Sonics).
The Pacers had traded a future first-round pick and a pair of second-round picks to the Bucks, and had offered Brogdon a four-year deal worth $85 million.
Walker immediately picked up the phone and called Pacers' head coach Nate McMillan, a good friend, and someone that Walker once hired as head coach of the Sonics.
"So I called Nate and when he picked up the phone, Nate didn't say hello or how you're doing, or anything like that," Walker laughed. "Instead, he said, 'I'm going to take care of him.' He knew exactly why I was calling. He had just talked to Malcolm and was thrilled to have him on his team."
Thrilled might be an understatement.
Pacers president Kevin Pritchard was so giddy over signing Brogdon that he said at the introductory press conference, "This is the day we pinch ourselves," and, "This is one of the best days in this franchise's history."
Heady stuff.
Stuff, however, backed up by McMillan, not exactly the most emotional guy in the world. Indiana wanted Brogdon badly, but thought it would be close to impossible to acquire their No. 1 offseason objective. In fact, Pritchard revealed that he believed the Pacers had only a 10-percent chance of luring Brogdon to Indy.
When the deal with Milwaukee came through, McMillan was so excited that he admitted, "I think I started screaming."
Pritchard confirmed it.
"He did," Pritchard said. "That was the most excited I've seen him in 10 years."
Brogdon, who was in Charlottesville the night before for a fund-raising event involving NBA2o, the basketball affiliate of former NFLer Chris Long's "Waterboys," wasn't allowed to talk about free agency while in town. Everyone at the event wished him well and knew that he was about to receive an incredible deal. But 85 million? That was more than most people imagined.
However, Brogdon said that he had always wanted to play for the Pacers since meeting with them at the 2016 NBA Draft Combine. He believed the Pacers system was built around the same thing he thrived in at Tony Bennett's Virginia program: strong work ethics, teamwork and humility.
No wonder the Indiana brass were so excited to land such a solid player and solid person to help the Pacers franchise achieve greatness.
Meanwhile, in Atlanta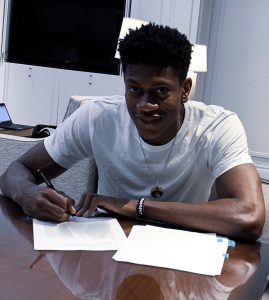 The Hawks' front office moved heaven and earth in an effort to trade up for the No. 4 pick in the draft so they could select De'Andre Hunter.
Atlanta traded the No. 10, 17, and 35 picks to the New Orleans Pelicans in order to acquire the No. 4 slot and take the Virginia star. The Hawks GM, Travis Schlenk, said, "This year there were some guys we targeted and we went out to get them."
Head coach Lloyd Pierce was diligent in scouting Hunter. The Hawks were the only club that Hunter worked out for and seemed like a perfect fit. Pierce went the extra mile to make sure.
In fact, when Hunter was in Atlanta for his workout, Pierce put him through not only the physical part of basketball, but the mental focus, hoops IQ, as well.
"I watched a lot of film [with Pierce]," Hunter said.
The UVA star thought it was a little weird that he was watching so much film with the coach and wondered if all teams did this sort of thing. He had to accept the notion that was the case, because as aforementioned, it was the only NBA team he worked out for.
"[Pierce] was quizzing me when I worked out. Did I know the plays? I felt like I did," said Hunter, always a man of few words.
In fact, Pierce offered up clips of UVA's national championship win over Texas Tech and asked Hunter to break down plays in that game.
In the end, both the Hawks and Hunter each got what they wanted as a young Atlanta team with a roster dotted with former ACC players, hopes to build a contender.
Jerome in the Desert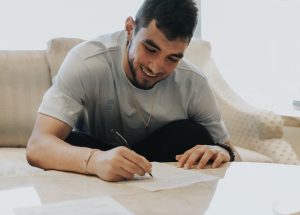 "He's the best playmaker and lead ball handler in the draft. He comes from a good culture and program," said Phoenix Suns general manager James Jones about Virginia's Ty Jerome, a first-round choice.
Suns fans were surprised and dismayed that they'll have to wait to see what Jones was talking about. Phoenix announced that both rookies, Jerome and Cam Johnson, will not participate in the NBA's Summer League games in Las Vegas.
"After careful consideration, they will not participate in the summer league games," Jones said. "They have not had adequate opportunities to practice and train with our team. We are excited to have them with us and look forward to seeing them play this upcoming season."
Suns fans were miffed because other NBA club's draft choices that also had not had an opportunity to practice, such as the Hawks' De'Andre Hunter, were permitted to join in the summer league contests.
Phoenix did not reveal terms of its contract with Jerome, the No. 24 overall pick in the draft. However, the NBA rookie salary scale dictates that players sign for between 80 and 120 percent of the draft slot of the rookie scale. Jerome will likely earn $2.2 million his first season.
Anyone who is familiar with Jerome's competitive fire, immediately knew that he wasn't happy when told he would be held out of summer league play.
"I was really disappointed to be honest," Jerome said when asked about the decision. "I love competing. But I trust the front office and coaching staff. It's not the end of the world."
Jerome did not work out with the Suns but did meet twice with the organization and was impressed that new coaches are attempting to change the culture. They shouldn't have to worry about him.
"Just competing," Jerome answered when asked what he will bring to the table. "That's what Coach Bennett preaches when you step onto the court. Just compete."
He said draft night was one of the best nights of his basketball career, which also includes the national championship. He is also pleased that former Cavalier teammate Jack Salt is on the Suns' summer league roster.
"Everyone will find out how good of a screener [Salt] is," Jerome smiled. "Jack is great."
'Hoos in the NBA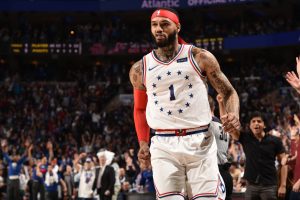 # Meanwhile, the Atlanta Hawks decided not to re-sign former Cavalier Justin Anderson, who has now played for Dallas, Philly, and Atlanta. As of today, Anderson, who pronounced himself 100 percent healthy during an appearance in Charlottesville a little more than a week ago, has not signed with an NBA club.
# Former UVA standout Mike Scott has agreed to a two-year, $9.8 million deal to return to the Philadelphia 76ers.
# Joe Harris already elected to re-sign with the Brooklyn Nets for $16 million and has settled in to that organization as one of the NBA's top long-distance shooters.
'Hoos of Summer
Five former Cavaliers are competing in the MGM Resorts NBA Summer League in Las Vegas — Hunter, Guy, London Perrantes, Devon Hall and Jack Salt. Jerome is in Vegas but will not be participating, as noted above.
Hunter, the No. 4 pick in the June draft, has missed two of his three Summer League games so far. Like Jerome, Hunter's trade wasn't made official until the event had already started, and he didn't make his Summer League debut until Sunday afternoon.
He wasn't signed until about 1 a.m. ET Sunday, so he was ineligible for the team's opener on Saturday. Hunter then sat out Tuesday's contest against the Pacers with a sore knee.
In the one game he did play against Minnesota, Hunter finished with 6 points (2 for 8 FG, 1 for 3 from 3), 3 rebounds, an assist and a steal in 21 minutes.
Guy continued his impressive play in his first two games in Vegas after averaging a dozen points in three California Classic contests last week.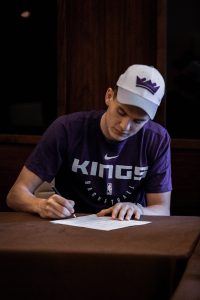 In his first two games in "Sin City," Guy has opened even more eyes with his confidence and shooting stroke. He posted a game-high 21 points on 6-of-11 shooting (2 for 6 from deep, 7-7 FT), 2 rebounds, 5 assists and a steal against Team China (30 minutes) in his Vegas debut, which prompted the Kings to sign him to a two-way contract, meaning he will be splitting time between Sacramento and the G-League affiliate team in Stockton.
Guy followed that up with a 19-point outing late Monday night against Dallas (7 for 16, 3 3-pointers), adding 3 assists, 2 rebounds, a block and two steals in a game-high 33 minutes.
Perrantes had an interesting debut of his own, as the Pelicans' Friday game was cut short (at the 7:53 mark of the fourth quarter) due to the earthquake that originated in his home state of California, over 100 miles away. He started the game and posted 4 points, 5 rebounds and 3 assists in 20 minutes.
Perrantes, who split time with a pair of French clubs last season, then played a team-high 32 minutes Saturday against Washington. He had 6 points, a game-high 7 assists and a game-high 4 steals, and then did not play against the Bulls Monday night.
Perrantes played 14 games for Cleveland as a rookie, transitioning between the G-League's Canton Charge on a two-way deal in 2017-18 before going overseas.
Hall has started all three games so far for the Thunder in Vegas, but struggled a bit with his shot in the first two. OKC's No. 53 overall pick in 2018, Hall was 0 for 4 in the opener against Utah, then followed that with a 3-for-11 performance (0 for 8 from deep) against the 76ers.
He broke the slump Tuesday, knocking down 4 of his 6 attempts (2 for 3 from beyond the arc) against Team Croatia. Hall, who started last season in the NBL in Australia, moved over and finished the season out with the Oklahoma City Blue in the G-League, where he averaged 7.3 points (25 for 67 FG, 19 for 45 from 3-point land) in 10 games.
Salt's first game in Vegas, which would have been played late Friday night after the New Orleans-New York game, was cancelled. The big man had to wait until Sunday, when he put up 2 points (1 for 3 FG) and grabbed a rebound in 7 minutes for the Suns against the Knicks. He did not enter the Suns' Tuesday game against the Grizzlies.
Salt is hoping to catch on with an organization and will have a few more opportunities to show what he's capable of.
The preliminary round will conclude Thursday after each squad has played four contests (except for the Pelicans and Knicks, who will only play three).
The top eight teams will advance to the playoff round, while the remaining 24 teams will play an additional consolation game this weekend.
Caffaro and Stattmann's World Cup experience
UVA redshirt freshman Francisco Caffaro and sophomore Kody Stattmann each represented their respective countries in the FIBA U19 World Cup in Greece last week.
Caffaro was impressive for Team Argentina, posting tournament averages of 7.4 points and 9 rebounds in 24.1 minutes. He posted double-figure rebounding performances in four of his seven games, all off the bench, with a high of 15 against Puerto Rico in the Round of 16. Caffaro shot 44 percent (20 for 46) from the field for Argentina and blocked a total of 8 shots.
Caffaro had a few power-slam follow finishes, a skill that will come in handy when ACC play rolls around.
He will need to work on his free-throw shooting, as he shot just 38 percent from the stripe (12 for 32).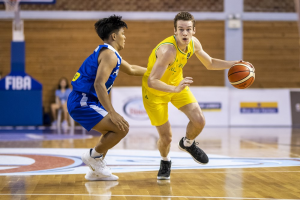 Stattmann's scoring ability was on display throughout the event for Team Australia. He averaged 10.3 points in his seven games in Greece, with a high of 21 against defending champion Team Canada in the opener.
Stattmann averaged 22.2 minutes a game and shot 35 percent from the field (29 for 84), and 22 percent from long range (9 for 41). He grabbed 3 boards a contest and swatted 9 shots, while registering 8 assists and 8 steals throughout the week.
Argentina finished 11th in the event, while Australia finished 9th. Caffaro and Stattmann will certainly be called upon more often in a few months, and the international experience could pay some big dividends as the UVA season commences.
Recruiting update
The biggest news on the Virginia recruiting front could come Wednesday when 4-star Wahoo priority target Jabri Abdur-Rahim announces his decision (read more here).
The top recruiting services are predicting a UVA commitment to fill the final 2020 scholarship after Abdur-Rahim's recent official visit to Charlottesville.
Keon Johnson, who has trimmed his list to Virginia, Tennessee and Ohio State, will announce his commitment on Aug. 6.
Henry Coleman III, who just picked up an offer from Florida State, told reporters at Top 100 Camp last month that he plans to cut his choices down to seven schools by the end of July ahead of his decision, which he said would likely be made in the fall.
UVA's two verbal commitments for the 2020 class — Reece Beekman and Carson McCorkle — will be showcasing their talents on the big stage this week.
Beekman plays for "Phenom University," a Nike EYBL team out of Wisconsin that will participate in the D1 Circuit Peach Jam national tournament Wednesday through Sunday in North Augusta, S.C. Beekman averaged 10.8 points, 4.2 rebounds and 6.9 assists during the EYBL spring session.
McCorkle, meanwhile, will be competing with Garner Road (NC) in the Adidas Gauntlet Summer Championships Thursday through Sunday in Birmingham. Johnson (Team EAB) and Coleman (Team Loaded) will also be playing in Birmingham this week.
Abdur-Rahim will not be participating in the Peach Jam after averaging 25.2 points during the EYBL spring season for Playaz Club (NJ).
A current Cavalier has been a member of the last two Peach Jam championship teams — Kihei Clark scored a team-high 18 points to lift the Oakland (CA) Soldiers to the title in 2017, while Casey Morsell led Team Takeover (DC) all the way in 2018. Can Beekman keep the trend going?
Comments