Virginia in a recruiting dogfight for nation's best shooter, 4-star Knueppel
By Jerry Ratcliffe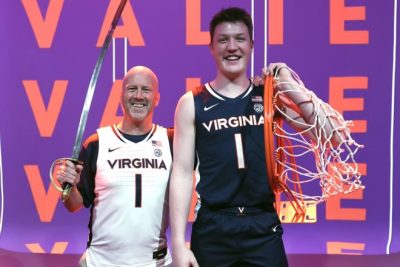 One of the nation's top 20 prospects in the recruiting class of 2024 is strongly considering Virginia as he begins to focus on a college basketball home.
Kon Knueppel, ranked the No. 16 player in the country by On3, is looking at Virginia, Notre Dame, Ohio State, Louisville, Marquette and Wisconsin. He has already taken official visits to UVA and Notre Dame along with Stanford, which he is no longer considering. He plans on visiting the other four schools on his list and revisiting Notre Dame, because his previous trip to South Bend came before Mike Brey stepped down as head coach.
Knueppel is a sharpshooter, considered one of the best shooters in the nation, and the 6-foot-5 shooting guard led the EYBL Circuit in scoring this spring. He averaged 22.5 points per game and made 46.7 percent of his 3-point attempts.
"I can shoot," Knueppel told On3's Jamie Shaw in a recent interview. "The scouting report would be not to let me get to my spots and shoot. I just want to win. That is always my team's goal, whatever it takes. This EYBL season, my team needed me to score, but winning is the goal."
The deadeye shooter was impressed with everything on his visit to Virginia.
"Coach Tony Bennett is awesome, a great guy, a really top-notch guy," Knueppel told Shaw. "All the people over there are really good people. They play really hard and you can tell they all play for their coach. That is something I do for sure. They share the ball, play the right way and play great defense. That's something that's really admirable."
Notre Dame will get a second visit, not only because it has a new head coach, but because new associate head coach Kyle Getter was recruiting Knueppel for Virginia before Getter moved to South Bend.
Knueppel comes to the game with a great heritage in hoops. His dad, also Kon Knueppel, was one of the top scorers in Wisconsin Lutheran College history, putting up more than 2,000 career points. Chari (Nordgaard) Knueppel, remains Wisconsin Green Bay's all-time leading scorer (1,954 career points). It should be noted here that UVA's Bennett starred at Wisconsin Green Bay for his father, Coach Dick Bennett.
Also in Knueppel's family are uncles Klay, Klint and Kole, who were known as the "Flying Knueppel Brothers," all solid players, along with uncle on his mom's side, Jeff Nordgaard, the NBA's Milwaukee Bucks' second-round draft pick in 1996.
Knueppel told On3 that he plans to make his commitment before his high school season starts this year.
He wants to play for a program where he can get better, so player development is high on his list. He also wants to commit to a school where he can play right away, and play for a program that wins.
"I can get into a lot of different styles of play," the blue chipper said. "Obviously, there are some things that are better about different programs, but I'll look at all that, but I don't think any one style or program sticks out with that."