Virginia in Third Place at ACC Championships After 36 Holes
Courtesy UVA Sports Media Relations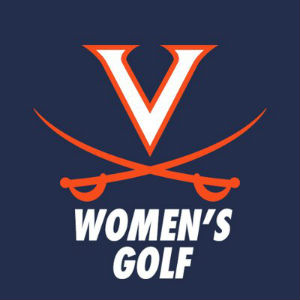 The No. 17 Virginia women's golf team is in third place following 36 holes of play Thursday at Sedgefield Country Club in Greensboro, N.C. Due to the threat of inclement weather on Friday, the tournament's format was altered to feature two rounds Thursday. Play resumes Saturday with the final round.
Wake Forest, ranked No. 8, finished the day in first place at 9-under 567. Ninth-ranked Florida State is second at 1-over 577 while UVA shot 4-over 580 and No. 3 Duke is in fourth place at 5-over 581.
UVA had rounds of 2-under 286 and 6-over 294.
Cavalier senior Anna Redding led UVA with rounds of 70 and 72 for a 2-under total of 142. She finished the day in fifth place. Senior Katharine Patrick is in 10th place at 1-over 145. She shot 76 in the morning and posted the team's best 18-hole score, 3-under 69, during the afternoon.
Sophomore Beth Lillie is tied with freshman Riley Smyth for 28th place at 5-over 149. Lillie shot 70 and 79 while Smyth posted scores of 72 and 77. Senior Morgan Gonzales rounded out UVA's scoring in 34th place with a 150. She shot 74 and 76.
UVA will be paired with Wake Forest and Florida State during Saturday's final round. They will tee off starting at 9:20 a.m. from the first tee. Live scoring of the tournament is online at Golfstat.com. ACC Network Extra will broadcast the final round of the tournament starting at 1:30 p.m.
ACC Championships
Sedgefield Country Club
Greensboro, N.C.
Par-72, 6,089 yards
Second Round Results
Team Results
1. Wake Forest — 280-287-567
2. Florida State — 292-285-577
3. Virginia — 286-294-580
4. Duke — 289-292-581
5. Virginia Tech — 293-295-588
6. Louisville — 294-297-591
7. North Carolina — 295-301-596
8. Boston College — 297-302-599
9. Miami — 297-303-600
10. Clemson — 308-300-608
11. Notre Dame — 303-307-610
12. NC State — 303-308-611
Individual Leaders
1. Emilia Migliaccio, Wake Forest — 66-71-137
2. Ana Belac, Duke — 72-68-140
3. Siyun Liu, Wake Forest — 68-72-140
Virginia Results
5. Anna Redding — 70-72-142
10. Katharine Patrick — 76-69-145
28. Beth Lillie — 70-79-149
28. Riley Smyth — 72-77-149
34. Morgan Gonzales — 74-76-150

Comments