Virginia lands another commitment, 6-10 high school big Robinson from North Carolina
By Jerry Ratcliffe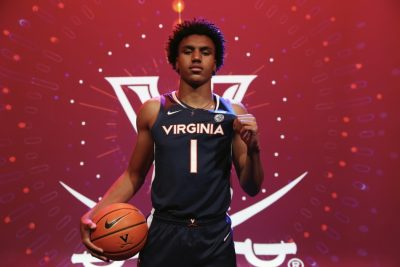 For the second time this week, Virginia basketball has added another player to its once-depleted roster and now has filled 11 of 13 scholarships for next season.
Anthony Robinson, a 6-foot-10, 235-pound power forward/center from The Christ School in Arden, N.C., announced his commitment to UVA via his Twitter account on Saturday. Robinson is a 3-star prospect who was previously committed to South Florida, but asked out of that commitment recently.
He will be an incoming freshman out of high school for the UVA recruiting class of 2023. He is described as a raw prospect with potential and could be a candidate for redshirting this year.
Robinson was approached by Vanderbilt and Georgia after his recent decommitment, both more advanced basketball programs than the list of schools that previously attempted to sign him earlier this year.
Robinson's commitment came on the heels of Oklahoma transfer Jacob Groves earlier in the week. Groves is a 6-9 stretch forward, who played in 32 games for the Sooners last season (see related story on this site).
#AGTG🙏🏽 COMMITTED!! 💙🧡 #gohoos @TiptonEdits @Coach_Coley @greeniesports pic.twitter.com/AJ59wKeBOo

— Anthony Robinson (@AnthonyRob35) April 29, 2023
Virginia now is holding only two remaining scholarships for next season, including one being reserved for guard Reece Beekman, should he pull his name out of consideration for the upcoming NBA Draft. Beekman has until May 31 to withdraw.
That leaves one possible scholarship, which could go to shooter Blue Cain or high school junior Jarin Stevenson, who is rated the No. 12 prospect in the nation for the Class of 2024. Both have visited Virginia.
How UVA signing shooting guard Andrew Rohde recently might impact its connection to Cain isn't known. Rohde is a 6-4 guard who transferred from St. Thomas University and was the third-highest freshman scorer in the nation last season.
Stevenson has considered possible reclassification to the Class of 2023, which he said was about 50-50 some time ago. He is also considering UNC, NC State and others.