Virginia opens season with 33-6 win at American
Courtesy UVA Media Relations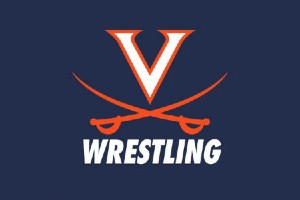 The Virginia wrestling team (1-0) opened the 2021-22 season with a victory on Saturday night (Nov. 6) taking a 33-6 win over American (0-2) at Bender Arena.
The Eagles wrestled in back-to-back duals on the day after facing Sacred Heart immediately prior to taking on the Cavaliers.
The Cavaliers won eight weight classes on the night to grab the dual victory over the Eagles. After dropping the opening bout, Virginia won seven straight weight classes – including a trio of bonus-point victories – to secure the season-opening win.
Brian Courtney got the run started at 133 pounds with a decision before Dylan Cedeno produced the night's first pin at 141 pounds. Jarod Verkleeren then won by decision at 149 pounds before Jon Errico and Justin McCoy would produce bonus-point victories with a tech fall by Errico at 157 pounds and a major decision by McCoy at 165 pounds. Justin Phillips assure Virginia of the win with his decision at 174 pounds before Michael Battista would win the seventh straight weight class with a decision at 184 pounds.
Quinn Miller ended the night with the Hoos' second pin in the first period at heavyweight.
INDIVIDUAL RESULTS
125: Andy Fallon (AU) dec. No. 33 Patrick McCormick, 6-4 (sv-1) – AU 3, UVA 0
133: No. 19 Brian Courtney dec. Jack Maida (AU), 7-3 – UVA 3, AU 3
141: Dylan Cedeno pinned Ethan Szerencsits (AU), 1:24 – UVA 9, AU 3
149: No. 31 Jarod Verkeleeren dec. Patrick Ryan (AU), 6-1 – UVA 12, AU 3
157: Jon Errico tech fall Cole Painter (AU), 17-2 (5:26) – UVA 17, AU 3
165: No. 20 Justin McCoy major dec. Tim Fitzpatrick (AU), 12-4 – UVA 21, AU 3
174: Justin Phillips dec. Colin Shannon (AU), 5-2 – UVA 24, AU 3
184: Michael Battista dec. Connor Bourne (AU), 6-1 – UVA 27, AU 3
197: Will Jarrell (AU) dec. Ethan Weatherspoon, 5-3 – UVA 27, AU 6
285: No. 21 Quinn Miller pinned Isaac Righter (AU), 2:12 – UVA 33, AU 6
NOTES ON THE DUAL
With the win, Virginia improved to 13-1 all-time in the series against American.
It's the sixth straight win for Virginia in the series, though it's the first meeting since 2009.
Two Cavaliers won their UVA debuts as grad transfers Jarod Verkleeren and Jon Errico both won their bouts.
Virginia has won the season-opening dual for the third consecutive season with the victory.
Two Hoos picked up the victory in their first dual competition for UVA – Dylan Cedeno and Justin Phillips.
FROM ASSOCIATE HEAD COACH TRAVIS PAULSON
"It's fun being in the corner when the majority of our guys are going out and wrestling to score bonus points. If we can get all 10 to buy into that mindset, then we'll really have something. We left some points on the board, but we'll break down the film and tighten some things up.
I liked what I saw out of Justin McCoy. He moved up a weight class this season and won via major decision against a returning NCAA qualifier. Dylan Cedeno and Jon Errico had great UVA debuts. Dylan had a pin in the first period and Jon won 17-2. Quinn Miller led by example capping the night off with a first period pin. Today was a good first test and a step in the right direction."
UP NEXT FOR THE HOOS
Virginia will return to dual action next weekend when the Cavaliers travel to face former ACC rival Maryland. The Cavaliers and Terrapins will face off in a 7 p.m. match on Friday (Nov. 12).