Virginia rallies but comes up short in 22-20 loss at Syracuse
By Scott Ratcliffe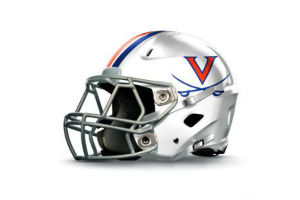 Virginia fought back from a 16-point halftime deficit, but a late penalty wiped out a golden opportunity in a 22-20 loss at Syracuse in the ACC opener Friday night.
The Cavaliers (2-2, 0-1 ACC), leading by a point, came up with an apparent crucial third-down stop in the waning moments that could have sealed the comeback win, but a facemask call on Hunter Stewart right around the 4-minute mark kept Syracuse's game-winning drive alive.
The Orange (4-0, 2-0) were able to squeak out the two-point victory, thanks to the late-game blunder, as Andre Szmyt booted home the go-ahead field goal with 1:14 to play.
FIRST QUARTER
Syracuse's Trebor Pena took the opening kick return 57 yards right off the bat into UVA territory. After two Shrader first-down passes to Oronde Gadsden II, the Orange were in the red zone, just a minute into the contest.
Shrader ran it in himself on a 17-yard scamper to give Syracuse a quick 7-0 lead with 12:18 left in the opening period.
The Virginia offense was able to move the ball on its following two possessions, but Brendan Farrell misfired wide right on a pair of field-goal attempts — the first from 51 yards out, the next from 48 just over two minutes later after a Jonas Sanker fumble recovery.
Syracuse added to its lead with a 26-yard Andre Szmyt field goal with a minute left in the period, giving the home team a 10-0 advantage through a quarter.
SECOND QUARTER
Chico Bennett and Ben Smiley teamed up for a sack on a third-down play coming out of the stoppage, forcing another Szmyt field goal, this time from 32 yards out, and UVA was down 13-0 with 14:15 on the clock.
Szmyt added another 28-yarder with 1:21 left to put Virginia in a 16-0 halftime hole.
THIRD QUARTER
Virginia finally got on the board on its opening drive of the second half, as Keytaon Thompson's 1-yard touchdown plunge cut the Syracuse lead to 16-7 with 9:46 left in the period. UVA went 75 yards in 10 plays to get back into the ballgame.
The Cavaliers were back in the end zone 20 seconds later, as Pena coughed up the  ensuing kick return — popped out by Jonathan Horton, recovered by Donovan Johnson —  at the Syracuse 13-yard line.
A late hit out of bounds on Thompson gave the Hoos a 1st-and-goal from the Syracuse  4-yard line, and Perris Jones scored to cut the Orange lead to 16-13, as freshman kicker Will Bettridge's point-after attempt was blocked with 9:26 on the clock.
Syracuse added to its lead with yet another Szmyt 40-yard field goal to stretch the Orange lead to 19-13 with 24 seconds left in the quarter.
FOURTH QUARTER
Armstrong put the Cavaliers in front, 20-19, with a touchdown toss to Lavel Davis Jr. with 5:51 to play.
Darius Bratton notched an apparent huge third-down stop, but Stewart's facemask call, which would've essentially sealed the deal, kept the Syracuse drive alive, as Szmyt's 31-yard game-winner went through the uprights with just 1:14 to play.
Game Stats
Scoring Summary
Virginia   0  0  13  7  — 20
Syracuse   10  6  3  3  — 22
First Quarter
SU (12:18) — Garrett Shrader 17-yd run (Andre Szmyt kick). Syracuse 7, Virginia 0.
SU (1:00) — Andre Szmyt 26-yd field goal. Syracuse 10, Virginia 0.
Second Quarter
SU (14:15) — Andre Szmyt 32-yd field goal. Syracuse 13, Virginia 0.
SU (1:21) — Andre Szmyt 28-yd field goal. Syracuse 16, Virginia 0.
Third Quarter
UVA (9:46) — Keytaon Thompson 1-yd run (Will Bettridge kick). Syracuse 16, Virginia 7.
UVA (9:26) — Perris Jones 4-yd run (kick blocked). Syracuse 16, Virginia 13.
SU (0:24) — Andre Szmyt 40-yd field goal. Syracuse 19, Virginia 13.
Fourth Quarter
UVA (5:51) — Lavel Davis Jr. 4-yd pass from Brennan Armstrong (Will Bettridge kick). Virginia 20, Syracuse 19.
SU (1:14) — Andre Szmyt 31-yd field goal. Syracuse 22, Virginia 20.
UP NEXT
The Cavaliers remain on the ACC road next weekend, with a trip to Durham to face Duke Saturday at 7:30 p.m. ET (ACC Regional Sports Networks).
Comments