Virginia rally comes up short in series-opening loss at Georgia Tech
Courtesy UVA Media Relations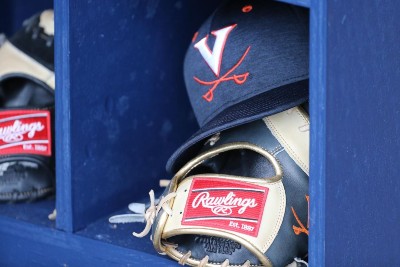 Virginia (11-14, 4-12 ACC) nearly erased a six-run deficit in its final two turns at the plate but ultimately came up short in a 6-5 loss to No. 6 Georgia Tech (14-7, 11-5 ACC) on Thursday at Mac Nease Park. It marked the fourth one-run loss in ACC play this season.
Georgia Tech scored the first six runs of the game, five of them came with two outs before Virginia nearly pulled off the improbable. Alex Tappen (Lower Gwynedd, Pa.) put the Cavaliers on the board in the eighth inning with a pinch-hit, two-RBI double down the right field line. The next batter, Max Cotier (New Milford, Conn.) plated Devin Ortiz (Nutley, N.J.) with an RBI groundout to cut the Yellow Jacket lead to 6-3.
Trailing by three runs going into the ninth, the first two Cavaliers, Chris Newell (Newtown Square, Pa.) and Zack Gelof (Rehoboth Beach, Del.), singled to bring the tying run to the plate. Newell scored on a Yellow Jacket throwing error to make the score 6-4 and Brendan Rivoli (Douglassville, Pa.) drove in the fifth Cavalier run on a groundout to the right side.
With the tying run on third base, Georgia Tech closer Luke Bartnicki struck out the final batter of the game to help the Yellow Jackets hold on to the 6-5 victory. Bartnicki fanned two of the last three batters in the frame to secure his third save of the year.
Gelof went 3-for-5 with a run scored to lead all Cavalier hitters. It marked his second, three-hit game of the season. Ortiz was the other multi-hit performer for the Virginia lineup, finishing 2-for-4 with a run scored.
After Georgia Tech scored all six of its runs in the first four innings, reliever Kyle Whitten (Manassas, Va.) settled things down, tossing three innings of scoreless relief. The senior allowed just two Yellow Jacket hits and struck out one in his team-leading 14th appearance of the year.
Freshman Jake Berry (Great Falls, Va.) kept UVA within three by pitching a scoreless eighth inning. He got Kevin Parada, who already had four hits on the day, to lineout into a double play to end the frame. It was one of two double plays turned by the Virginia infield in the contest.
Georgia Tech starting pitcher Brant Hurter hurled seven scoreless innings and struck out eight batters while walking none to earn his third win of the season.
Virginia will look to even the series on Friday (April 2) in the second of three-game series at Georgia Tech. The Cavaliers will have lefty Andrew Abbott (2-4) on the mound and he will be opposed by righthander Andy Archer (4-1). First pitch is scheduled for 6 p.m. and the contest will air live on ACCNX.
Comments