Virginia seeking an 11th football opponent
By Jerry Ratcliffe
Virginia is actively searching for an 11th football opponent to replace the cancelled game against VMI.
Bronco Mendenhall mentioned those intentions during the Cavaliers' virtual "Meet the Team" event over the weekend. He did not indicate where UVA is looking to find an opponent, but such an addition would have to play the game in Virginia and would have to fit one of the Cavaliers' open dates: Sept. 12, Sept. 26 and Nov. 21.
"Just to be blunt, I was hoping to play 10 conference games," Mendenhall said in reply to the question about the possibility of finding a replacement for VMI. "Ten keeps us safer than 11. We're being encouraged to [find an extra game], and so we're looking right now."
Mendenhall did not say who is encouraging an 11th game, but speculation is the ACC has asked all its members to add an 11th nonconference game to fill out schedules and enhance bowl opportunities.
"We have two open dates, as well as the week before our opener (Sept. 19 at Virginia Tech), so we're actively working. That doesn't mean I'm promising, but we're actively working. There could be another game scheduled and hopefully it's the game that fits really well within our existing schedule, within a place that would be safe for that team to be coming from with protocols in place, certainly that they would commit to, otherwise we wouldn't consider them.
"So that's a work in progress still. I just try to manage what's the likelihood today of a game. Where might it happen? What week of the season? Would it be our opener and then I try to adjust practice, if possible, or necessary based on what I think the likelihood is. That's a moving target."
Some members of the Ohio Valley Conference, Southland Conference and Missouri Valley Conference, all FCS conferences, were told they could play nonconference games this fall at their own discretion after all three of those leagues decided to cancel fall football.
The college football season began Saturday night when members of two of those conferences squared off on national television.
Central Arkansas of the Southland defeated Austin Peay of the Ohio Valley, 24-17. Both of those teams are looking to fill out their schedules if possible.
Austin Peay has only two more games scheduled this season, Sept. 12 at Pitt and Sept. 19 at Cincinnati. Central Arkansas, ranked No. 13 in the preseason FCS poll, has only two more games scheduled, against UAB this Saturday, and Arkansas State on Sept. 19.
"Long time away from our first game still, so lots of time to manage, but with the unique structure we put in place, I think we can use the time certainly and give our team the best chance to be prepared, but also safe. That'll be my focus, if indeed, we don't find a replacement," Mendenhall said.
Originally, Virginia was supposed to open the season on Sept. 7 against Georgia in Atlanta's Mercedes Benz Stadium on Labor Day evening before a national television audience.
Once that game was cancelled, VMI became the opener on Sept. 12. That game was cancelled as well, when the Southern Conference suspended fall football.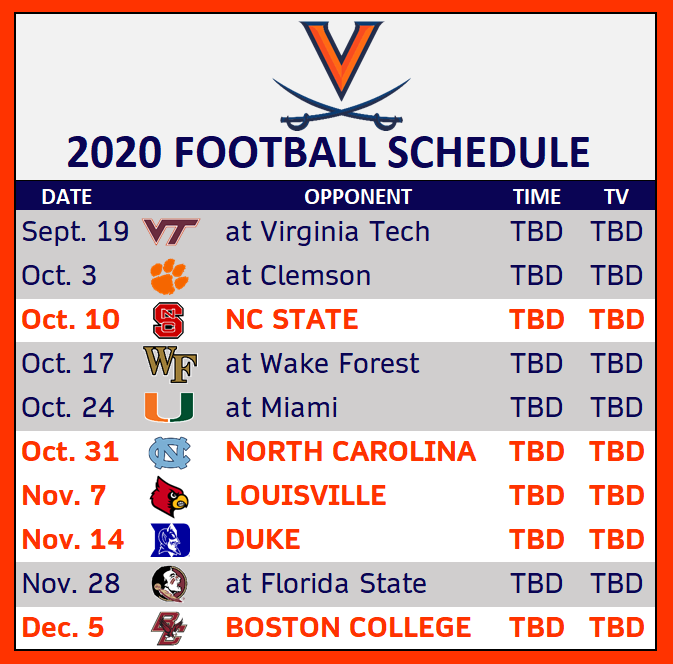 Comments