Virginia shoots lights out as Cavaliers rout Towson in Bubbleville
By Jerry Ratcliffe
Towson coach Pat Skerry compared playing Virginia's basketball team on short notice to being thrown in the water with the sharks.
The Cavaliers smelled blood in the water from the get-go and delivered a convincing 89-54 blow to the Tigers in the season opener for both teams Wednesday at Mohegan Sun resort's "Bubbleville." Neither UVA or Towson knew they were facing one another until the day before as original opponents had to bow out of the event due to Covid-19 issues.
Fourth-ranked Virginia, the ACC's preseason favorite, flexed its muscles early in bolting to a 16-5 lead and never looked back. Tony Bennett's squad had a commanding 42-19 bulge at the break.
The ACC's worst-shooting team a season ago from both the field and the 3-point line, the Cavaliers showed that's not a problem this time around as they shot a torrid 55.6 percent (35-63) from the field and 51.7 percent (15-29) from behind the arc.
While everyone in Wahoo Nation had high expectations from Marquette transfer Sam Hauser, hardly anyone had any idea that Rice transfer Trey Murphy III would even make the trip. Murphy, from Durham, N.C., finished as Virginia's leading scorer with 21 points and an eye-popping 6 for 8 from the 3-point line. Hauser, who had to sit out last season for his transfer, delivered just like UVA fans hoped he might with 19 points (7 of 9 fg, 3-3 on 3-pointers) and 8 rebounds.
The two transfers accounted for 40 of the Cavaliers 89 points and combined to make 14 of 18 shots _ insert the Halielujah chorus here _ not to mention 9 of 11 from Bonusphere.
Oh, and Jay Huff? He made 6 of 8 shots (2 of 3 behind the arc) for 14 points and blocked three shots.
"If they make shots like that all year, they'll be incredibly difficult to beat," Skerry said. "They can spread you out and shoot the ball. That Murphy kid annihilated us."
Skerry forgot the defensive part of the equation. Virginia, largely considered the best defensive team in the nation over the past half dozen years, handcuffed Towson until the waning minutes of the game that were handled by the reserves. The Tigers made only 7 of 24 field goal attempts the first half in a Wahoo runaway.
Bennett & Co. didn't know Murphy was going to play until practice on Tuesday night in Connecticut, where dozens of teams assembled to start their seasons. The greatest mystery over the past few weeks was whether or not Murphy would try to play this season due to new NCAA rules that granted all players an extra year of eligibility due to the pandemic.
UVA was strictly hush hush about the matter until Bennett broke the news in Bubbleville. The school had applied for a waiver from the NCAA to grant Murphy immediate eligibility, and it was granted.
"Coach told me outside of the group," Murphy said. "When he told me I just started smiling from ear to ear, and you couldn't really see because I had a mask on. But me and Coach Bennett, we had a nice, nice time as well.
"Then I walked back into the room, and I feel like the team had a little bit of an idea, because they saw Coach Bennett smile and they saw me smiling through my mask and I was really happy. Then, after the game, I was happy but just excited that my guys, that we got to play and all that good stuff."
There was plenty of good stuff to go around as all 17 of Virginia's players got into the game including Reece Beekman, Kadin Shedrick, Jabri Abdur-Rahim, Carson McCorkle and Malachi Poindexter.
Hauser's wait was longer as he transferred into the program before last season and had to sit for the entire campaign before becoming eligible this season. UVA fans had heard stories slipping out of the Cavaliers' closed practice sessions about Hauser being the best player on the floor.
Wednesday, he provided live evidence.
"I mean all of last year I was chomping at the bit to get back on the court and play with these guys and it's just a relief to be back out there playing with my new teammates," Hauser said. "There was a lot of emotions running through my head yesterday and this morning before the game, but I'm just excited that we're able to play and hope everything works out so we can play again Friday."
The Cavaliers are scheduled to face another last-minute replacement, San Francisco, which filled in for a Florida program on pause due to Covid-19 matters. San Francisco lost its opener on Wednesday, dropping a 76-68 decision to UMass Lowell.
Sophomore Justin McKoy started the game to give the Cavaliers a larger, physical lineup that included Hauser, Huff, Casey Morsell and Kihei Clark. In his first career start, McKoy had 5 rebounds, 3 assists and 2 points in 22 minutes.
Bennett said McKoy has been very competitive and has practiced hard, has improved and plays continuous.
With Virginia's versatility and depth, Bennett will have plenty of options on lineups for the season.
"You could see our depth," the coach said. "I talked to the guys before last night, and our depth can really be good, and I think in practice it's made it competitive.
"We've got to keep figuring things out, different guys at different ties so we can't let our depth become a distraction. To play all those different matchups today and rotations was really good."
Team Notes
UVA is 22-1 in its last 23 season-opening games
Virginia has an eight-game winning streak on opening night and is 11-1 in season openers under head coach Tony Bennett
The Cavaliers are 94-22 all-time in season-opening games
Virginia is 3-0 all-time at Mohegan Sun Arena, capturing wins over Towson this season and UMass (58-46) and Arizona State (48-45) last season
UVA is 36-1 when scoring 80 or more points under Bennett
UVA's 15 3-pointers were its most since making 18 at Syracuse on March 4, 2019
Series Notes
UVA is 7-0 all-time against Towson in the series that dates back to 1985-86
Virginia head coach Tony Bennett is 3-0 all-time vs. Towson
Player Notes
Double Figure Scorers: Trey Murphy III (21), Sam Hauser (19), Jay Huff (14)
Murphy III matched a career high with six 3-pointers in his UVA debut after receiving his waiver from the NCAA on Nov. 24
Murphy III recorded his eighth career 20-point effort
Hauser (19 points) added eight rebounds in his UVA debut
Huff (14 points) added three blocked shots to move into 10th all-time at UVA with 103
Reece Beekman, Kadin Shedrick, Jabri Abdur-Rahim, Carson McCorkle and Malachi Poindexter made their collegiate debuts
Justin McKoy made his first career start
UVA played all 17 players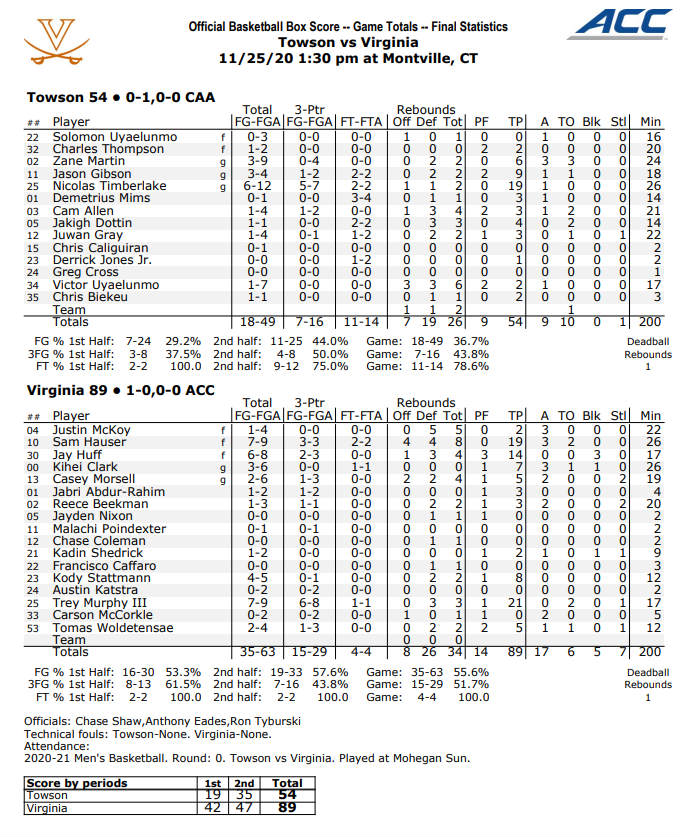 Comments