Virginia slays Wolfpack at the free throw line, increases ACC lead
By Jerry Ratcliffe
Virginia doesn't get to the free throw line often, but when the Cavaliers get there, they make it count.
Such was the case Wednesday night in a 64-57 road win at NC State, when UVA made 20 of 22 free throw attempts for its seventh straight win over the Wolfpack at PNC Arena. The Cavaliers have now beaten State in 13 of the last 14 meetings.
Virginia came into the game next-to-last nationally in getting to the line according to Kenpom.com's analytics. The Cavaliers rank No. 321 in the country (out of 340 teams) in free throw attempts.
However, Tony Bennett's team is as effective as can be at the line. UVA is No. 3 nationally in free throw percentage (80.39).
The Cavaliers made 12 of their last 13 foul shots down the stretch to survive State's fiery upset attempt.
Talk about offensive efficiency, not only were the nation's 14th-ranked team near perfect at the free throw stripe, but solid when it counted most. Virginia trailed 44-43 just under the seven minute mark, before finding another gear and leaving State in its wake.
The Cavaliers scored on 10 of its last 11 trips down the floor to steadily create a cushion between themselves and the Wolfpack, which has now lost six of its last seven outings. State had trailed 41-33 before the Wolfpack's big man, 6-foot-11 power forward D.J. Funderburk took temporary control of the game.
Funderburk, who missed Sunday's loss at Syracuse and was questionable for the UVA game due to a violation of "university policy," rattled off nine of State's 11 points during a nearly six-minute stretch to bring the Wolfpack back from a 41-33 deficit to a 44-43 lead.
Curiously, he was pulled from the game for defensive purposes with 6:37 to play and never returned.
Instead, it was Virginia's golden trio of Sam Hauser, Jay Huff and Trey Murphy III, that took over the game.
Hauser and Murphy, who scored 18 points each, and Huff with 12, combined for 17 of UVA's final 21 points down the home stretch (Kihei Clark added the other 4 on a crucial drive in the paint, and two free throws off another drive).
Huff found Murphy wide open on two key backdoor cuts for easy dunks that stuck a dagger into State's underbelly.
"We tried to open up the floor and attack," Bennett said about combating State's pressure. "Sometimes the lane was a touch more open so you had to make some hard drives and the right decisions off of it."
Virginia shot 46 percent for the game (19-41) and 35 percent from the arc (6-17), but the big difference was at the free throw line where the Cavaliers made 90.9 percent of their 22 attempts. State was 7 of 12 from the line, only 58 percent.
Bennett said he wasn't even aware that Virginia was at the bottom of the ACC in free throw attempts.
"Good to see we got a few more. You look at your team and say, OK, this is who we are, but it doesn't mean you just yield or say we're just not going to get free throws," Bennett said.
The coach liked how Clark and freshman Reece Beekman, both point guards, were aggressive early and set the tone for the Cavaliers. Bennett had criticized his team for being too much of a finesse team in a loss at Virginia Tech last Saturday.
"I guess it goes back to the point of being too finesse," Hauser said about Virginia's ability to get to the free throw line against State. "We didn't settle as much tonight. I think we were attacking, and our guards really did a great job in the second half of being aggressive and getting downhill and forcing the action.
"Obviously, it led to some free throws. When you can make a lot of free throws, it helps build a lead and it helped us tonight to help seal the win."
Virginia's defense was solid and more physical than it was in Blacksburg, holding the Wolfpack to 43 percent shooting (23-53) and a paltry 28.6 percent from 3-point range (4 of 14) after State had made 6 of 15 from the arc in a narrow loss at Syracuse.
The Cavaliers increased their lead in the ACC with the road win, improving to 8-1 in the league (12-3 overall), ahead of Florida State (6-2/10-3). Virginia Tech, which lost at Pittsburgh on Wednesday night, slipped back into third place at 7-3/13-4.
UVA hosts Pitt on Saturday as the ACC slipped in the Panthers for a game after Louisville had to opt out of the regularly scheduled game in Charlottesville due to Covid issues.
Team Notes
Virginia (12-3, 8-1 ACC) has an 11-game winning streak at PNC Arena (13-7 all-time)
The Cavaliers are 9-7 against NC State at PNC Arena and 4-0 in NCAA tournament action in 2014 and 2016
UVA went on a 9-0 run near the end of the first half to gain a 28-24 lead
UVA had a 5:49 scoring drought in the second half
UVA went 20 of 22 from the free throw line (both ACC season highs)
UVA has limited 12 opponents to 64 or fewer points
Series Notes
Virginia is 68-83 all-time vs. NC State in the series that dates back to 1912-13
UVA has a seven-game road winning streak in the series
The Cavaliers are 13-1 in their last 14 regular-season games against NC State
UVA has limited the Wolfpack to 57 or fewer points in nine of the last 10 games in the series
Tony Bennett is 14-3 vs. NC State as head coach at Virginia
Player Notes
Double Figure Scorers: Sam Hauser (18), Trey Murphy III (18), Jay Huff (12)
Hauser has reached double figures in 14 of 15 games
Reece Beekman had a career-best two blocked shots
Beekman matched a career-high with five rebounds
Murphy's 18 points marked an ACC high
Kihei Clark had a game-high six assists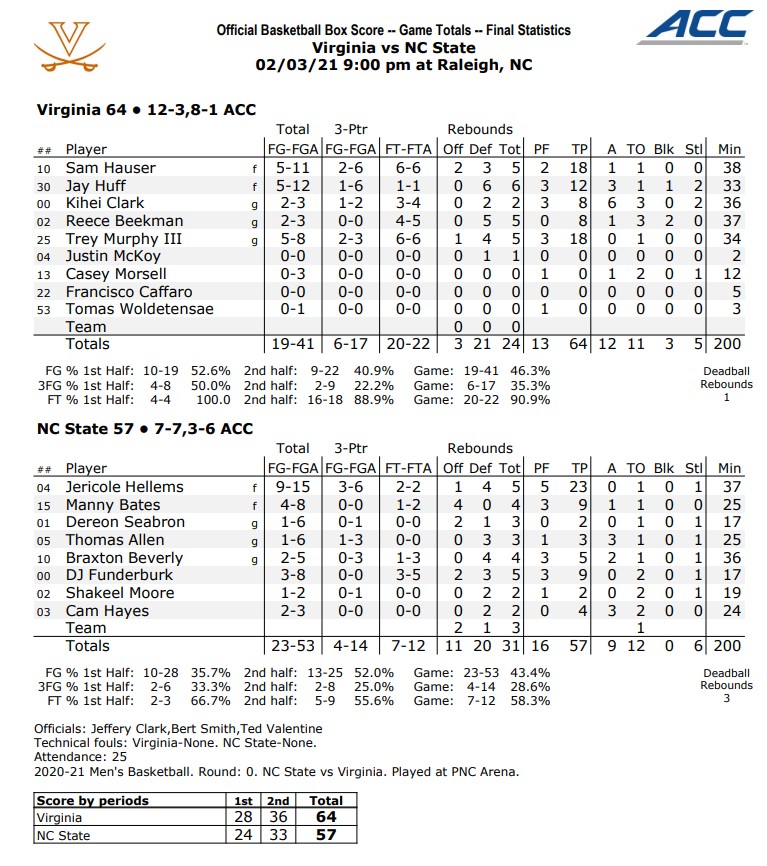 Support JerryRatcliffe.com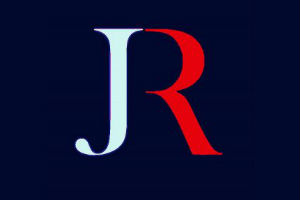 Make a one-time or recurring gift to support JerryRatcliffe.com online below. Your gift is not tax-deductible. Thank you for your support of JerryRatcliffe.com and the "Jerry Ratcliffe Show" podcast!