Virginia Still Has Its Fate In Its Hands As Wahoos Head To Chapel Hill
By Jerry Ratcliffe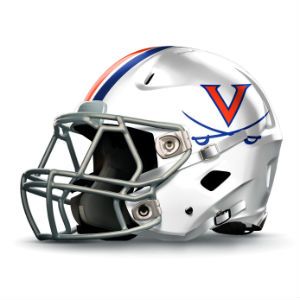 Heading into the ninth weekend of the season, pretty much every goal Virginia's football team set out for is still in front of them as they travel to North Carolina for arguably the BIGGEST game of the Bronco Mendenhall era.
Yes, everything is at stake: the ACC Coastal Division title; a trip to the ACC Championship game; and a high-profile bowl game. All of that is right there in front of the Cavaliers.
Those things alone make this game humungous for the Wahoos. They are the only team in the Coastal Division that hasn't won the crown, the only team that hasn't played in the ACC championship. There is also a feeling among the most faithful UVA fans, than if the Cavaliers can steal this road win, they have a decent chance of winning out.
All things considered, there are some issues in heading to Chapel Hill:
Virginia is on a three-game road losing streak, and they have been fairly miserable on offense in the second half of all three losses.
While Bronco said the offensive line has gotten better, is it good enough to open holes against Carolina.
The running game has been atrocious in those losses, partly because of the O-Line play.
Cavalier fans have been widely unsatisfied with the play-calling and lack of imagination of the offense, pointing fingers at offensive coordinator Robert Anae. The criticism is that the offense is too predictable, too one-dimensional, and no creativity. When opponents shut down the run and come after UVA QB Bryce Perkins, he has to throw under durress or take a risk running the ball with a heavy volume of carries. Also, there seems to be absolutely nothing to hold off opposing pass rushers, no screen passes, no running back draw plays, few throws to running backs, little or no misdirection.
In fact, the only time I've been impressed with imagination shown in Virginia's offensive game plan, was in last year's bowl win over South Carolina. The Cavaliers opened up the playbook on the Gamecocks, who had absolutely no answer for what UVA was doing.
Why save it for a bowl game, when a game like Saturday's at UNC, or at the end of the season against Virginia Tech, would be perfect times to open things up?
Anae is definitely under fire from UVA's fan base, who believe he is holding back the progress of the program.
Mendenhall hasn't criticized his coordinator, preferring to blame the lack of success on the road to turnovers and the O-Line's inexperince.
Certainly, those are valid points. A weak offensive line somewhat handcuffs a coordinator, but there seems to be other options. Speaking of options, we've only seen one option play in two years with Perkins at the helm of the offense, with some quick, speedy backs or slot receivers that could be worked into an occassional option play.
In addition, we heard all through July and August that we shouldn't be surprised to see Perkins and strong-running backup QB Brennan Armstrong in the backfield at the same time. Uh, what are we waiting on? Another bowl?
It is easy to understand the fans frustration. They want to see the team win the Coastal, not finish as runner-up. They want to see the program in a name bowl game. They want to see all this turn around so that Virginia can start attracting the state's best players again.
They want to see the damn streak against Virginia Tech stop.
It's difficult to imagine this happening if Virginia remains status quo. The defense has upped its game. The offense has to do that beginning this weekend. Do whatever it takes to win this game and worry about everything else later.
In this weekend's renewal of the South's Oldest Rivalry (the 124th meeting), Virginia enters Keenan Stadium as a 2.5-point underdog. No doubt that's because UVA has been so pathetic on the road.
In fact, the Cavaliers are a putrid 2-13 on the road the past two seasons, not counting the "home" game against Ohio in Nashville, Tn., due to hurricane issues. Those two wins were at Duke last season, and at Pitt to open this season.
So, if Virginia is going to win this game, what's it going to take offensively?
The answer is as simple as the recipe to cornbread: a heavy dose of Perkins.
Yes, we are aware that he got nicked up at Louisville last week, but was fine after he returned to play. Yes, we know he said that he sometimes tries to do too much. Yes, he said he's not Superman.
Well, he's going to have to put on the cape against Saturday and use all his super powers to beat the Tar Heels, and here's why.
Carolina has been one of the worst teams in the nation in terms of stopping a running quarterback, and Perkins is one of the best in the country.
Taking away the sacks UNC's defense has recorded, opposing QBs have run the ball 80 times for 492 yards, an average of 6.2 yards per attempt.
If Perkins comes anywhere close to that in a boatload of rushes against the Tar Heels, Virginia should walk out of Keenan with the ACC Coastal lead in their hip pockets.
Opposing quarterbacks have had some really big runs against UNC. Here's a list of the longest runs in each game:
Jake Bentley, South Carolina, 6 yards
Jarren Williams, Miami, 18 yards
Jamie Newman Wake, 11 yards (but he rushed for 84 yards and scored twice in the game)
Zac Thomas, Appalachian State, long of 50 yards
Trevor Lawrence, Clemson, long of 16 yards (ran 10 times for 66 yards)
James Graham, Georgia Tech, long of 15 yards
Hendon Hooker, Virginia Tech, long of 13 yards
Quincy Patterson, Virginia Tech, long of 53 yards.
In that Virginia Tech game, Hooker rushed 10 times for 49 yards, while Patterson ran 21 times for 128.
Both Mendenhall and Anae have placed the blame on the road woes of turnovers, which is valid. But there's more to it than that. This offense needs an infusion of imagination.
When Anae recapped last week's offensive woes at Louisville, here was his analysis:
"To cap last week, we did not score enough points and we didn't secure the ball at a high enough level on offense. That is pretty much it right there, the issues we've been facing on the road," he said.
"Another road challenge (this week) and this one's for the Coastal, so we look forward as an offense to be able to score more points than we did the week before and secure the ball at a higher level."
Anae said they backed off the run some when Perkins became hobbled during one series, yet returned for the next.
"When he got better, we kept pushing the envelope. His best runs came off scramble drills, so we're looking at more opportunities to give him. But if the throws are there, we want him to take the throws."
Carolina coach Mack Brown talked about how dangerous Perkins is, said he was an underrated passer, and can hurt you rolling out and throwing on the run.
Mendenhall noted some improvement in the O-Line's blocking in the first half at Louisville when UVA had a semi-decent running performance from Wayne Taulapapa, who scored two TDs, but only had three touches the entire second half.
"We need to continue that step forward thing," Anae said of the O-Line. "No, we are not where we'd like to be up front, but we're close. These last four games, I think our guys can grow at a high enough level to compete with our competition and succeed with our competition."
The former isn't acceptable. The latter is necessary.

Comments