Virginia Wins at UNC, Seizes Control of Coastal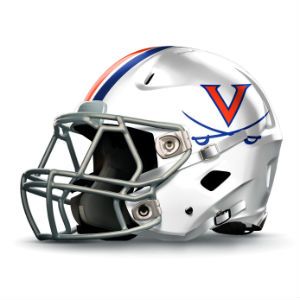 By Jerry Ratcliffe
CHAPEL HILL, N.C. Bryce Perkins said earlier in the week that maybe he was trying to do too much, that he wasn't Superman.
The Virginia quarterback might want to retract those statements. Behind a school-record, single-game 490 yards of total offense, Perkins led the Cavaliers to a 38-31 shootout victory over North Carolina and claimed sole possession of first place in the ACC's Coastal Division race.
Perkins was the epitome of a dual-threat quarterback on Saturday night as he completed 30 of 39 passes (no interceptions) for 378 yards and three touchdowns. He also rushed 24 times for 112 net yards and two more scores, including a 65-yard TD dart on a run-pass option as he piled up the third-most yardage ever against a Carolina defense (both Duke's Daniel Jones and Louisville's Lamar Jackson posted more than 500).
Sharing in the offensive glory was somewhat unheralded wide receiver Terrell Jana, who hauled in a career-high 13 receptions for 146 yards, his first 100+ game in his career.
As dynamic as Virginia's offense was, compiling 517 yards against the Tar Heels, it was the defense that rose to the occasion with a hair-chested performance on UNC's final two drives of the game.
The Cavaliers put up a pair of fourth-down stops to thwart Carolina scoring attempts.
After UNC moved to a first down at the UVA 12-yard line late in the game, the Heels faced third-and-four at the 6-yard line but the Cavaliers' pass rush forced Carolina freshman quarterback Sam Howell to throw an incompletion in the end zone. On the next play, Howell targeted receiver Beau Corrales but he was blanketed by Virginia redshirt freshman Jaylon Baker and UNC gave up the ball on downs, trailing by a touchdown with five minutes to play.
The Heels got the ball back for one more desperate attempt with 1:53 to play and no time outs from their own 41-yard line.
They advanced it to the UVA 43 with 1:18 to play, but after a time-consuming running play, Howell threw three straight incompletions with one minute remaining.
Virginia, which had lost its last three road games within the past four games, went into the victory formation to run out the clock and emerge from Keenan Stadium with a 6-3 overall record (bowl eligible for the third straight year) and 4-2 in the ACC.
The Wahoos entered the game in control of their own destiny, tied with the Tar Heels for the Coastal lead. Now, they really control their fate, playing the remaining three games on their schedule all at home against Georgia Tech next week, followed by a bye, then a nonconference contest against Liberty, ending with the rivalry against Virginia Tech.
"Really we didn't stop anything," Virginia coach Bronco Mendenhall said of the wild, high-scoring game. "The run game worked for them, the throw game, the RPOS. It was just a one-possession game. We made one more play on a fourth down than they made, and that seemed like another Coastal game."
The Cavaliers' defense, ranked high in the nation in total defense, didn't have many answers for Carolina's high-flying offense led by Howell. The freshman put up 353 yards passing with four touchdowns, three of them to receiver Dyami Brown, who became only the seventh Tar Heel in history with 200 yards receiving in a game (206).
UNC put up 539 yards of offense against Virginia.
"It was our ability to throw and throw effectively, Bryce's ability to use his legs, our ability to convert on third downs," Mendenhall said. "It was the right time to have our offense emerge, not only for the rest of the season but certainly for this game. If they don't play that well, we don't win this game.
"Robert [Anae, UVA's offensive coordinator) and our offensive staff, we worked really hard. We knew we had to produce at a higher level on that side of the ball to have our best chance down the stretch, and to their credit they did."
Anae had come under heavy criticism from Virginia fans for a predictable, unproductive and unimaginable offense during the three-game road losing streak. Things were different on Saturday night with some fresh schemes that were effective against the Tar Heels.
North Carolina coach Mack Brown said he had expected a defensive struggle in this game, but that was far from the case.
"The problem we had tonight is we didn't stop their best player," Brown said, referring to Perkins. "Their best player is one of the best players in the country and when you go into a game like this, you've got to stop him. We didn't stop him on the run or the pass."
North Carolina entered the game as one of the worst teams in the country against running quarterbacks, and Perkins made full use of that deficiency as he stuck daggers into the Tar Heels' defense all night long.
Still, it came down to Virginia's defense doing the dirty work at the end.
"We knew we had to get a stop," said UVA senior defensive end Eli Hanback. "We said in our defensive huddle, to bow up, do you job, bend don't break."
Now, the Cavaliers are on top of the Coastal, hoping to break a streak as the only team in the division to never have won the crown.
"We knew we controlled our destiny coming in," Hanback said. "We knew that Carolina's losses had been by six points or less. It was us or them."
Today, it's Virginia, and only Virginia.

Comments