Virginia strikes again in Georgia, lands another commitment from Peach State in Patterson
By Jerry Ratcliffe
Everything is just "peachy" for Virginia football recruiting, as the Cavaliers landed their 16th commitment for the Class of 2021 on Thursday.
Charlie Patterson, a 6-foot-6, 275-pound, 3-star offensive line prospect from Fellowship Christian School in Roswell, Ga., became UVA's fifth commitment from the Peach State. That's more than a quarter of the class thus far, and gives the Cavaliers a foothold in one of the most fertile recruiting spots in the South.
The announcement was made on Patterson's Twitter account on Thursday evening.
C O M M I T T E D 🔷 ⚔️ 🔶 #THEStandard21 #GoHoos #PaladinBuilt @BigWillie7179 pic.twitter.com/ilJtMOuZ5t

— Charlie Patterson (@CharliePatt78) July 9, 2020
He chose UVA over several Power 5 conference offers, including Louisville, Georgia Tech, Boston College, West Virginia, Central Florida, Maryland, Indiana, Illinois, Mississippi State, Kansas, South Florida and Air Force.
Patterson played right tackle for Fellowship Christian last season.
"Let me start by thanking all the coaches, family and friends who have helped me through this process," Patterson tweeted. "I would especially like to thank my coaches at Fellowship, Coach Jetavius Sanders and Willie Anderson. I couldn't have done this without all of you. I have been blessed to play with a great group of guys at Fellowship who pushed me and made me a better player.
"Thank you to my parents and family for your support and helping guide me through this process of making this very important decision. Thank you to Coach Tujague and Coach Mendenhall for making this an easy decision. I already feel like part of the family and can't wait to get started.
"With all this being said, I am super happy to say I have committed to the University of Virginia."
You can find his most recent highlights here.
Patterson joins Ty Furnish, a 6-4, 250-pound offensive lineman also out of Roswell (Blessed Trinity Catholic) as UVA's only two offensive line commits thus far. Three other commits have also come from the state of Georgia, including running back Amaad Foston of Milledgeville, defensive lineman Hugh Laughlin of Athens and linebacker West Weeks of Watkinsville.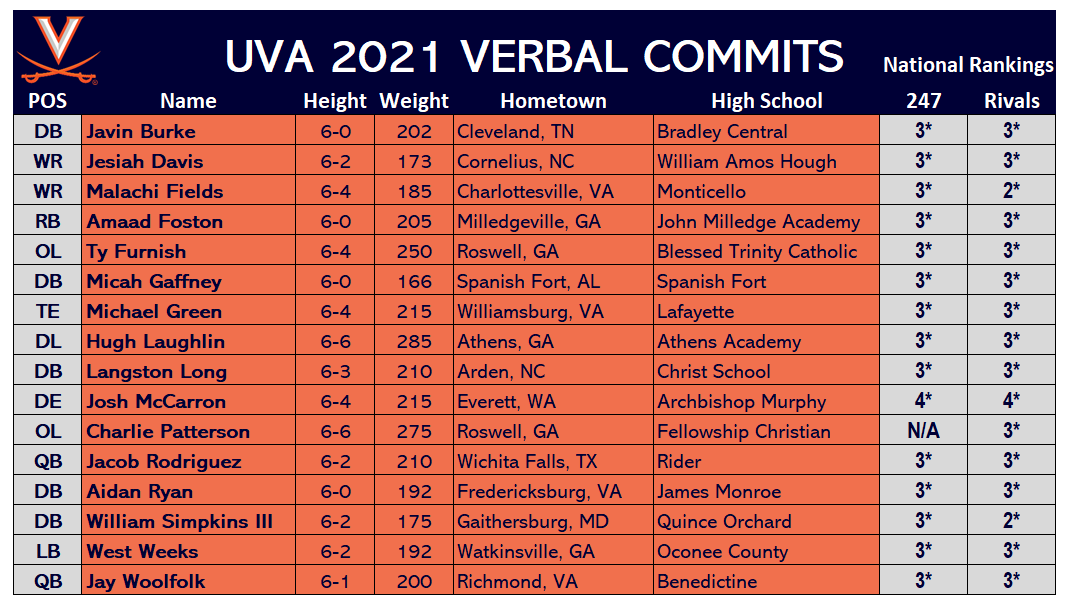 Comments