Virginia Women Fight Tough to Top Georgia Tech 53-45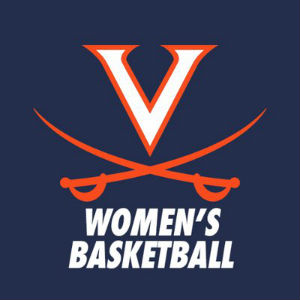 By Kipperly Tidball
After an aggressive fight from both sides, the Virginia women's basketball team claimed victory against Georgia Tech Sunday afternoon with a final score of 53-45.  It was Virginia's final home game of the season.
After GT lead 12-9 at the end of the first quarter, the Cavaliers stepped up their effort by the end of the second quarter, leading 20-17, out-rebounding the Yellow Jackets 25-18 and outscoring them in both field goals (26-21) percentages and 3-point (25-22) percentages.
Both teams continued to fight aggressively in the third quarter with 12 total points each. Virginia had their best scoring run (10) during this quarter, which left them ahead 32-30 at the quarter-ending buzzer.
The Yellow Jackets created their best scoring run (6) in the fourth quarter. The difference in team scores would never be more than 2 until the final media timeout with 4:44 left on the clock. Virginia had 40 points and Georgia Tech, 39.
Virginia was up by three (42-39) after a jumper by junior guard Dominique Toussaint outside the paint. There would be two more ties, over the next few minutes culminating in nine ties during the game. GT edged a 1-point lead after a free throw by freshman guard Elizabeth Balogun.  
Virginia's Toussaint would respond by making in a 3-pointer which began an impressive and hard-fought 9-0 run to win the game.
Virginia led in an overall field goal percentage of 38.3 (18-47) compared to 24.6 (16-65) percent by Georgia Tech. UVA also led in 3-point shooting 27.3 (3-11) percent, while GT shot only 16.1 (5-31) percent from beyond the arc.
"I think tonight I can comfortably say that this was our first 40-minute game, where from start to finish we were aggressive, we were completely ourselves, we were poised," reflected Virginia Head Coach Tina Thompson. "We took the punches and punched back a little bit, but we grinded from start to finish. This is who, in my mind, our team is.
"We were good, really good, even when the game was tough. I think both teams had a tough time scoring. Defense was what was highlighted in the game in a whole lot of moments. We didn't buckle at all and continued to play and grind."
Toussaint described the growth of Virginia's effort and aggressive play displayed in the game, saying, "In a lot of previous games there were a lot of times where there'd be only half of us playing hard and diving on the ball and getting those hustle plays. A big emphasis for this game was that everybody had to give their full effort. Playing Georgia Tech is never going to be easy. They're basically the bullies of the ACC. So, we just had to go hard and put our all on the floor."
Junior forward Lisa Jablonowski led four Cavaliers in double-digit scoring with an impressive 16 points, making this game her 7th double-figures scoring game this year. She grabbed five rebounds, and executed an extremely helpful 6-of-8 free throws.
After becoming the 35th member of the UVA 1,000 Point Club last Thursday night against Louisville, junior guard Jocelyn Willoughby scored her 4th-straight double-double against GT with 12 total points and 13 rebounds.  She was also 2 for 2 in free-throw shooting.
Toussaint, also scoring in double-figures, acquired 10 points and 10 total rebounds. Freshman guard Khyasia Caldwell scored 10 points off the bench and grabbed seven rebounds.
"I can't say enough about [Toussaint and Willoughby] and what I've asked of them," said Coach Thompson. "They've always kind of been in a position of leadership or highlight but probably not to this magnitude: the amount of minutes that we ask them to play and the fashion in which I ask them.
"I ask a lot of them every single day. I'm challenging them and pushing them in a way that sometimes they don't like, but I'm okay with that, because with challenges and change we grow. I think that we've seen over the whole course of the season, a whole lot of growth in these two. I don't just appreciate it — I'm really proud of it."
On her improved rebounding ability this season, Willoughby said she believes it's "just being more conscientious about it, crashing the boards, especially on offense and definitely on defense as well, being able to read where the ball is going to come off. Especially when I'm on the weak side, you have an advantage knowing the ball is generally going to come off opposite, so making sure you box out and get those rebounds."
On the development of her team as a whole since she took over the role of head coach this season, Thompson said growing confidence has made a huge difference. "The skillset has always been there. We've talked about this throughout the season and we've asked our kids to do a lot of things that they haven't had to do in the past. Usually you get more time to step into the roles that our kids have had to take on. We've had a lot of growth in a very short period of time, and, a lot of it is based on repetition but also confidence in the work that we're doing every day."
Next, Virginia travels to play rival Virginia Tech on Wednesday in Blacksburg at 7 p.m. Virginia downed Tech 62-58 in January coming back from a 19-point deficit. UVA and VT are currently tied for 10th place in the ACC.

Comments