Virginia's defense is loaded; Rudzinski: 'We have a lot of hungry guys'
By Jerry Ratcliffe
John Rudzinski is a no-nonsense guy who loves the fundamentals of football and believes simple is better. Those characteristics might explain why Virginia's defense improved so much last season, when little was expected from a group coming off a less-than-impressive season in 2021.
With eight of those starters returning from 2022, Coach Rud can't help but be excited about the possibilities. Consider that his defense finished fourth in the ACC last season in efficiency and seventh in scoring defense, allowing 24.0 points per game (No. 48 nationally out of 131 FBS programs).
Also consider that UVA ranks No. 63 in the nation heading into this season in terms of returning defensive production (64 percent returns).
The Cavaliers will face a stern test in Saturday's season opener against powerful Tennessee (in Nashville). The Vols led the nation in offensive production last season, scoring 46.1 points per game and piling up 525.5 yards per game, which also was No. 1 in the country.
Tennessee also operates from an accelerated pace offensively, adding more preparation for opponents. Rudzinski is well aware of the tempo, and believes because UVA also uses a fast-paced philosophy, his defense gets exposed to that look in practice every day.
"[Tennessee] does a tremendous job … they're explosive, they have good talent, they have good schematics and it's a challenge," Rudzinski said. "We're really excited, our guys are excited for the opportunity to go out and compete against a different-color jersey."
Coach Rud believes his defense will be physically ready for Tennessee's pace.
"We've been conditioning," he said. "It has been a long offseason. I believe in Coach (Adam) Smotherman (UVA's head strength and conditioning coach, who spent nine seasons at Clemson before following Tony Elliott to Charlottesville), and I believe in his staff."
One of Rudzinski's main goals heading into training camp was for his players to advance their game, and that's exactly what happened. He noted that the defense has gotten better "at all spots."
Virginia returns a ton of experience on the defensive line with Kam Butler, Aaron Faumui and Jahmeer Carter all starting last season. Ben Smiley, a senior with some starting experience, is also back in Rudzinski's base 4-3 alignment.
Chico Bennett, who is likely out of the opener after suffering a knee issue midway through training camp, will bring more experience when he returns to his outside linebacker spot.
James Jackson, Josh Ahern and Paul Akere are back at linebacker, while Coen King, Jonas Sanker and Anonio Clary return to the secondary (all three having starting experience a year ago), in addition to transfers Malcolm Greene (who played 29 games at Clemson), Tayvonn Kyle (played 33 games at Iowa State) and Sam Westfall (started 11 games at SMU last season). A pair of freshmen have also been impressive in camp: 6-foot-1 cornerback Dre Walker from Denver, N.C., and 6-2 linebacker Kam Robinson from Tappahannock.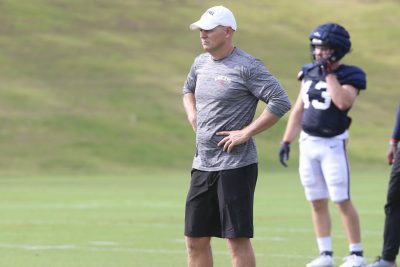 With so much experience returning, Coach Rud's staff has spent less time teaching, with more focus on fundamentals and situational football (third downs, red-zone defense), and keeping things simple.
"When life is simpler, we all can operate a little bit better," Rudzinski said. "The more complexity we throw in any system, the more you can create error."
While UVA had decent success in pressuring opposing quarterbacks last season, Coach Rud would like to be more aggressive.
"We talk a lot about finishing on the football, and it's about keeping the ball in front of you and keeping it out of the end zone, particularly not allowing a ball carrier in there," Rudzinski said. "We want to make opponents kick field goals.
"So being aggressive comes in two fashions: it comes being aggressive with our techniques and the way we attack our responsibilities; the second way is from a schematic way, is to potentially bring more pressure or rush more defenders. There's always a balancing act to that because the more guys that we put toward the front, the more stress we can put on other aspects of the defense, so we hope to balance that as much as we can."
With that experience, Virginia may be able to pick and choose its pressure points more than a year ago, especially with guys like Butler, who has 2,000 snaps of college football.
"There's not many guys that can say that," Rudzinski said.
Butler and Bennett (when he returns) should lead the team in rushing the passer, but there are plenty of guys who bring experience to that side of the ball.
"Now, there's no equity in that … you hope that experience pays itself forward," Coach Rud said. "But I know we have guys that are hungry, that did a great job in the weight room. Now it's for us to continue to work with those guys as more mature guys, graduate school guys, to have their best body of work and not rest on their laurels."
Four of those players are back for a sixth year of college football, another three return for a fifth year, while nine are fourth-year players.