Virginia's Parker haunts Pirates in postseason for second-straight year
By Jerry Ratcliffe
When Nick Parker was in a Coastal Carolina uniform last June and turned in a dominating performance against East Carolina in the NCAA Regionals, little did he know that his future coaches were watching closely.
Virginia's Brian O'Connor and his pitching coach, Drew Dickinson, were impressed with Parker's performance, so when Parker hit the transfer portal, the Cavaliers' coaches wasted no time in luring him to Charlottesville. Saturday night, the fans crammed into every nook and cranny of Disharoon Park saw why.
Parker was dominant against ECU once again, a year after beating the Pirates, scattering five hits and one run over a strong, seven-inning start to help Virginia to a 2-1 win in the NCAA's Charlottesville Regional. The victory puts host UVA into the region's driver's seat with a 2-0 record, while East Carolina was relegated to an elimination game with Oklahoma on Sunday afternoon. The winner will face O'Connor's Cavaliers at 6 p.m.
"That is what 100 percent sold us on saying we need to try to get this guy to Virginia," O'Connor said about the right-hander's outing last June. "What he did in [ECU's] ballpark last year is tough to do, and it showed the grit and the poise that he has to win at this level."
Last year against the Pirates, Parker hurled eight shutout innings, struck out 10 and surrendered only three hits in a game that ended ECU's 20-game winning streak. At Disharoon on Saturday evening, before a capacity soldout crowd of 5,919, Parker was just as masterful.
For a complete blow-by-blow account of Virginia's win, see our game story here.
"Nick Parker went out and was in complete command of the game with all of his pitches," O'Connor said. "The mix and match to use all four pitches, that's as great as you'll see in college baseball. Nick Parker is a great college pitcher."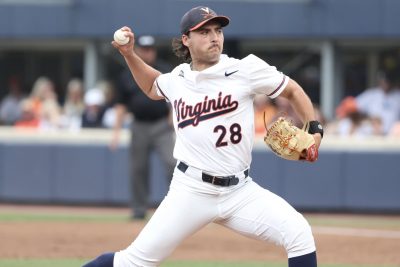 No argument from East Carolina coach Cliff Godwin, who has likely seen enough of Parker.
"He just never throws that pitch you think you're going to get," Godwin said of how Parker has now kept his batting order on its heels for a combined 15 innings over two years.
Parker said he's able to keep his opponent guessing because he and Dickinson are constantly talking back and forth on what approach to take against batters.
"I have complete trust in [Dickinson] when we're out there," Parker said.
He kept the Pirates scoreless for five innings and gave up the only run in the top of the sixth when ECU scored on a botched rundown play that allowed Carter Cunningham to cross the plate with two outs. Parker quickly got the third out and handcuffed ECU's order in the seventh, striking out Jacob Starling to retire the side on his 100th pitch of the night.
On came 6-foot-10 Jake Berry to finish the game, as he retired ECU's last six batters in order.
Virginia is one game away from claiming its eighth regional championship and moving on to hosting a Super Regional. The Cavaliers are now 34-4 at Disharoon Park and haven't lost to a nonconference opponent this season (27-0).
"That first inning was one of the most electric atmospheres I've ever been in."
–@NickjParker99 pic.twitter.com/koAeT25x3k

— Virginia Baseball (@UVABaseball) June 4, 2023