Virginia's Season Ends With Loss to No. 18 Syracuse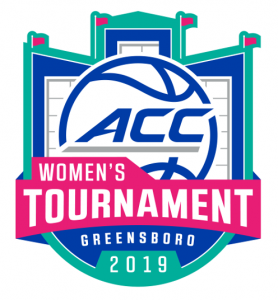 Courtesy UVA Sports Media Relations
The 12th-seeded Virginia women's basketball team had its season come to an end on Thursday with a 67-57 loss to No. 18 Syracuse in the second round of the 2019 Atlantic Coast Conference Women's Basketball Tournament. Junior guard Jocelyn Willoughby led the Cavaliers (12-19) with 19 points, while junior guard Dominique Toussaint scored 13 points on 5-of-8 shooting.
Syracuse had four players finish the game in double figures, led by Digna Strautmane with 14 points. Virginia shot 37.3 percent (22 of 59) while Syracuse shot 50.0 percent (24 of 48), including going 8 of 19 (42.1 percent) from 3-point range. Both teams had 29 rebounds.
Virginia, fueled by a pair of and-ones from Toussaint, kept pace with Syracuse in the first quarter, trailing by just two, 18-16, through the first eight minutes of the game. The fifth-seeded Orange (23-7) closed the period by scoring four free throws and opened the second quarter by hitting a three to build up a nine-point lead.
The Cavaliers chipped away, pulling to within three, 32-29, on a layup from junior forward Lisa Jablonowski with 3:25 remaining in the half, but the Orange finished the half on an 8-0 run, including back-to-back threes from Miranda Drummond, to take a 40-29 lead into the break. Syracuse built up a 14-point advantage in the third quarter, but the Cavaliers refused to go away.
A three-pointer from Toussaint narrowed the gap to seven, 61-54, with 5:02 remaining in the game, but the Orange answered with four-straight points. Willoughby hit another three with 2:40 remaining to again get the deficit to single digits, 65-57, but the Orange slowed down the pace of the game and managed the clock to finish the game with a 10-point victory.
Willoughby scored 12 points in the third quarter, going 5 of 6 from the field, making her first five attempts. She scored 17 points in the second half after scoring two in the first. Willoughby scored in double figures in each of the last 11 games with seven double-doubles in that same span, and averaged 24 points in the Cavaliers' two 2019 ACC Tournament games.
Willoughby finishes the season having made her last 41 free throw attempts, a streak that goes back to the first quarter of the Miami game on Feb. 3.
Toussaint scored eight of Virginia's 16 points in the first quarter, but picked up her fourth foul with 9:12 remaining in the third quarter and was limited to playing 19 minutes in the game. Jablonowski led the rebounding effort with eight.

Comments