Virginia's Snowden Wants To Become A QB Sack Machine
By Scott Ratcliffe
There's not a linebacker in the country that got his hands on more pass attempts than Virginia's Charles Snowden in 2018, and the third-year standout is hoping to translate that success over into another statistical category this season.
"I was definitely happy to just help the team however I could, and so knocking balls down was kind of just my niche on the team last year," said Snowden, who registered a nation-best 11 passes defended and 9 pass breakups among linebackers, while also snagging a pair of interceptions. "I was surprised to see I was leading the country, that's pretty cool, but a lot of them came from not being able to get to the quarterback, so I tried to knock the ball down at the line of scrimmage.
"So this year, [I'm] working more towards less knocked-down balls and more knocked-down quarterbacks."
The 6-foot-7, 225-pounder out of St. Albans School in Silver Spring, Md., recorded 7.5 tackles for loss, but only 2.5 sacks during his impressive sophomore campaign. He, along with the rest of the defensive unit, are hungry for more in 2019.
Chris Peace led the Cavaliers with 7.5 sacks, with Snowden and Jordan Mack's 2.5 the next-best. The entire team only recorded 26 all year, which ranked 9th in the ACC. With Peace now in the NFL training with the Los Angeles Chargers, it's up to Snowden, Mack and the other returning Wahoo starters to finish with more frequency.
"[Co-Defensive Coordinator Nick Howell] talked about it yesterday — if he sends you to go get the quarterback, he expects you to go get the quarterback," Snowden said. "So it doesn't matter if you're an edge rusher or if you're a corner coming off the edge, if you're a safety… if he sends you, he expects you to go get it."
If it's even possible, Snowden looks even more physically intimidating than he did at the Belk Bowl. He says he's been maintaining his weight with a diligent diet while working hard in the weight room, and revealed that one of his secret weapons was eating a huge breakfast at the dining hall on his off days when the last thing he wanted to do was wake up early.
"I think definitely physically, I've just matured," said Snowden. "I've gotten bigger, more explosive, and also just from a pass-rush standpoint, I've been more detailed and intentional about working on that in the offseason."
Snowden appeared in 10 games as a true freshman in 2017, and made a name for himself in crunch time against Duke when he sacked Daniel Jones on a crucial third-down play. He also came up with a key blocked punt during the upset bid at Miami late in the season.
Snowden garnered ACC Linebacker of the Week honors in his breakout performance against Louisville last season, after filling the stat sheet against the Cardinals — eight total tackles (1.5 for loss), a sack, an interception, a QB hurry and two break-ups.
He continued to help lead the defensive effort throughout his sophomore year, and a few weeks ago, Snowden was named to the Butkus Award's preseason watch list, which is given annually to the top linebacker in the country, but he's not about the personal accolades.
"If individual recognition comes, that's cool, but my biggest thing is just helping this defense — this team — reach its full potential," Snowden said.
As for his personal stats, Snowden says he's set statistical goals for himself, and even came up with a unique method to use as a measuring stick between his numbers and those of the nation's best. He jokingly referred to it as "The Bryce Hall Approach," a reference to Hall's reputation for his insane prep work and study habits.
"I looked up the first-team All-ACC linebackers, edge-rushers, All-American edge-rushers and linebackers, averaged out their tackles, their sacks, their TFLs, and so what those numbers averaged out to, that's what I set for my goals."
So, how did Snowden's numbers stack up?
"They were actually surprisingly fairly similar last year — some were, some were not even close — but they were decently close, so I'm just hoping to build off that," he admitted.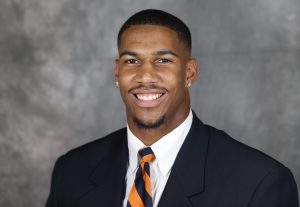 When it comes to the lofty team expectations of being picked to come out on top in the ACC Coastal Division, Snowden and the 'Hoos will let their play dictate the ultimate results.
"A lot of the guys are like, 'Yeah, it's cool,' but we don't really read into a lot of the media stuff," admitted Snowden. "We just kind of listen to what we hear within these walls, and that's what we'll do going forward."
Now an experienced, veteran leader, Snowden is happy to help the incoming outside linebackers get familiar with the culture, the playbook, the system, the standard that was established by guys like Peace, who was once instrumental in helping Snowden get used to how things worked within the program.
"The older guys — Olamide [Zaccheaus], Peace, Juan [Thornhill] — they really set the foundation," said Snowden, "and now it's our job to build off of that, because it took a lot of sacrifice from them. Even the class before us that kind of first came in with Mendenhall, they put in a lot of extra work and sacrifice, and we almost have an obligation to just kind of build off of that."
Snowden has taken incoming freshmen OLBs Hunter Stewart, D'Sean Perry and Jairus Saitu under his wing, just like Peace did for him a few years ago.
"To their credit, they've worked hard at it," Snowden said of the young trio. "That's been something I've thought is pretty cool. Especially because Chris Peace, he did a lot for me, just kind of helping me, bring me along. And so I feel that is kind of a part of the culture, is you help whoever's underneath you, because I know at other schools, they're a little hesitant to help the guys under them because they're at the same position — that's they're playing time on the line.
"But here, the better they get, the better the team gets, the better I get; and so just being able to help them has been a pretty cool experience."
Snowden believes the sky's the limit for this year's defensive group.
"I 100-percent think so. All the pieces are there, the coaching is there, the mindset is there — there's nothing left but to do it," Snowden said, when asked if he thinks Virginia could be considered an elite defense.
Snowden says everyone involved knows that this year's team has the potential to do something special and keep the momentum of the program going in the right direction. The key is to embody a family-like atmosphere and believe in each other, and in Snowden's eyes, the tight-knit Cavaliers are already past that point.
"Everybody kind of walks around knowing that we have the potential to be good," said Snowden. "Everybody gets along really well on the team — offense, defense; first-year, fifth-year — everybody gets along really well, and that's one thing I'll say that I just really value a lot."

Comments