Volleyball: UVA comes up short in fifth set against Rutgers in Cavalier Classic finale
Courtesy UVA Media Relations
Despite incredible performances from setter Ashley Le and middle blocker Abby Tadder, the Virginia volleyball team fell to Rutgers in a suspenseful five-set showdown Saturday afternoon at Memorial Gymnasium in the Cavalier Classic finale.
Le and Tadder were both named to the Cavalier Classic All-Tournament Team.
Le had a career performance against Rutgers (2-0), recording 46 assists, surpassing her previous career best of 39, which she set against Akron in 2021. She also turned in a career best 24 digs.
Tadder posted a match-high 17 kills while also chipping in four blocks in the tournament title match.
SET 1: Virginia 26, Rutgers 24
Virginia (1-1) won a nail biting first set that featured seven ties as the Hoos fended off a Rutgers comeback attempt after leading the Scarlet Knights 16-9. Middle blocker Veresia Yon and Tadder would sink back-to-back kills to win the set for Virginia in extras. UVA was led by Le, who dished out a dozen assists and tallied 10 digs, while newcomer libero Milan Gomollion added eight digs in the set.
SET 2: Rutgers 25, Virginia 22
Rutgers evened the match 1-1 on yet another set that witnessed seven tied scores. Tadder contributed five kills on seven swings and hit .714, while Le dished out 10 assists for the Cavaliers.
SET 3: Virginia 25, Rutgers 17
The Hoos jumped out to an early 8-3 lead in the third and kept Rutgers at an arm's length throughout the rest of the set. UVA had a well balanced offense in the third having six players notch points, with Le helping guide the Hoos with 10 assists.
SET 4: Rutgers 25, Virginia 20
Rutgers took the fourth set after pulling away when it broke a 13-13 tied score by tallying five straight points. Virginia's fourth set hitting percentage was .088 compared to Rutgers' .357, keeping the Hoos from gaining enough momentum to mount a comeback.
SET 5: Rutgers 16, Virginia 14
The two sides continued their tug-of-war battle in the tiebreaking set. Virginia benefitted from a multitude of Scarlet Knight errors and carried momentum from two official challenges landing its way, but fell just short as Rutgers claimed four of the last five points to mount its comeback.
GAME NOTES
Virginia leads the all-time series over Rutgers, 4-2.
Milan Gomillion registered 21 digs.
Le led all players in both assists (46) and digs (24).
Le recorded at least 10 assists in each of the first four sets.
Meredith Reeg made her collegiate debut off the bench in the second set.
Tadder finished with a match-high 17 kills, just one shy of tying her career high.
Yon led UVA in blocks (5) and added 11 kills, matching her career high at Virginia set against Boston College in 2022.
Virginia opened its 45th season on Friday night with a convincing sweep over Rider (25-12, 25-20, 25-17). The Cavaliers were led by right side hitter Chloe Wilson (13 kills, 4 blocks), newcomer Ciera Hecht (11 kills) and Tadder (10 kills, 11 attempts).
Friday highlights:
CAVALIER CLASSIC ALL-TOURNAMENT TEAM
Alyssa Nayar (MVP), Rutgers
Alissa Kinkela, Rutgers
Bekah Williams, Rutgers
Ashley Le, Virginia
Abby Tadder, Virginia
Naiya Sawtelle, North Carolina A&T
Keegan O'Conner, Rider
UP NEXT 
Virginia continues its 2023 campaign as the Hoos head to Columbia to participate in the Big Apple Tournament. UVA faces Quinnipiac Friday at 4 p.m. and is set to square off against the Lions on Saturday at noon. Both matches are set to be broadcast on ESPN+.
Friday Box Score: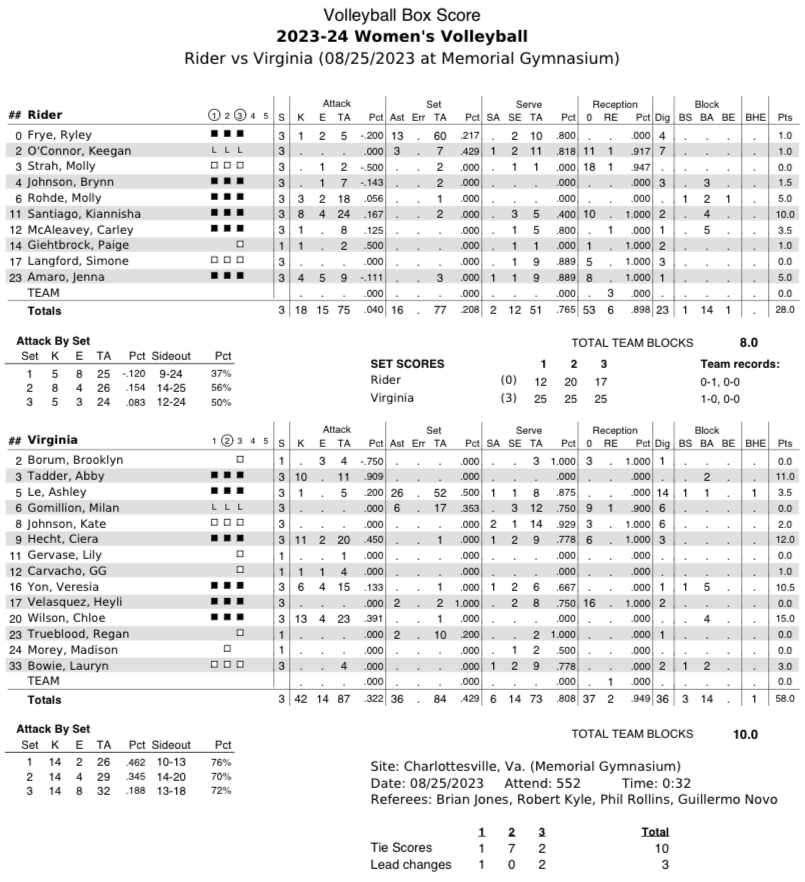 Saturday Box Score: