Wahoo Nation: please support our sponsors during these challenging times
My take on how we're all feeling the pain together; recommendations on your Cavalier hoops fix
By Jerry Ratcliffe
Don't know about you, but the past 10 days have reminded me of one of those really bad apocalypse movies that seem to pop up on your TV at 2 a.m. when you're battling insomnia.
The scenario at Greensboro Coliseum last Thursday afternoon was perhaps the most bizarre I had ever covered in my lengthy career. That's when ACC commissioner John Swofford appeared on the court and told a horde of media that the remainder of the tournament had been cancelled, impacted by the spread of coronavirus.
After we filed our stories from the arena's press room, Chris Graham and Scott German of the Augusta Free Press and myself made a short drive from the arena to my favorite restaurant in Greensboro for a late lunch, Pastabilities, one of the most popular ACC hangouts for the past quarter-century.
Granted, it was a late lunch, but the place was empty. Had it been a normal tournament atmosphere, the line would have been out the door. Immediately, we realized the economic impact on all of Greensboro.
Our thoughts were confirmed when we were warmly greeted by an old friend, Cindy Essa, the restaurant's owner all these years. Like all restaurant owners and small-business owners across the ACC would soon learn, everyone would feel the pain.
In less that two weeks, several of the advertisers/sponsors of this website, JerryRatcliffe.com, and our radio program, "The Jerry Ratcliffe Show," on ESPN Charlottesville, began to feel that pain up-close and personal.
Mincer's, Ragged Mountain Running Shop, Riverside Lunch and The Villa have all been hit hard (details below).
Lee Shifflett, owner of Riverside Lunch, home of the best burgers in Charlottesville and a popular hangout for past and present UVA athletes, informed us yesterday that he is shutting down his restaurant for the next two weeks and holding his breath that our lives will return to normal.
The Villa Diner, a favorite Charlottesville eatery of Kyle Guy and other UVA athletes, which is owned and operated by Ken Beachley and his wife, Jennifer, for the past 15 years, have closed their business until things are safe. They want to be part of the solution rather than part of the problem.
Ken and Jennifer are very concerned about their 13-person staff, though, and have created an online fundraiser to help those folks through this difficult period.
"Through no fault of their own, our dedicated, hard-working staff will not be able to earn an income during this crisis," Beachley said. "We are hoping to raise money to help support them. We have 13 full-time employees and 4 part-time. The goal is to raise $1,000 for each full-timer and $500 for each part-timer, for a total of $15,000."
Beachley said all donations will be dedicated solely for the staff. In fact, he and his wife kicked in the first $2,500 to get things going.
Anyone wishing to donate can click here.
Ragged Mountain Running Shop, which not only helps sponsor our website, but also contributes Mark Lorenzoni's "Sub-4" podcast, has closed its doors until the pandemic comes to an end.
"Even though Ragged Mountain has temporarily closed our doors, we're still taking phone and online orders for all your running and walking needs," said Lorenzoni, who owns the shop with wife, Cynthia. "Plus, free doorstep delivery to your home or place of business!
"We can't thank you enough for helping our Ragged Mountain family to continue to stay on our feet."
You see what he did there: running shop … "stay on our feet." That Mark is a clever dude.
We truly appreciate the relationship we've had with the Lorenzoni family for more than 30 years, having worked intimately with them to cover and build the running community during nearly four decades. If you are a runner, competitive or casual, make sure you listen to his podcasts on our website, where he covers all the local running news (a dozen locals just made Olympic qualifying) in four minutes or less, a spinoff of the magical 4-minute mile.
One of our largest sponsors, Mincer's, is also shutting down at both locations, on The Corner and its satellite shop at Stonefield. The store on The Corner is one of the most popular attractions on that strip and has been for decades.
Mark Mincer, who I've known ever since I arrived in Charlottesville, and someone I have immense respect for, said this about having to shut the doors (but still taking orders online):
"With a heavy heart, I will be closing both stores indefinitely," Mincer said. "We tried to hang on for a while so the employees would still have some hours, but it is no longer wise or safe.
"Our website will stay open. We can ship those orders with our family."
Mark said that, to his knowledge, the only times that Mincer's has been shut down was for his mother's funeral in 1993, his grandfather's in 1996 and his dad's in 2012.
"Before that, I think you have to go back to the 1950's when my grandparents used to close the 'Pipe Shop' for summer vacation," he said.
We encourage all of our readers to support these businesses through these tough times by shopping with them online and returning to their stores/restaurants when they re-open. Watch for updates on our website.
Obviously, this website and my radio show depend on the support of our advertisers/sponsors. If they're hurting, well, it impacts us as well, because that's how our business survives. We do not charge for our website in order to make it free to all Wahoos.
Normally, this weekend for most of the past four decades, I've been at an NCAA regional site either covering Virginia or some other ACC team. This year, like all of us, I'm at home trying to create content that will keep Wahoo Nation informed and entertained.
Like most of you, I'll be watching Sunday's re-broadcast of last year's national championship game when Virginia defeated Texas Tech. You can find it at 2 p.m. on CBS. Guy, Ty Jerome and De'Andre Hunter will be live-tweeting during the broadcast, which should be exciting.
Having been courtside in Minneapolis last April, it will be interesting to see it from a different perspective. I've never seen the replay of the game, so it will be fun.
Wahoo Nation can relish the thought that the Cavaliers remain reigning champions. According to the "Odds Shark," which I think is out of Vegas, your Cavaliers have been established as the favorite (+850) to win the 2021 national championship.
Maybe Mark can print up some "3-Peat" T-shirts!
Meanwhile, to entertain yourself through March Sadness, I have a few recommendations.
One, if you haven't already, check out our website's "Wahoo Madness," which is a bracket of UVA's 64 greatest players broken down into four divisions. You are invited to vote on your favorites through the ages in order to determine the best Cavaliers of all time.
It's a trip down memory lane and lots of fun. We are getting awesome response, and thank you for your participation.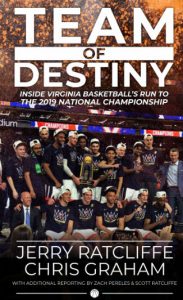 I have two books you might read if you haven't already. One is our own book, "Team of Destiny … inside Virginia basketball's run to the National Championship," which we wrote after last year's natty. It is an in-depth, behind-the-scenes look at how the Cavaliers got there and what it meant, featuring individual chapters on each of the main contributors to the team and Coach Tony Bennett.
The other is my friend, John Feinstein's, newest book: "The Back Roads to March … the Unsung, Unheralded, and Unknown Heroes of a College Basketball Season," which I'm presently reading and being throughly entertained by. If you love college basketball, you'll love this book.
We want to thank all of our readers and supporters of our website, which is less than two years old. While there are really no games to cover, our readership has actually increased over the past 10 days as we continue to strive to create content to feed your hunger for Virginia sports, along with golf and running. We will soon add a "good health" portion to our content.
Again, thank you, and be safe as we all unite to overcome this hurdle. Please support our sponsors, because by supporting them, you are also supporting us.

Comments