Wahoo Nation says farewell to Virginia's three fallen players with emotional memorial service
By Jerry Ratcliffe
Saturdays are for football. Cheering, celebrating, tailgating, second-guessing. It's when heroes are made. Saturdays were for football until Sunday happened a week ago and our lives were instantly changed. Our world was darkened in tragedy.
Saturday we mourned.
We didn't mourn alone. Thousands joined us from sea to shining sea with former UVA coaches once again wearing their Cavaliers gear, with every college football team in the Commonwealth and the ACC displaying Virginia helmet stickers. Teams such as Ohio State, Tennesse, Penn State, Michigan State and many others, stretching all the way to Rose Bowl Stadium where UCLA honored the Virginia football program and its three fallen warriors, sensely taken from us a week ago.
No tribute was more heartfelt than at the epicenter of our grief, when nearly 10,000 attended a memorial service at John Paul Jones Arena to celebrate the lives of D'Sean Perry, Devin Chandler and Lavel Davis Jr. The "three young kings" were gunned down in an act that left us with overwhelming dolour.
As UVA rector Whitt Clement said to the families of the three players, "Be assured these fine young men will forever be remembered at the University of Virginia."
Clement was exactly right. None of us will ever forget where we were when we heard the ghastly news. It was an unforgettable gut punch.
Carla Williams, UVA's athletics director, spoke for the university and Charlottesville community when she said, "this tragedy has pushed me to my limits. But God is faithful. My faith sustains me."
Williams, who spent time crying and laughing, then crying again, with the players' families, shared what she had learned about the three. We all knew they were accomplished football players, good students, good guys, loved by all. She gave us more.
"First, 'Devin the dancing machine,'" Williams said. "His uncle sent a video of a 10-year-old Devin arriving early to a track meet and putting on a one-man dance off. His rhythm was suspect, but his confidence was never in doubt."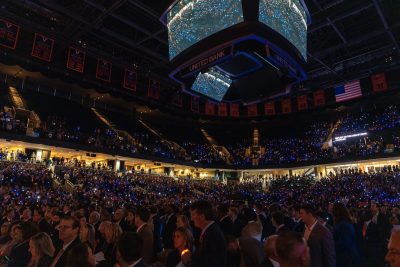 Next, she touched on Davis, a sure-fire future NFL prospect
"Lavel, when he went home, he wanted to sit in the front row at church in spite of being 6-foot-7, knowing it would make it hard for people to see over him. He said, 'Momma, I don't want to miss anything.'"
Then there was Perry, known around the program as the Renaissance Man for his artistic flair.
"When D'Sean was 6 years old, he wanted to be a red Power Ranger for Halloween. He wore the costume for Halloween, and didn't take it off until after Thanksgiving," Williams said, sharing a family tale.
Graced by Grammy Award-winning gospel singer CeCe Winans, who performed "Goodness of God," the MLK Community Choir and the UVA Marching Band, there were a myriad of speakers from UVA president Jim Ryan to many Virginia football teammates and Coach Tony Elliott.
Ryan shared a poem by Robert Francis, "Summons."
Defensive linemen Lorenz Terry spoke about Chandler, noting, "It's hard for me to see the pain and suffering for everybody that has been caused by this trauma. He always had a passion for football. He came to practice with the right mindset, always with a smile on this face. I loved him like a brother and I will always keep him close to me."
Running back Cody Brown spoke about how Chandler slept at the UVA team's practice facility so he could get his catches in before the team's meetings.
"We were fortunate and blessed to have you in our lives and your impact on us is ever-lasting," Brown said.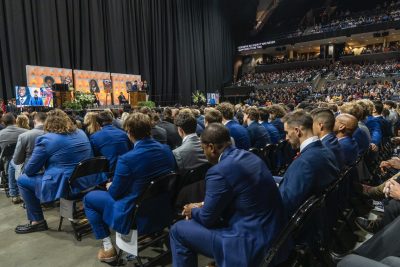 Linebacker Chico Bennett talked about how Davis was stubborn, passionate and loved to debate, something that Coach Elliott also pointed out later in the service. Quarterback Jared Rayman wrote a letter to Davis to tell him, "I hope everyone here today has someone in their lives who impacts them as much as you impacted mine. He was someone who inspired me with his character and his values."
Defensive back Elijah Gaines, who grew up in New York, also spoke on Davis, and talked about how Davis was always "repping" his hometown of Ridgeville, S.C.
"He could make Ridgeville sound like it was the biggest city in the world," Gaines smiled. "I'm pretty sure it's only like 2,000 people there."
Gaines pointed out that Davis wore a "187" tattoo and when Gaines asked him, what that was all about, was he "repping" his area code or something, Davis replied, "That's my exit, man."
"Your exit?" Gaines said.
"Yeah, man, that's where I'm from," Davis said.
Several players shared memories of Perry, including Josh McCarron, a linebacker from Seattle.
"D'Sean was the brother that I didn't know I needed," McCarron said.
Defensive lineman Ben Smiley talked about how Perry would tell him that life was more important than football.
"I didn't know what he meant. To me, football was life."
Defensive back Donovan Johnson remembered how Perry always could make him laugh with his larger-than-life smile and personality.
"It was an honor to be in his presence," Johnson said. "He always wanted to make everybody around him a better person."
Freshman kicker Will Bettridge had known Perry ever since pee-wee football and high school football, having both grown up in Miami (Gulliver Prep), and had looked up to Perry as a role model at every level of football.
"Your presence was felt each and every time I was able to step on the field with you," Bettridge said about his longtime teammate. "The world would be a better place with more people like you, D'Sean. "A piece of my life was taken from me and the Cavalier community."
Hunter Stewart talked about Perry's renaissance nature, about his art, and how the two, who really couldn't sing, would still blare out lyrics in sing-a-longs in the car. Stewart said Perry's artistic style shouldn't be mistaken for weakness.
"D'Sean was a fighter," Stewart said. "He got that from his mom."
All-ACC linebacker Nick Jackson said that Perry was one of a kind and the first person on the team to take him under his wing once he arrived at UVA. They roomed together during fall camp this past season.
"You were my earthly protector, and now I have no doubt, you are my heavenly protector," Jackson said. "I promise to carry your legacy with me."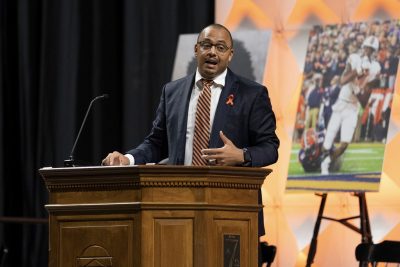 Coach Tony Elliott was the final speaker and shared thoughts on each player, noting that one day Davis walked up to him in practice, put his arm around him and said, "Coach, I'm starting to understand … it's the little things that matter."
Elliott chuckled when he said that Chandler was always wearing a smile. "He even slept with a smile on his face."
The coach was so proud that Perry chose to honor him by sharing his artwork.
"To the families, I'm a better person because of your kings," said Elliott, who also share a verse from 1st Corinthians: Chapter 15, Verse 41 (the numbers of the three fallen players):
"The sun has one kind of splendor, the moon another, and the stars another; and star differs from star in splendor.
"So will it be with the resurrection of the dead: What is sown is perishale it is raised imperishable."
Elliott promised: "We will turn today's tragedy into tomorrow's triumph."
Defensive end Jack Camper, who transferred from Michigan State, closed the ceremony with a prayer, struggling to get through the emotional moment.
"How blessed are we? How blessed are we to have been able to get to know these young men in our lives?"
How blessed indeed. Rest in Peace, young kings. We shall miss you, but never forget you.