Wahoo Preview, Game 10: Pitt at Virginia
By Scott Ratcliffe
Virginia welcomes Pitt to Scott Stadium on Saturday for one last Coastal clash with the Panthers before conference divisional play ends in the offseason. Kickoff is scheduled for 12 noon on ACC Network.
The Cavaliers (3-6, 1-5 ACC) fought to the very end, but couldn't pull off the upset last week against 17th-ranked North Carolina, falling 31-28. The Wahoos have now lost five of their last six games, and must win each of their last three contests to qualify for a chance at a postseason spot.
The Panthers (5-4, 2-3), meanwhile, defeated No. 20 Syracuse last Saturday, 19-9, in Pittsburgh after dropping three of their previous four games, and will be on a mission to become bowl-eligible with a victory Saturday against UVA.
Junior running back Israel Abanikanda leads the country in all-purpose yards per game with 177.9 and is ranked seventh in the nation with 1,086 rushing yards. He also leads all of Division I in total touchdowns (17), rushing touchdowns (16), total points (102) and points per game (12.8). He has recorded six 100-yard games in his eight outings this season.
Abanikanda sat out last week's contest against the Orange, but is expected to be back in the lineup this weekend.
Senior quarterback Kedon Slovis took over in Pittsburgh for Heisman finalist Kenny Pickett, and has thrown for 1,737 yards and 5 touchdowns (6 interceptions) on the season.
Jared Wayne is the Panthers' big-play receiver, with a team-high 674 receiving yards on the year. Linebacker SirVocea Dennis leads the Pitt defense in both total tackles (63) and sacks (6.0).
Virginia is hoping to have its trio of starting receivers — Keytaon Thompson, Dontayvion Wicks and Lavel Davis Jr. — back in the fold, after all three were injured late in the week and couldn't play against the Tar Heels. Senior running back Perris Jones is expected to be a go, after also missing last week's game.
Several Cavaliers stepped up in the aforementioned starters' absence against UNC, including junior tight end Sackett Wood Jr., who led the Hoos in receiving with 94 yards on 6 catches. First-year wideout Sean "JR" Wilson added 61 yards on 5 grabs, while Mike Hollins (16 carries for a team-high 75 rushing yards), Ronnie Walker Jr. (6 carries for 30 yards and a touchdown) and Xavier Brown (5 carries for 17 yards and a score) formed a strong three-headed ground attack.
It will take another complete team effort in all three phases if Virginia wants to have any chance of finishing with a non-losing record.
Pitt, which is currently favored by 6 points Saturday, has won five of the last six meetings against the Cavaliers. This will be the Panthers' first visit to Scott Stadium since Nov. 2, 2018.
For more pregame coverage to get you ready for kickoff, check out our UVA Football archives for the latest news, and you can also listen to The Jerry Ratcliffe Show podcast, as Hootie and co-host Chris Graham break down the matchup in depth.
The Statistical Breakdown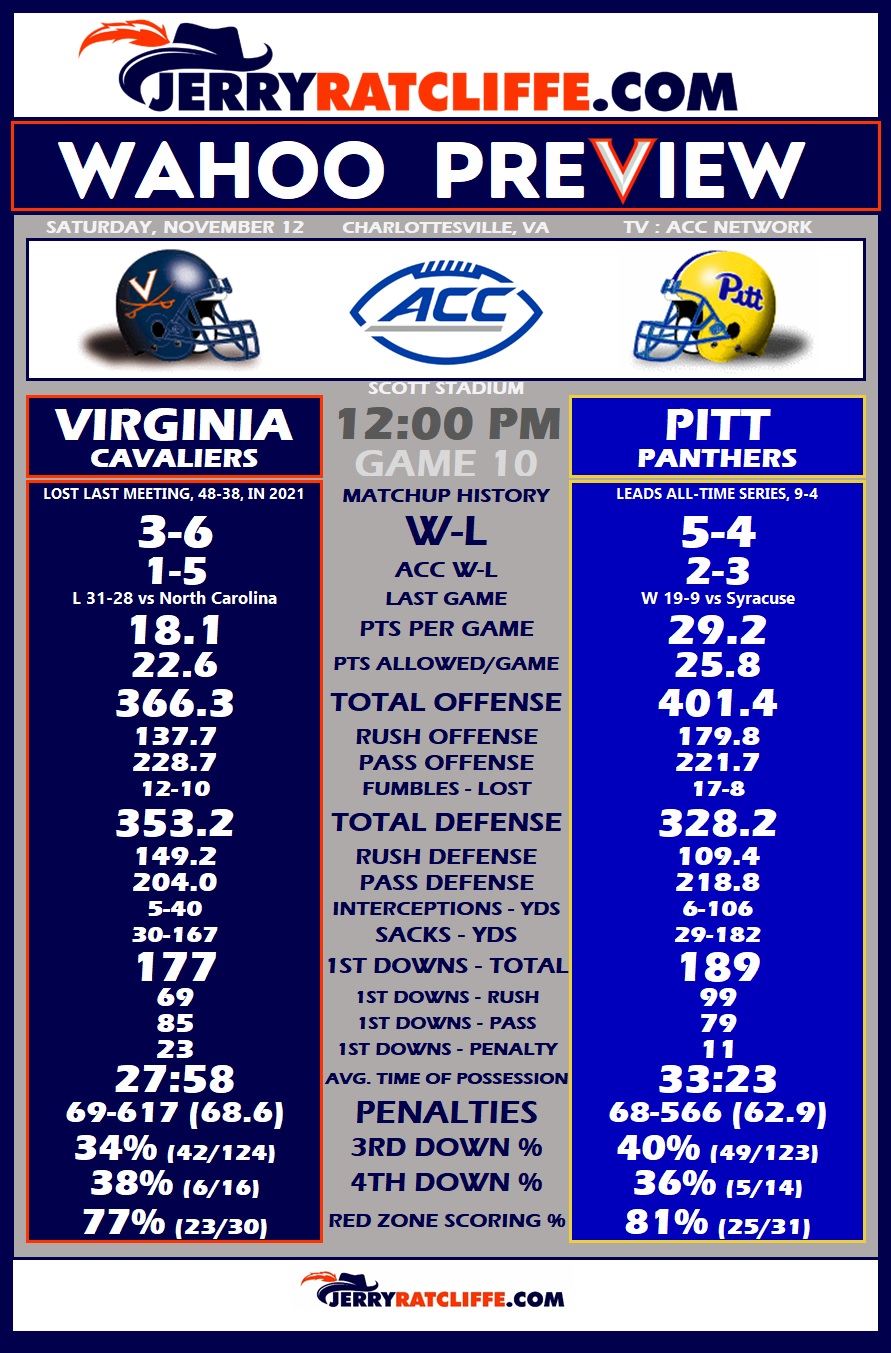 Head Coaches
Virginia
Tony Elliott
At UVA — 3-6 (first season)
Career — 3-6 (first season)
Pitt
Pat Narduzzi
At Pitt — 58-41 (eighth season)
Career — 58-41 (eighth season)
Broadcast Information
TV: ACC Network
Announcers: Chris Cotter (play-by-play), Charles Arbuckle (analyst), Lericia Harris (sideline)
Radio: Virginia Sports Radio Network
Announcers: John Freeman (play-by-play), Tony Covington (analyst), Jay James (sideline)
Satellite Radio:
SiriusXM — 135 or 193
SXM App — 955
Kickoff Forecast
Pleasant, 70 degrees
RealFeel — 70 degrees
Precipitation — 1%
Wind — SW 7 mph
Humidity — 62%

(
Courtesy AccuWeather
)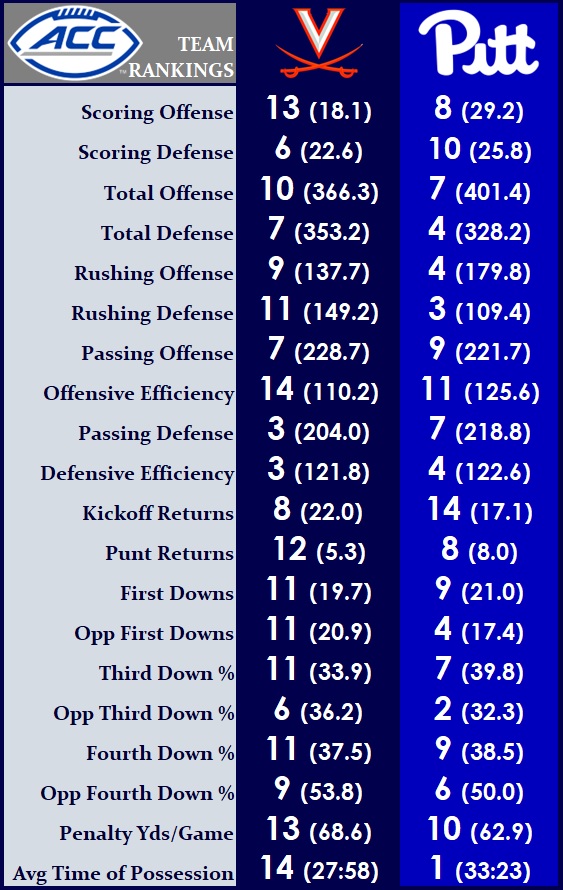 UVA Depth Chart
Offense
WR — 3 Dontayvion Wicks (6-2, 208 Jr.)
6 Demick Starling (6-0, 188 Jr.)
LT — 68 Logan Taylor (6-6, 300 So.)
52 McKale Boley (6-4, 331 Fr.)
79 Colby McGhee (6-3, 206 So.)
LG — 76 John Paul Flores (6-4, 308 Gr.)
77 Noah Josey (6-5, 316 So.)
C — 78 Jestus Johnson (6-3, 306 So.)
51 Ty Furnish (6-3, 279 So.)
RG — 67 Derek Devine (6-6, 295 Sr.)
71 Zach Teter (6-5, 314 Jr.)
RT — 65 Jonathan Leech (6-5, 291 Sr.)
75 Houston Curry (6-5, 270 Fr.)
TE — 85 Grant Misch (6-6, 247 Sr.)
44 Sackett Wood (6-4, 244 Jr.)
QB — 5 Brennan Armstrong (6-2, 210 Sr.)
16 Jay Woolfolk (5-11, 208 So.)
TB — 2 Perris Jones (5-7, 180 Sr.)
7 Mike Hollins (5-9, 208 Jr.)
20 Xavier Brown (5-9, 186 Fr.)
32 Ronnie Walker Jr. (5-10, 218 5th)
WR — 99 Keytaon Thompson (6-5, 216 Gr.)
4 Billy Kemp IV (5-9, 176 5th) or
26 Ethan Davies (5-10, 189 So.)
WR — 1 Lavel Davis (6-7, 219 Jr.)
86 Sean Wilson (6-4, 219 Fr.)
Defense
DE — 82 Kam Butler (6-3, 265 Gr.)
1 Paul Akere (6-4, 258 Gr.)
NT — 90 Jahmeer Carter (6-2, 313 Jr.)
19 Olasunkonmi Agunloye (6-5, 283 Jr.)
95 Devonte Davis (6-4, 306 Gr.)
DT — 94 Aaron Faumui (6-2, 282 Sr.)
10 Ben Smiley (6-4, 274 Jr.)
18 Michael Diatta (6-4, 268 So.)
Bandit — 15 Chico Bennett Jr. (6-4, 252 Sr.)
91 Jack Camper (6-5, 252 Gr.)
MIKE — 6 Nick Jackson (6-1, 234 Sr.)
41 D'Sean Perry (6-3, 230 Jr.) or
30 Stevie Bracey (6-0, 231 Fr.)
WILL — 7 James Jackson (6-3, 228 So.)
33 Josh Ahern (6-3, 234 Jr.)
13 Hunter Stewart (6-3, 242 Jr.)
LC — 23 Fentrell Cypress (6-0, 184 Jr.)
22 Elijah Gaines (6-1, 201 So.)
RC — 3 Anthony Johnson (6-2, 205 Gr.)
26 Jaylon Baker (6-2, 187 Sr.)
SPUR — 20 Jonas Sanker (6-1, 204 So.)
8 Darrius Bratton (6-0, 193 Gr.)
FS — 9 Coen King (6-0, 191 Sr.)
27 Lex Long (6-3, 215 So.)
21 Donovan Johnson (6-2, 200 So.)
SS — 0 Antonio Clary (6-0, 199 Sr.)
5 Chayce Chalmers (6-1, 213 Jr.)
Special Teams
P — 38 Daniel Sparks (6-6, 203 Jr.)
PK — 17 Will Bettridge (5-10, 173 Fr.)
40 Brendan Farrell (6-0, 209 Sr.)
KO — 40 Brendan Farrell (6-0, 209 Sr.)
Hold — 13 Jared Rayman (6-2, 195 Jr.)
LS — 45 Aidan Livingston (5-11, 229 Gr.)
62 Lee Dudley (6-0, 225 Gr.)
PR — 4 Billy Kemp IV (5-9, 176 5th)
26 Ethan Davies (5-10, 189 So.)
KOR — 6 Demick Starling (6-0, 188 Jr.)
7 Mike Hollins (5-9, 208 Jr.)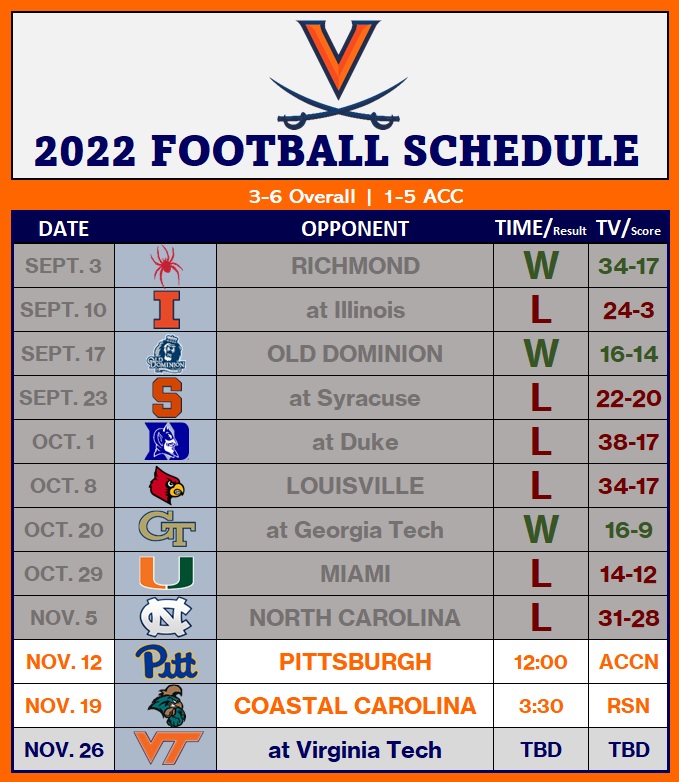 Comments