Wahoo Preview, Game 2: Virginia at Illinois
By Scott Ratcliffe
Virginia travels to Memorial Stadium in Champaign Saturday to face Big Ten foe Illinois, as Tony Elliott will be searching for his first road victory as UVA head coach.
The Cavaliers (1-0) defeated the Fighting Illini, 42-14, last season in Charlottesville, but Saturday's non-conference showdown will feature several new faces on both sidelines.
Head coach Bret Bielema is in his second season with the Fighting Illini, who come into Saturday's matchup with a 1-1 record. Illinois defeated Wyoming, 38-6, on Aug. 27, before falling late in its Big Ten opener last week against Indiana, 23-20.
Syracuse transfer Tommy DeVito was named the Illini's starting quarterback prior to the Wyoming game, and Elliott, former Clemson OC, should be somewhat familiar with his tendencies after facing him the past few years in Atlantic Division battles.
The Illinois offense revolves around junior running back Chase Brown, who leads the country in rushing yards with 350 through his first two contests.
You can read much more about the matchup between the Cavaliers and the Illini by checking out our Football Archives. You can also listen to the Jerry Ratcliffe Show's Illinois in-depth game preview with Illini Illustrated's Jeremy Werner to get you ready for gameday.
The Statistical Breakdown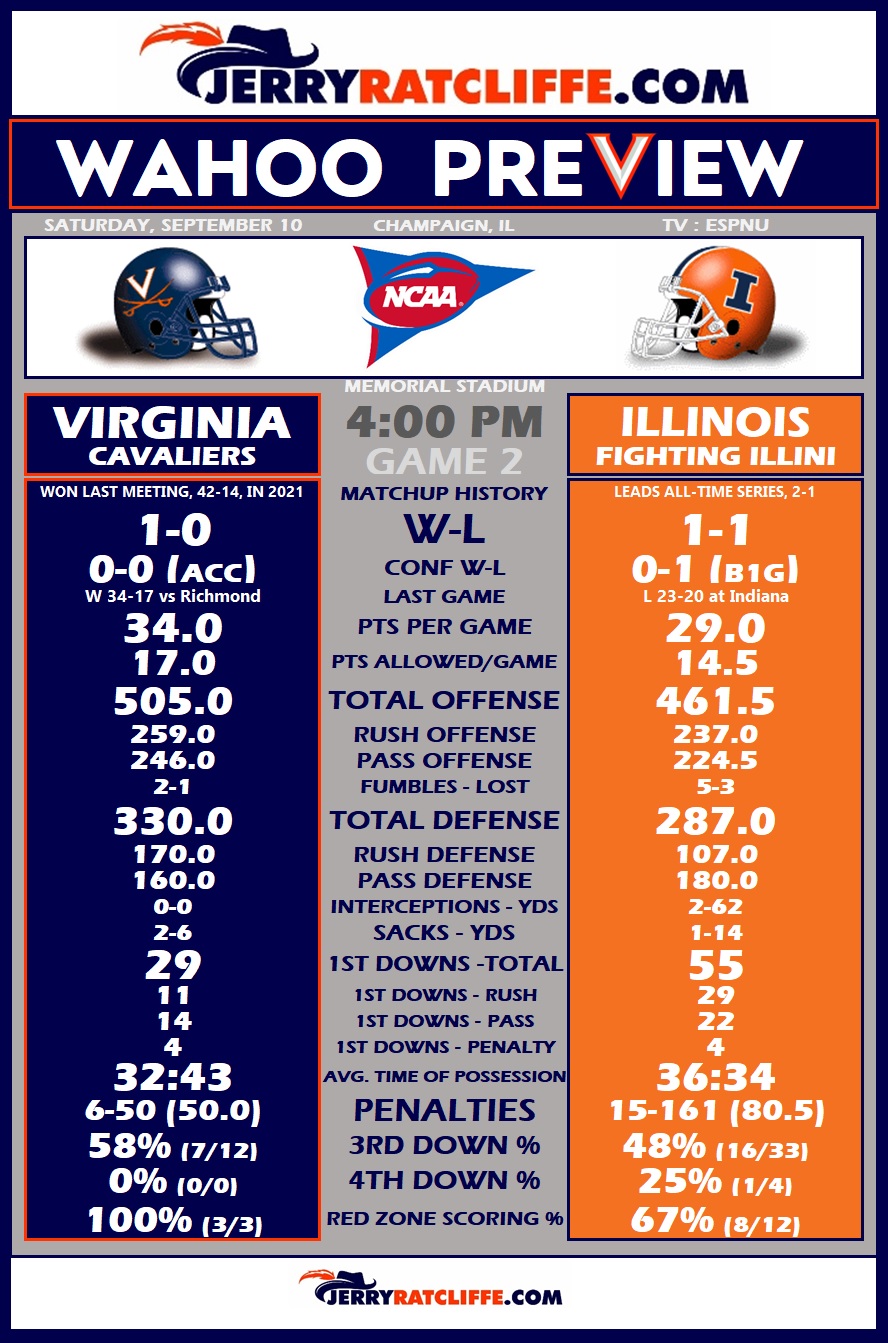 Head Coaches
Virginia
Tony Elliott
At UVA — 1-0 (first season)
Career — 1-0 (first season)
Illinois
Bret Bielema
At Illinois — 6-8 (second season)
Career — 103-66 (14th season)
Broadcast Information
TV: ESPNU
Announcers: Kevin Brown (play-by-play), Hutson Mason (analyst)

Radio: Virginia Sports Radio Network
Announcers: John Freeman (play-by-play), Tony Covington (analyst), Ahmad Hawkins (sideline)
Satellite Radio:
SiriusXM — 134 or 196
SXM App — 958
Kickoff Forecast
Cloudy, 81 degrees
Precipitation — 7%
Wind — SSE 7 mph
Humidity — 57%
(Courtesy AccuWeather)
NCAA Team Rankings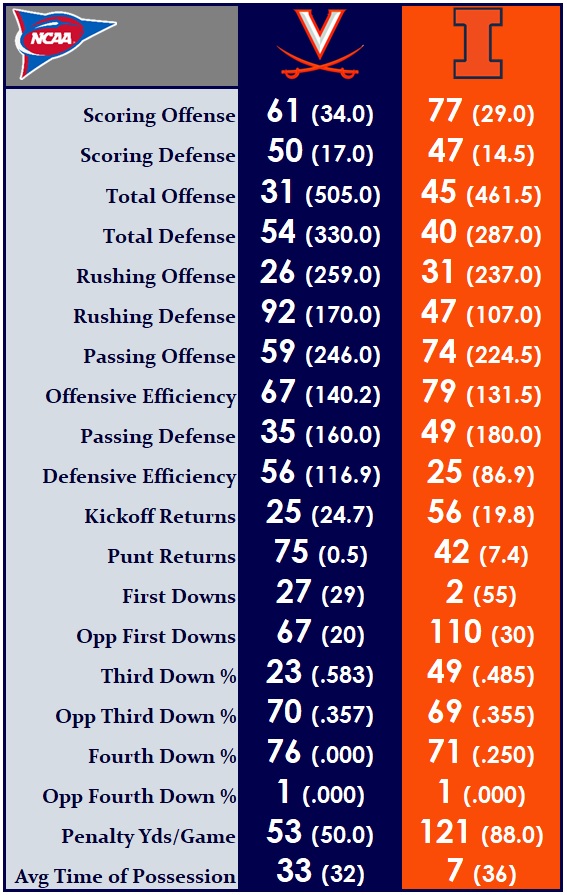 Projected Depth Charts
Virginia
Offense
WR — 3 Dontayvion Wicks (6-2, 208 Jr.)
38 Sean Moore (6-1, 163 Jr.)
LT — 52 McKale Boley (6-4, 331 Fr.)
79 Colby McGhee (6-3, 298 So.)
LG — 76 John Paul Flores (6-4, 308 Gr.)
77 Noah Josey (6-5, 316 So.)
C — 51 Ty Furnish (6-3, 279 So.)
78 Jestus Johnson (6-3, 306 So.)
RG — 67 Derek Devine (6-6, 295 Sr.)
71 Zach Teter (6-5, 314 Jr.)
RT — 68 Logan Taylor (6-6, 300 So.)
60 Charlie Patterson (6-6, 281 So.)
TE — 85 Grant Misch (6-6, 247 Sr.)
44 Sackett Wood (6-4, 244 Jr.)
QB — 5 Brennan Armstrong (6-2, 210 Sr.)
16 Jay Woolfolk (5-11, 208 So.)
TB — 2 Perris Jones (5-7, 180 Sr.)
7 Mike Hollins (5-9, 208 Jr.)
WR — 99 Keytaon Thompson (6-5, 216 Gr.) or
4 Billy Kemp IV (5-9, 176 5th)
WR — 1 Lavel Davis (6-7, 219 Jr.)
80 Luke Wentz (6-3, 210 Jr.)
Defense
DE — 82 Kam Butler (6-3, 265 Gr.)
1 Paul Akere (6-4, 258 Gr.)
NT — 90 Jahmeer Carter (6-2, 313 Jr.)
95 Devonte Davis (6-4, 306 Gr.) or
19 Olasunkonmi Agunloye (6-5, 283 Jr.)
DT — 94 Aaron Faumui (6-2, 282 Sr.)
10 Ben Smiley (6-4, 274 Jr.)
Bandit — 15 Chico Bennett Jr. (6-4, 252 Sr.)
91 Jack Camper (6-5, 252 Gr.)
MIKE — 6 Nick Jackson (6-1, 234 Sr.)
33 Josh Ahern (6-3, 234 Jr.)
WILL — 7 James Jackson (6-3, 228 So.)
13 Hunter Stewart (6-3, 242 Jr.) or
41 D'Sean Perry (6-3, 230 Jr.)
LC — 23 Fentrell Cypress (6-0, 184 Jr.)
22 Elijah Gaines (6-1, 201 So.)
RC — 3 Anthony Johnson (6-2, 205 Gr.)
26 Jaylon Baker (6-2, 187 Sr.)
SPUR — 8 Darrius Bratton (6-0, 193 Gr.)
5 Chayce Chalmers (6-1, 213 Jr.)
FS — 27 Lex Long (6-3, 215 So.)
21 Donovan Johnson (6-2, 200 So.)
SS — 20 Jonas Sanker (6-1, 204 So.)
0 Antonio Clary (6-0, 199 Sr.)
Special Teams
P — 38 Daniel Sparks (6-6, 203 Jr.)
PK — 40 Brendan Farrell (6-0, 209 Sr.)
17 Will Bettridge (5-10, 173 Fr.)
KO — 40 Brendan Farrell (6-0, 209 Sr.)
Hold — 13 Jared Rayman (6-2, 195 Jr.)
LS — 45 Aidan Livingston (5-11, 229 Gr.)
62 Lee Dudley (6-0, 225 Gr.)
PR — 4 Billy Kemp IV (5-9, 176 5th)
KOR — 7 Mike Hollins (5-9, 208 Jr.)
Illinois
Offense
WR — 7 Brian Hightower (Sr.)
14 Casey Washington (Jr.)
LT — 54 Julian Pearl (R-Jr.)
73 Josh Gesky (R-Fr.)
LG — 78 Isaiah Adams (Jr.)
68 Zachary Barlev (R-Fr.)
C — 75 Alex Pihlstrom (R-Sr.)
64 Josh Kreutz (R-Fr.)
RG — 72 Zy Crisler (So.)
66 Jordyn Slaughter (R-Jr.)
RT — 63 Alex Palczewski (Sr.)
71 Hunter Whitenack (Fr.)
TE — 89 Tip Reiman (R-So.)
82 Luke Ford (Sr.)
QB — 3 Tommy DeVito (Gr.)
9 Artur Sitkowski (R-Jr.)
RB — 2 Chase Brown (Jr.)
22 Chase Hayden (Gr.)
WR — 13 Pat Bryant (So.)
85 Miles Scott (R-Fr.)
WR — 1 Isaiah Williams (R-So.)
80 Hank Beatty (Fr.)
Defense
DE — 4 Jer'Zhan Newton (R-So.)
48 Bryce Barnes (Jr.)
NT — 93 Calvin Avery (Sr.)
23 TeRah Edwards (R-Fr.)
DE — 88 Keith Randolph Jr. (R-So.)
91 Jamal Woods (Sr.)
OLB — 33 Ezekiel Holmes (R-Jr.)
17 Gabe Jacas (Fr.)
ILB — 5 Calvin Hart Jr. (R-Jr.)
38 Isaac Darkangelo (Sr.)
ILB — 8 Tarique Barnes (Jr.)
28 Dylan Rosiek (R-Fr.)
OLB — 49 Seth Coleman (R-So.)
90 Alec Bryant (R-So.)
CB — 31 Devon Witherspoon (Jr.)
20 Tyler Strain (R-Fr.)
SS — 30 Sydney Brown (Sr.)
2 Matthew Bailey (Fr.)
FS — 7 Kendall Smith (Sr.)
1 Kionte Curry (R-Fr.)
CB — 10 Tahveon Nicholson (R-So.)
6 Terrell Jennings (Sr.)
STAR — 21 Jartavius Martin (Sr.)
32 Tailon Leitzsey (R-Sr.)
Special Teams
P — 19 Hugh Robertson (R-Fr.)
PK — 5 Caleb Griffin (R-Jr.)
98 Fabrizio Pinton (R-Fr.)
KO — 5 Caleb Griffin (R-Jr.)
Hold — 19 Hugh Robertson (R-Fr.)
LS — 39 Aidan Hall (R-So.)
PR — 1 Isaiah Williams (R-So.)
KOR — 16 Peyton Vining (R-Sr.)
UVA season player stats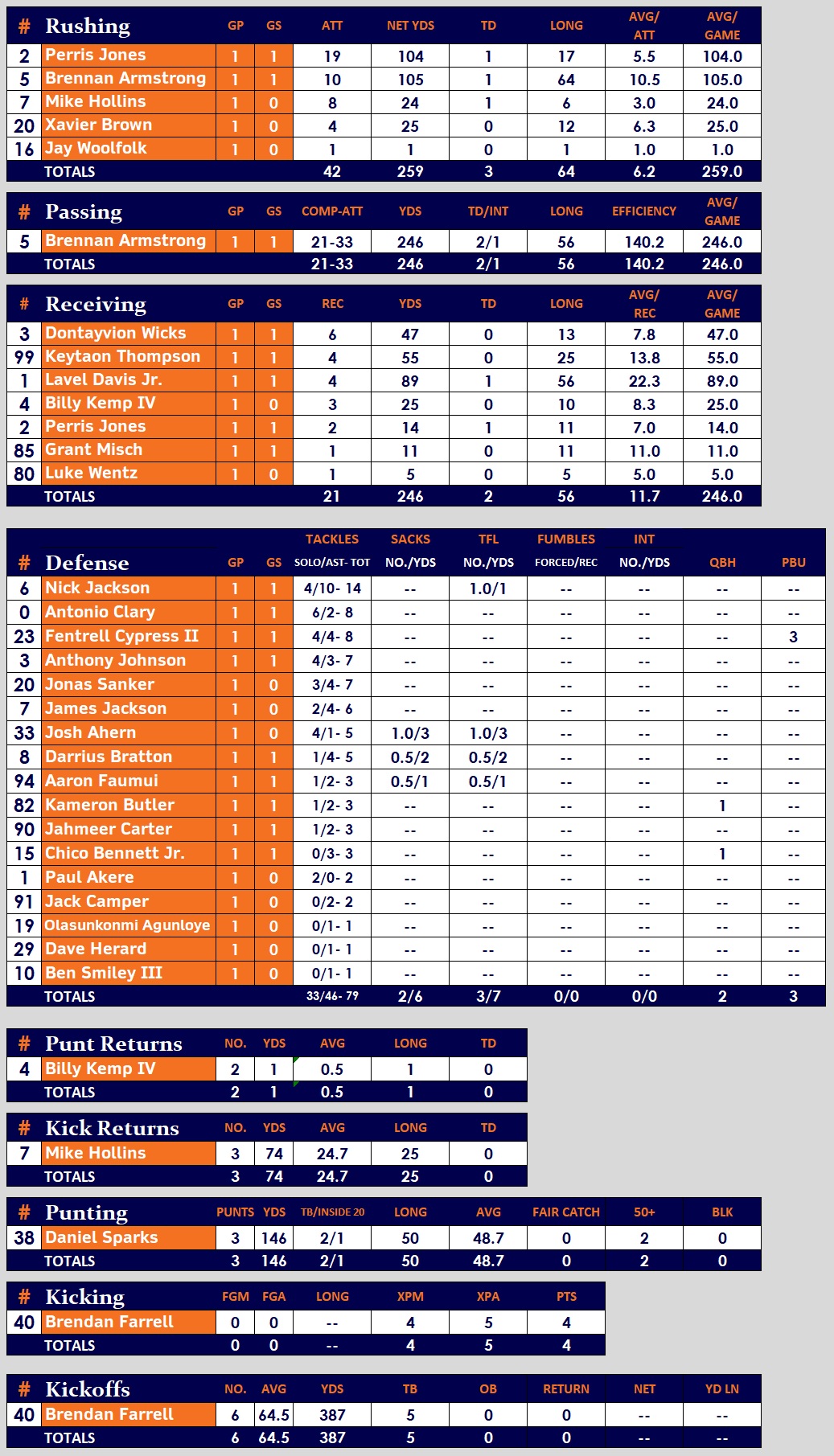 Illinois offensive leaders