Wahoo Preview, Game 3: Old Dominion at Virginia
By Scott Ratcliffe
Virginia returns to Scott Stadium to host Old Dominion Saturday, looking to get back into the win column after last week's disappointing loss at Illinois.
Saturday's in-state showdown (2 p.m., ACC Network) marks only the second all-time meeting between the Cavaliers (1-1) and the Monarchs (1-1), with UVA claiming the lone win in the series in 2019 in Charlottesville.
ODU gave Wahoo fans a scare in that one, grabbing a 17-0 lead in the second quarter before Bryce Perkins rallied the Hoos to 28 unanswered points over the remainder of the contest.
Old Dominion picked up just the program's second win over a Power Five school in Week 1 after upsetting Virginia Tech in Norfolk, 20-17. The Monarchs' other Power Five victory also came in a home game against the Hokies in 2018.
Last week, ODU fell on the road at East Carolina, 39-21.
The go-to guy for the ODU offense is West Virginia transfer Ali Jennings III, who leads the country in receiving yards through two weeks with 322. Jennings, a 6-foot-2 junior wideout, has already hauled in three touchdown passes this season after going for a career-best (and team-high) 1,066 yards and five scores in 2021.
Old Dominion checks in with one of the weakest running games in the country on paper, ranked No. 129 in Division I with an average of just 49.5 yards per game on the ground.
In case you missed it, UVA announced concessions improvements for home games at Scott Stadium for the remainder of the year, beginning with Saturday's contest.
Looking for more pregame coverage? Go to our Virginia Football archives for all the latest news, and you can also check out a pair of recent podcasts — Hootie chatted with ODU's Harry Minium for an in-depth look at the Monarchs, while Jerry and Chris Graham break things down from more of a Wahoo angle here.
The Statistical Breakdown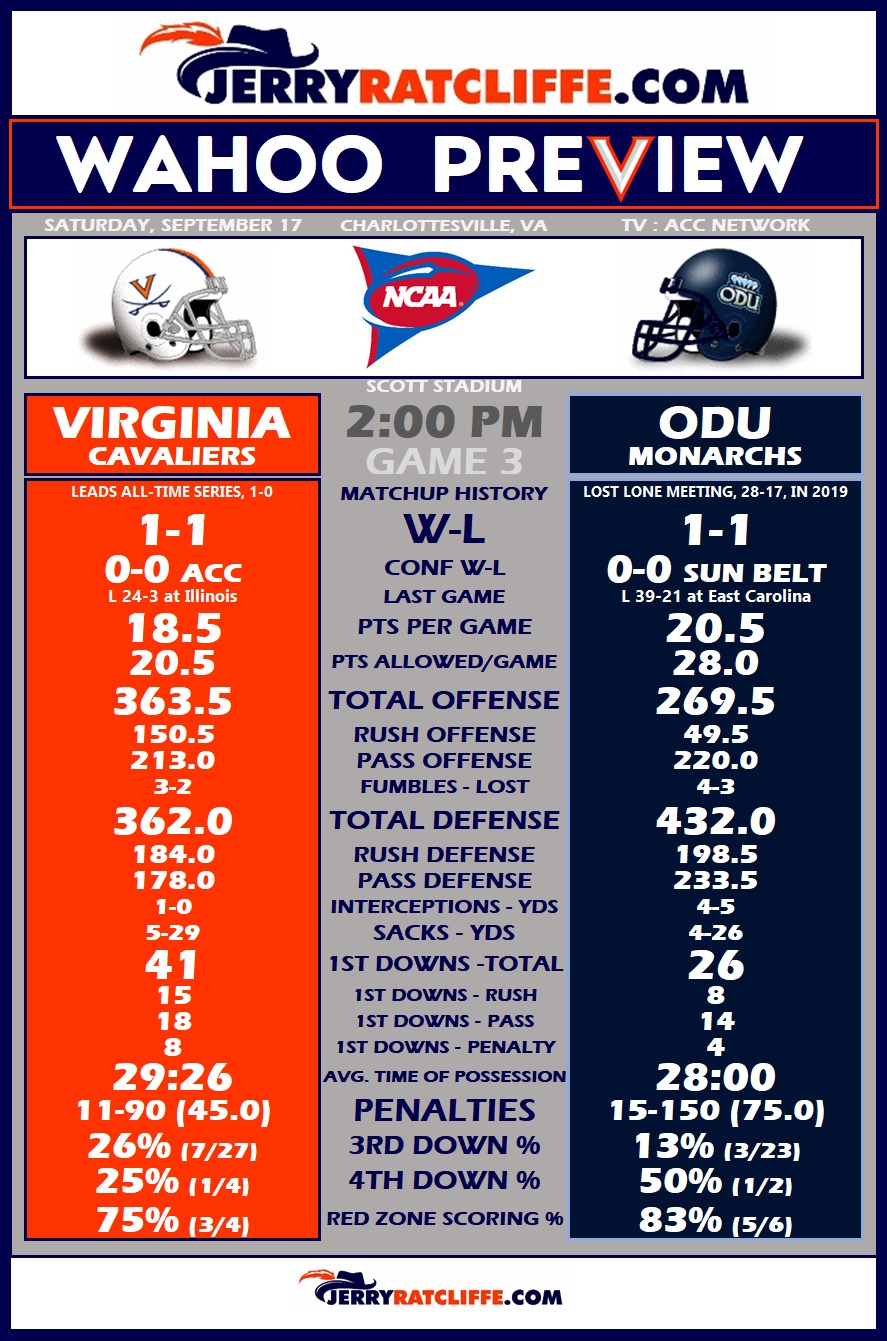 Head Coaches
Virginia
Tony Elliott
At UVA — 1-1 (first season)
Career — 1-1 (first season)
Old Dominion
Ricky Rahne
At ODU — 7-8 (second season)
Career — 7-8 (second season)
Broadcast Information
TV: ACC Network
Announcers: Chris Cotter (play-by-play), Mark Herzlich (analyst), Lericia Harris (sideline)
Radio: Virginia Sports Radio Network
Announcers: John Freeman (play-by-play), Tony Covington (analyst), Jay James (sideline)
Satellite Radio:
SiriusXM — 94 or 204
SXM App — 967
Kickoff Forecast
Mostly Sunny, 82 degrees
RealFeel — 88 degrees
Precipitation — 0%
Wind — S 5 mph
Humidity — 47%
(Courtesy AccuWeather)
NCAA Team Rankings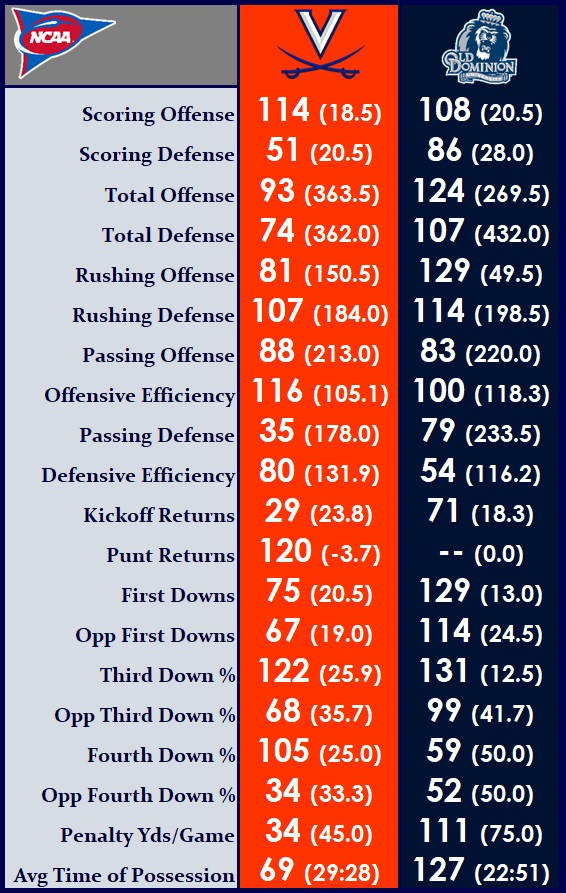 Projected Depth Charts
Virginia
Offense
WR — 3 Dontayvion Wicks (6-2, 208 Jr.)
38 Sean Moore (6-1, 163 Jr.)
LT — 52 McKale Boley (6-4, 331 Fr.)
60 Charlie Patterson (6-6, 281 So.)
LG — 76 John Paul Flores (6-4, 308 Gr.)
77 Noah Josey (6-5, 316 So.)
C — 51 Ty Furnish (6-3, 279 So.)
78 Jestus Johnson (6-3, 306 So.)
RG — 67 Derek Devine (6-6, 295 Sr.)
71 Zach Teter (6-5, 314 Jr.)
RT — 68 Logan Taylor (6-6, 300 So.)
64 Jonathan Leech (6-5, 291 Sr.)
TE — 85 Grant Misch (6-6, 247 Sr.)
44 Sackett Wood (6-4, 244 Jr.)
QB — 5 Brennan Armstrong (6-2, 210 Sr.)
16 Jay Woolfolk (5-11, 208 So.)
TB — 2 Perris Jones (5-7, 180 Sr.)
7 Mike Hollins (5-9, 208 Jr.)
WR — 99 Keytaon Thompson (6-5, 216 Gr.) or
4 Billy Kemp IV (5-9, 176 5th)
WR — 1 Lavel Davis (6-7, 219 Jr.)
80 Luke Wentz (6-3, 210 Jr.)
Defense
DE — 82 Kam Butler (6-3, 265 Gr.)
1 Paul Akere (6-4, 258 Gr.)
NT — 90 Jahmeer Carter (6-2, 313 Jr.)
95 Devonte Davis (6-4, 306 Gr.) or
19 Olasunkonmi Agunloye (6-5, 283 Jr.)
DT — 94 Aaron Faumui (6-2, 282 Sr.)
10 Ben Smiley (6-4, 274 Jr.)
Bandit — 15 Chico Bennett Jr. (6-4, 252 Sr.)
91 Jack Camper (6-5, 252 Gr.)
MIKE — 6 Nick Jackson (6-1, 234 Sr.)
41 D'Sean Perry (6-3, 230 Jr.)
WILL — 33 Josh Ahern (6-3, 234 Jr.)
7 James Jackson (6-3, 228 So.)
13 Hunter Stewart (6-3, 242 Jr.)
LC — 23 Fentrell Cypress (6-0, 184 Jr.)
22 Elijah Gaines (6-1, 201 So.)
RC — 3 Anthony Johnson (6-2, 205 Gr.)
26 Jaylon Baker (6-2, 187 Sr.)
SPUR — 20 Jonas Sanker (6-1, 204 So.)
8 Darrius Bratton (6-0, 193 Gr.)
FS — 27 Lex Long (6-3, 215 So.)
21 Donovan Johnson (6-2, 200 So.)
SS — 0 Antonio Clary (6-0, 199 Sr.)
5 Chayce Chalmers (6-1, 213 Jr.)
9 Coen King (6-0, 191 Sr.)
Special Teams
P — 38 Daniel Sparks (6-6, 203 Jr.)
PK — 40 Brendan Farrell (6-0, 209 Sr.)
17 Will Bettridge (5-10, 173 Fr.)
KO — 40 Brendan Farrell (6-0, 209 Sr.)
Hold — 13 Jared Rayman (6-2, 195 Jr.)
LS — 45 Aidan Livingston (5-11, 229 Gr.)
62 Lee Dudley (6-0, 225 Gr.)
PR — 4 Billy Kemp IV (5-9, 176 5th)
KOR — 7 Mike Hollins (5-9, 208 Jr.)
Old Dominion
Offense
WR — 0 Ali Jennings III (6-2, 200 Jr.)
19 Peter Kikwata (6-1, 184 Fr.)
10 Marquez Bell (6-1, 180 R-Fr.)
LT — 53 Khadere Kounta (6-6, 309 Jr.)
71 Santana Saunders (6-5, 297 So.)
LG — 67 Tyran Hunt (6-7, 313 Sr.)
59 Gary Hoover (6-3, 315 Sr.)
C — 63 Xavier Black (6-4, 270 R-So.)
73 Austin Mosier (6-3, 285 R-So.)
RG — 79 Leroy Thomas (6-3, 275 R-Jr.)
72 Talyn Hunter (6-4, 290 R-Fr.)
RT — 64 Nick Saldiveri (6-6, 307 R-Jr.)
58 Stephon Dubose-Bourne (6-4, 313 R-Fr.)
65 Chris Adams (6-4, 296 R-Fr.)
TE — 80 Zack Kuntz (6-8, 260 R-Jr.)
9 Donta Anthony (6-6, 244 Sr.)
3 Isaiah Spencer (6-3, 226 R-Jr.)
QB — 11 Hayden Wolff (6-5, 235 R-So.)
8 DJ Mack (6-3, 226 Sr.)
4 Brendon Clark (6-2, 225 So.)
TB — 2 Blake Watson (5-9, 193 R-Jr.)
22 Keshawn Wicks (6-1, 193 R-So.)
26 Tariq Sims (5-9, 183 R-Fr.)
WR — 18 Javon Harvey (5-11, 176 R-So.)
7 Ahmarian Granger (6-1, 180 Fr.)
20 Dominic Dutton (5-10, 162 So.)
WR — 1 Jordan Bly (5-10, 165 So.)
5 Isiah Page (5-8, 165 So.)
13 Marqeese Dietz (6-0, 180 R-Fr.)
Defense
DE — 4 Amorie Morrison (6-4, 252 So.)
43 Kris Trinidad (6-5, 225 R-Fr.)
DT — 5 Alonzo Ford (6-3, 275 So.)
10 Chazz Wallace (6-2, 292 So.)
55 Keyshawn Hunter (6-2, 295 R-Fr.)
DT — 99 Tyre Bibby (6-3, 281 R-Sr.)
97 Devin Brandt-Epps (6-3, 285 So.)
45 Denzel Lowry (6-2, 280 R-Fr.)
DE — 9 Marcus Haynes (6-4, 251 R-Sr.) or
11 Deeve Harris (6-2, 235 R-So.)
41 Kris Caine (6-3, 225 So.)
LB — 8 Ryan Henry (6-2, 232 R-Sr.)
25 Steven Williams (6-4, 223 R-Sr.)
24 EJ Green (6-1, 200 R-So.)
LB — 42 Jason Henderson (6-1, 220 So.)
36 Alec Solano (6-2, 231 Jr.)
14 Malcolm Britt (6-0, 207 R-Fr.)
CB — 6 Tre Hawkins III (6-3, 195 Sr.)
2 LaMareon James (5-10, 182 So.)
17 Damion Charity (6-1, 180 R-Jr.)
CB — 20 Tobias Harris (5-8, 183 Sr.)
19 Tyus Fields (5-9, 190 So.)
23 JeCareon Lathan (6-1, 177 So.)
S — 13 Terry Jones (6-1, 178 R-So.)
7 Shawn Asbury (5-9, 195 So.)
27 Jahaad Scales (6-0, 192 R-Fr.)
S — 1 R'Tarriun Johnson (5-11, 200 R-Sr.)
12 Tahj Ra-El (6-2, 188 So.)
S — 3 Robert Kennedy (5-10, 183 R-Jr.)
21 Mario Easterly (6-0, 180 Fr.)
Special Teams
P — 95 Ethan Duane (6-0, 212 So.)
93 Nick Verdugo (5-10, 170 Fr.)
PK — 92 Ethan Sanchez (5-9, 179 Fr.) or
37 Dominik Soos (6-1, 206 Sr.)
Hold — 49 John Morton (6-1, 218 R-So.)
95 Ethan Duane (6-0, 212 So.)
LS — 91 Broughton Hatcher (6-5, 232 R-Jr.)
49 John Morton (6-1, 218 R-So.)
96 Ryan Harvey (5-11, 200 R-So.)
PR — 5 Isiah Page (5-8, 165 So.)
20 Tobias Harris (5-8, 183 Sr.)
KOR — 2 LaMareon James (5-10, 182 So.)
20 Tobias Harris (5-8, 183 Sr.)
18 Javon Harvey (5-11, 176 R-So.)