Wahoo Preview, Game 7: Virginia at Georgia Tech
By Scott Ratcliffe
The Virginia football team faces ACC Coastal Division rival Georgia Tech Thursday night in Atlanta, with the Cavaliers still looking for their first conference victory of the season. UVA (2-4, 0-3 ACC) has dropped five league matchups in a row dating back to last season, but has had a bye week and an 11-day layoff to readjust and prepare for its next shot at a win on Thursday night in front of a national TV audience (7:30 p.m., ESPN).
Virginia's last ACC win came almost a year ago, Oct. 23, against the Yellow Jackets in Charlottesville, 48-40. The Cavaliers have won just 2 of their 10 games since then (against Richmond and ODU last month).
It'll be the Cavaliers' first trip to Bobby Dodd Stadium since 2018, where Tech has won its last five meetings in the all-time series (which is dead-even at 21-21-1). It's been over a year since Cavalier fans have been able to celebrate a victory away from home, as UVA has dropped its last five road games, including all three this season. The last Virginia win on the road came on Oct. 9 last season against Louisville.
The Jackets (3-3, 2-1), who come in as a 3-point favorite against the Wahoos, have won two-consecutive contests — their first win streak since November of 2018 — after making a head-coaching change a third of the way through the season.
Interim Brent Key, a former Georgia Tech player and four-year assistant, replaced previous head coach Geoff Collins in late September after the Jackets suffered a 1-3 start to the campaign.
After getting stomped by Clemson in the season opener, 41-10, Tech bounced back with a 35-17 home win over Western Carolina. Collins then saw his team get blanked, 42-0, the following week against Ole Miss, and then fell 27-10 at Central Florida on Sept. 24, and he was shown the exit.
After Key was, well, handed the keys, his team went on the road and upset 24th-ranked Pitt a few days later, 26-21, and then held Duke to season-lows in points and total offense en route to a 23-20 victory in overtime last week.
Jeff Sims did it all for Tech against the Blue Devils, as the sophomore QB led the team in both passing (23 for 34, 227 yards, 2 TD, 0 INT) and rushing (17 carries, game-high and season-high 95 yards).
Sims has thrown for 1,068 yards and 5 touchdowns while rushing for 301 yards and another score.
Senior Hassan Hall added 76 total yards on 21 touches last week, and leads the team in rushing on the season with 330 yards. Hall is still looking for his first touchdown of 2022. Junior back Dontae Smith has added 208 yards on 35 carries this season, and owns a team-high 3 rushing scores.
Sophomore receiver Nate McCollum posted his first career 100-yard game against Duke, finishing with a game-high 101 yards and a touchdown grab on 8 catches.
McCollum (team-high 283 receiving yards), along with senior wideouts E.J. Jenkins (160 yards) and Malachi Carter (158 yards), will be the biggest factors in the passing game for Georgia Tech.
GT senior linebackers Ayinde Eley and Charlie Thomas have teamed up for 117 stops already this season, along with 4.5 sacks, 14.5 tackles for loss, a pair of interceptions, 4 forced fumbles, 3 fumble recoveries and five pass deflections. Thomas ranks fifth in the country with 6.3 solo tackles per contest, while Eley is seventh nationally with 10.8 total tackles per game.
The Statistical Breakdown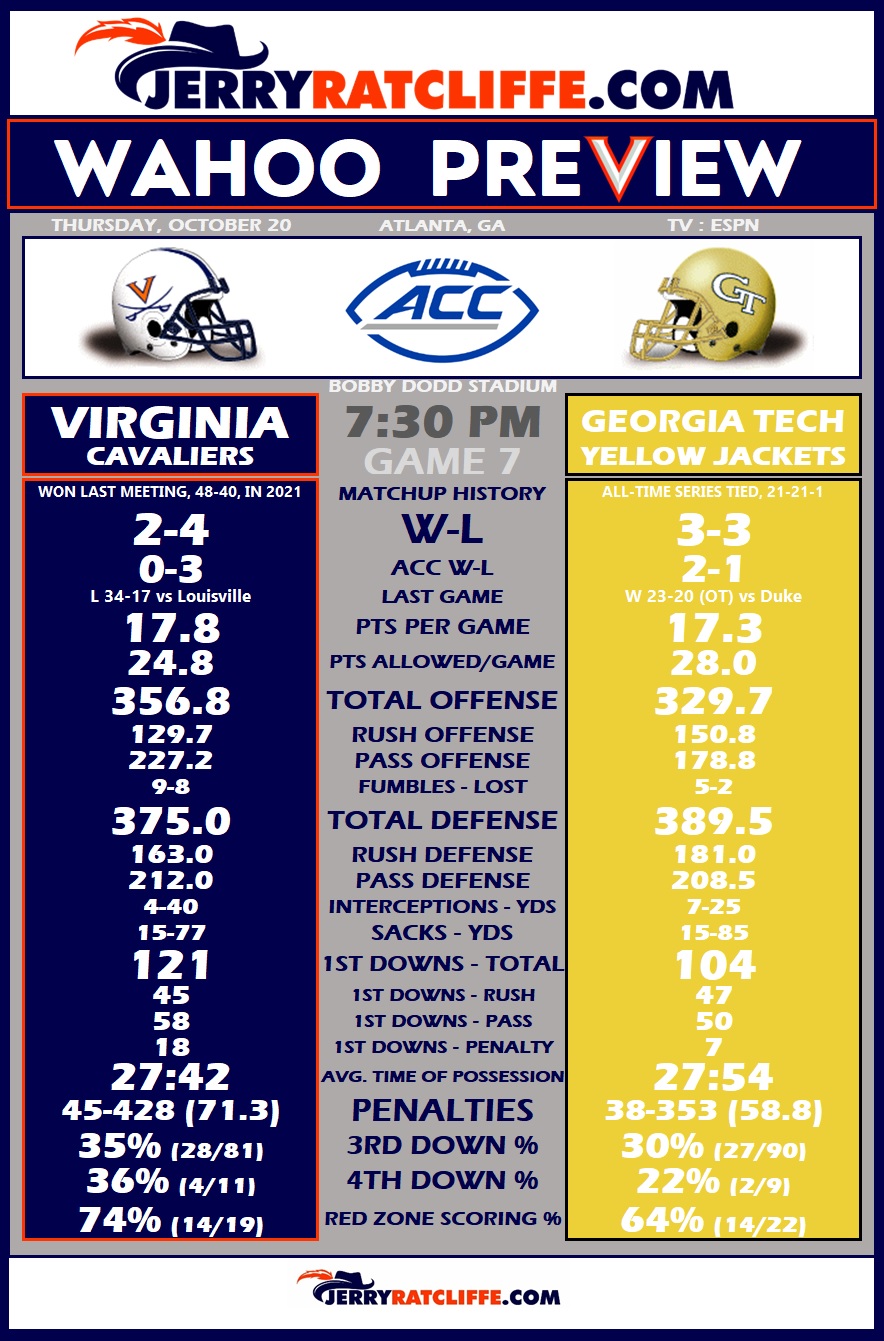 Head Coaches
Virginia
Tony Elliott
At UVA — 2-4 (first season)
Career — 2-4 (first season)
Georgia Tech
Brent Key
At GT — 2-0 (first season)
Career — 2-0 (first season)
Broadcast Information
TV: ESPN
Announcers: Matt Barrie (play-by-play), Louis Riddick (analyst), Harry Lyles (sideline)
Radio: Virginia Sports Radio Network
Announcers: John Freeman (play-by-play), Tony Covington (analyst), Ahmad Hawkins (sideline)
Satellite Radio:
SiriusXM — 137 or 194
SXM App — 956
Kickoff Forecast
Mostly clear, 56 degrees
RealFeel — 54 degrees
Precipitation —0%
Wind — WSW 7 mph
Humidity — 34%


(Courtesy AccuWeather)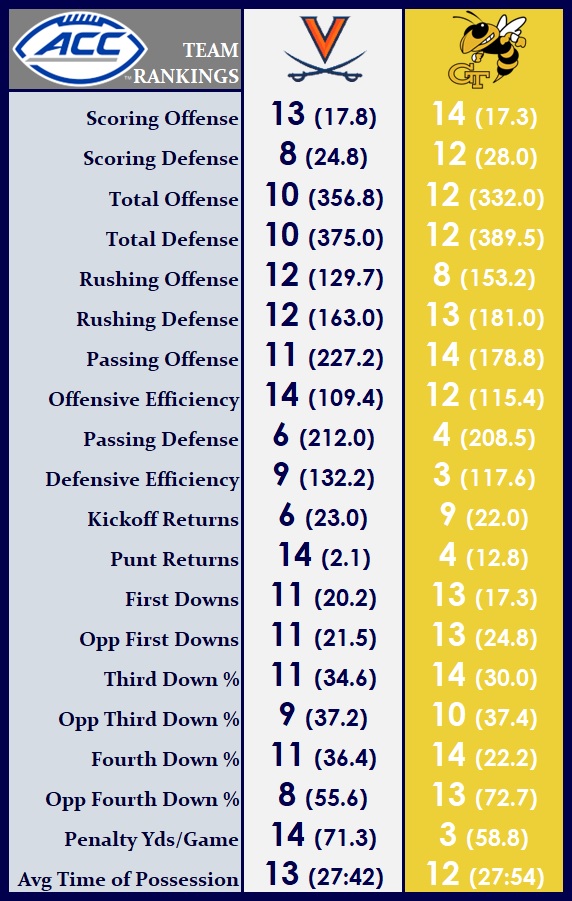 Depth Charts
Virginia
Offense
WR — 3 Dontayvion Wicks (6-2, 208 Jr.)
6 Demick Starling (6-0, 188 Jr.)
LT — 68 Logan Taylor (6-6, 300 So.)
52 McKale Boley (6-4, 331 Fr.)
79 Colby McGhee (6-3, 206 So.)
LG — 76 John Paul Flores (6-4, 308 Gr.)
77 Noah Josey (6-5, 316 So.)
C — 78 Jestus Johnson (6-3, 306 So.)
51 Ty Furnish (6-3, 279 So.)
RG — 67 Derek Devine (6-6, 295 Sr.)
71 Zach Teter (6-5, 314 Jr.)
RT — 64 Jonathan Leech (6-5, 291 Sr.)
75 Houston Curry (6-5, 270 Fr.)
TE — 85 Grant Misch (6-6, 247 Sr.)
44 Sackett Wood (6-4, 244 Jr.)
QB — 5 Brennan Armstrong (6-2, 210 Sr.)
16 Jay Woolfolk (5-11, 208 So.)
TB — 2 Perris Jones (5-7, 180 Sr.)
7 Mike Hollins (5-9, 208 Jr.)
WR — 99 Keytaon Thompson (6-5, 216 Gr.)
4 Billy Kemp IV (5-9, 176 5th) or
26 Ethan Davies (5-10, 189 So.)
WR — 1 Lavel Davis (6-7, 219 Jr.)
86 Sean Wilson (6-4, 219 Fr.)
Defense
DE — 82 Kam Butler (6-3, 265 Gr.)
1 Paul Akere (6-4, 258 Gr.)
NT — 90 Jahmeer Carter (6-2, 313 Jr.)
19 Olasunkonmi Agunloye (6-5, 283 Jr.)
95 Devonte Davis (6-4, 306 Gr.)
DT — 10 Ben Smiley (6-4, 274 Jr.)
94 Aaron Faumui (6-2, 282 Sr.) or
18 Michael Diatta (6-4, 268 So.)
Bandit — 15 Chico Bennett Jr. (6-4, 252 Sr.)
91 Jack Camper (6-5, 252 Gr.)
MIKE — 6 Nick Jackson (6-1, 234 Sr.)
41 D'Sean Perry (6-3, 230 Jr.) or
30 Stevie Bracey (6-0, 231 Fr.)
WILL — 33 Josh Ahern (6-3, 234 Jr.)
7 James Jackson (6-3, 228 So.)
13 Hunter Stewart (6-3, 242 Jr.)
LC — 23 Fentrell Cypress (6-0, 184 Jr.)
22 Elijah Gaines (6-1, 201 So.)
RC — 3 Anthony Johnson (6-2, 205 Gr.)
26 Jaylon Baker (6-2, 187 Sr.)
SPUR — 20 Jonas Sanker (6-1, 204 So.)
8 Darrius Bratton (6-0, 193 Gr.)
FS — 27 Lex Long (6-3, 215 So.)
9 Coen King (6-0, 191 Sr.) or
21 Donovan Johnson (6-2, 200 So.)
SS — 0 Antonio Clary (6-0, 199 Sr.)
5 Chayce Chalmers (6-1, 213 Jr.)
Special Teams
P — 38 Daniel Sparks (6-6, 203 Jr.)
PK — 17 Will Bettridge (5-10, 173 Fr.)
40 Brendan Farrell (6-0, 209 Sr.)
KO — 40 Brendan Farrell (6-0, 209 Sr.)
Hold — 13 Jared Rayman (6-2, 195 Jr.)
LS — 45 Aidan Livingston (5-11, 229 Gr.)
62 Lee Dudley (6-0, 225 Gr.)
PR — 4 Billy Kemp IV (5-9, 176 5th) or
26 Ethan Davies (5-10, 189 So.)
KOR — 6 Demick Starling (6-0, 188 Jr.) or
7 Mike Hollins (5-9, 208 Jr.)
Georgia Tech
Offense
QB — 10 Jeff Sims (6-4, 219 So.)
15 Zach Gibson (6-3, 211 R-So.) or
17 Taisun Phommachanh (6-3, 208 R-So.)
RB — 4 Dontae Smith (5-11, 203 R-Jr.) or
6 Dylan McDuffie (6-0, 217 R-Jr.) or
3 Hassan Hall (6-0, 196 Sr.)
WR — 0 E.J. Jenkins (6-7, 243 R-Sr.)
11 Ryan King (6-3, 214 So.) or
9 Avery Boyd (6-2, 230 So.)
WR — 8 Nate McCollum (5-11, 184 So.)
12 Malik Rutherford (5-9, 155 R-Fr.)
WR — 7 Malachi Carter (6-3, 192 Sr.)
1 Leo Blackburn (6-5, 221 R-Fr.)
TE — 2 Dylan Leonard (6-5, 238 Jr.)
81 Luke Benson (6-4, 236 Jr.)
LT — 55 Corey Robinson II (6-5, 294 R-Fr.)
62 Cade Kootsouradis (6-4, 316 R-Fr.)
LG — 71 Pierce Quick (6-5, 291 R-So.)
60 Paula Vaipulu (6-3, 300 So.)
C — 72 Weston Franklin (6-4, 316 So.)
79 William Lay III (6-2, 308 R-Sr.)
RG — 67 Joe Fusile (6-6, 316 R-Fr.)
57 Paul Tchio (6-5, 314 So.)
RT — 54 Jordan Williams (6-6, 312 So.)
75 Jakiah Leftwich (6-6, 311 R-Fr.)
Defense
DE — 6 Keion White (6-5, 286 R-Sr.)
32 Sylvain Yondjouen (6-4, 257 Jr.) or
27 Josh Robinson (6-6, 259 So.)
DT — 8 Makius Scott (6-4, 295 So.)
88 Zeek Biggers (6-6, 341 So.) or
5 T.K. Chimedza (6-3, 335 R-Jr.)
DT — 99 D'Quan Douse (6-2, 282 R-So.)
97 Akelo Stone (6-2, 280 R-Fr.) or
95 Jason Moore (6-2, 291 R-Fr.)
DE — 9 Kyle Kennard (6-5, 240 So.)
43 Noah Collins (6-5, 243 So.) or
11 Kevin Harris (6-4, 241 R-So.)
LB (MAC) — 2 Ayinde Eley (6-3, 233 R-Sr.)
40 Trenilyas Tatum (6-2, 216 So.)
LB (MONEY) — 1 Charlie Thomas (6-2, 207 Sr.)
10 Taylor McCawley (6-0, 222 R-So.)
NICKEL — 16 K.J. Wallace (5-11, 184 R-So.)
25 Kenny Bennett (6-3, 194 R-Sr.)
SS — 20 LaMiles Brooks (6-2, 192 So.)
4 Derrik Allen (6-2, 212 R-Jr.)
FS — 29 Clayton Powell-Lee (6-2, 175 Fr.)
23 Khari Gee (6-2, 202 R-Fr.)
CB — 7 Zamari Walton (6-3, 185 R-Jr.)
24 Kenan Johnson (6-1, 180 R-So.)
CB — 0 Myles Sims (6-3, 187 R-Jr.)
3 Kenyatta Watson II (6-1, 185 R-So.) or
18 Ahmari Harvey (6-0, 174 R-Fr.)
Special Teams
PK — 88 Gavin Stewart (5-11, 181 So.)
87 Jude Kelley (6-1, 174 R-Fr.)
P — 43 David Shanahan (6-2, 201 So.)
87 Jude Kelley (6-1, 174 R-Fr.)
KO — 88 Gavin Stewart (5-11, 181 So.)
87 Jude Kelley (6-1, 174 R-Fr.)
Hold — 43 David Shanahan (6-2, 201 So.)
16 Brody Rhodes (6-1, 191 R-Fr.)
LS — 46 Henry Freer (6-0, 224 R-Fr.)
52 Cade Long (6-0, 231 R-Jr.)
KOR — 3 Hassan Hall (6-0, 196 Sr.)
12 Malik Rutherford (5-9, 155 R-Fr.)
PR — 8 Nate McCollum (5-11, 184 So.)
12 Malik Rutherford (5-9, 155 R-Fr.)
Comments