Wahoo Preview, Game 8: Miami at Virginia
By Scott Ratcliffe
It'll be home, sweet home for the next month for Virginia, as the Cavaliers return to Scott Stadium to face Miami Saturday, the first of four games in a row in Charlottesville.
UVA (3-4, 1-3 ACC) picked up its first conference win in nearly a calendar year last week at Georgia Tech, 16-9, and will try to string together a few more in hopes of qualifying for the postseason.
With home games against North Carolina, Pittsburgh and Coastal Carolina on the horizon before finishing the regular season at Virginia Tech, the Wahoos still have a few opportunities to create a little "Coastal Chaos" before ACC divisional play ends for good in late November.
That being said, Saturday's game (12:30 p.m., ACC Regional Sports Networks) becomes that much more important towards the program goal of making it back to a bowl game for the first time since 2019, particularly with the Coastal's first-place Tar Heels coming to town next Saturday.
The Hoos haven't hosted the Hurricanes since 2018, but have taken four of the last five home contests in the series.
It's tough to predict which Miami team will show up this weekend. In his first season back in South Florida, things probably haven't gone quite the way head coach Mario Cristobal was expecting when he left Southern California and took the reins at his alma mater.
After being ranked as high as No. 13 in the AP poll, the Hurricanes (3-4, 1-2) have dropped four of their last five games, including a 45-21 home loss to Duke last week. Starting quarterback Tyler Van Dyke injured his shoulder in the first half against the Blue Devils, and whether or not the talented sophomore will be able to give it a go Saturday against the Wahoos remains up in the air.
"Tyler has improved a bunch," Cristobal told On3.com on Wednesday. "Status still unknown, we'll determine that a little bit later."
Van Dyke has thrown for 1,737 yards and 10 touchdowns this season. His backup, freshman Jake Garcia, struggled against Duke, committing five turnovers on the day. The biggest question going into the weekend will obviously be Van Dyke's availability.
Miami sophomore receiver Colbie Young posted his second 100-yard performance in as many weeks, finishing with a game-high 127 yards and a pair of touchdowns against the Devils, including a 71-yard strike to start the third quarter.
Garcia gave Miami a 21-17 lead just over a minute later with a 34-yard TD pass to Will Mallory before the wheels came off for the Hurricanes, as Duke scored 28 unanswered to steal the victory. Garcia completed 13 of his 21 attempts for 198 and the 2 scores, but his 3 interceptions and a pair of fumbles ultimately told the story of the game.
Miami's defense has been up and down, holding its first three opponents to a combined 37 points, but allowed 45 points against Duke and Middle Tennessee, both on its home turf.
For Virginia Saturday, a win would not only give Tony Elliott his first winning streak as a head coach, but it would also get his team back to the .500-mark on the season with four important games — all within state borders — left on the schedule. There's still time for the Hoos to right the ship and possibly become bowl-eligible, but a loss to the Hurricanes would make achieving that task a lot tougher.
With 376 more yards of total offense, Virginia senior quarterback Brennan Armstrong will hit the 10,000-mark for his memorable Cavalier career. He would become just the 14th player in ACC history to achieve that number.
Another pair of seniors, wideouts Billy Kemp IV and Keytaon Thompson, have a chance to move closer to cracking the top 10 on the school's all-time receiving list. Kemp (1,691 career receiving yards) needs 13 yards to pass Wahoo legend Heath Miller (1,703) for 10th place, while Thompson (1,626) needs 42 yards to pass Darius Jennings (1,667) for 12th, and 78 to leapfrog Miller. With 19 more receptions, Kemp would also become just the third Wahoo to accumulate 200 or more for his UVA career (Olamide Zaccheaus 250; Billy McMullen 210).
As of Friday morning, the Hurricanes are 2-point favorites (over-under 48.5) to beat the Cavaliers, according to Caesars Sportsbook.
For more UVA-Miami coverage, check out our Football archives here, and you can also listen to The Jerry Ratcliffe Show podcast previewing the game with host Chris Graham.
The Statistical Breakdown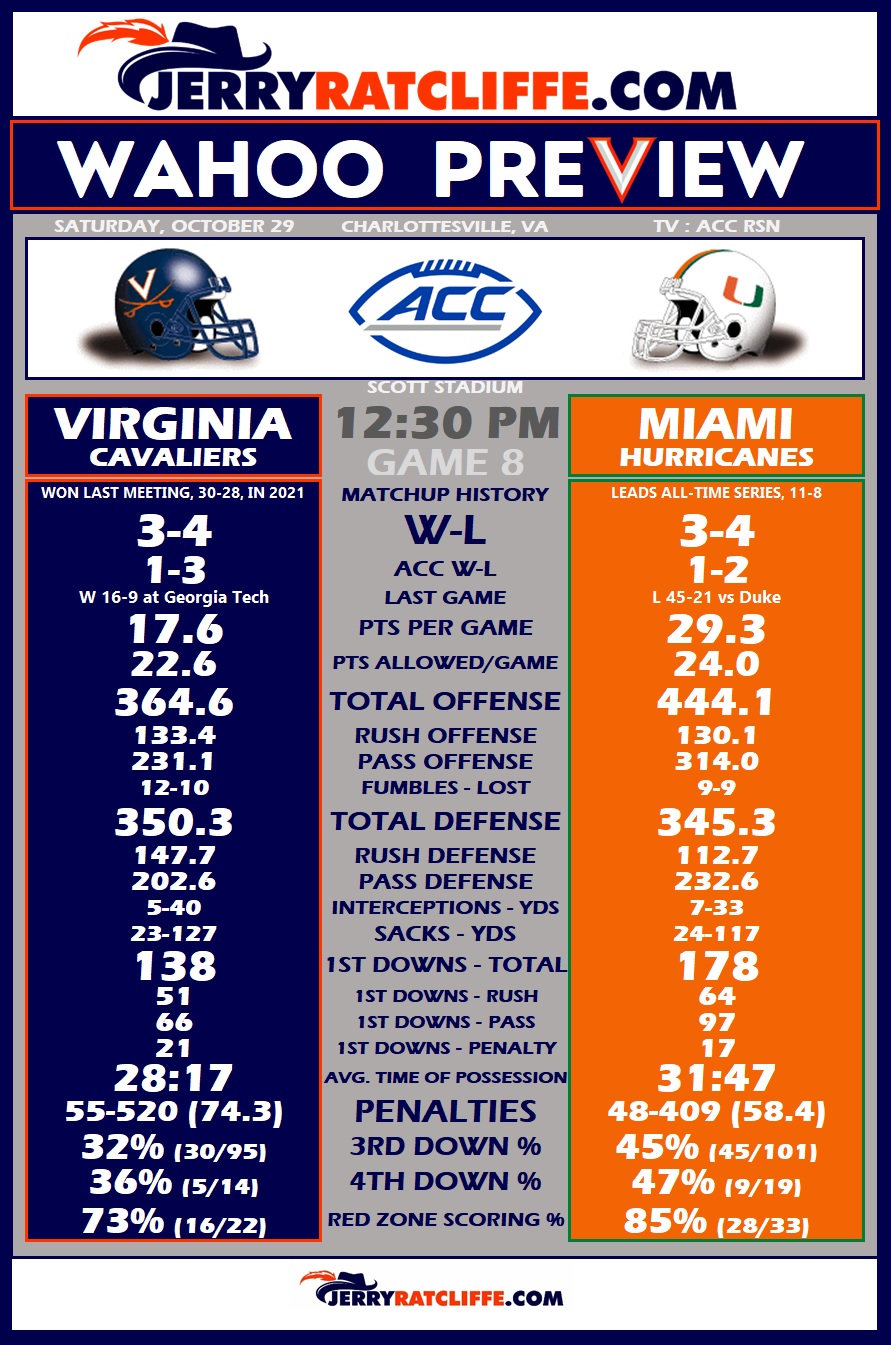 Head Coaches
Virginia
Tony Elliott
At UVA — 3-4 (first season)
Career — 3-4 (first season)
Miami
Mario Cristobal
At UM — 3-4 (first season)
Career — 65-64 (12th season)
Broadcast Information
TV: ACC Regional Sports Networks
Announcers: Tom Werme (play-by-play), James Bates (analyst), Wiley Ballard (sideline)
Radio: Virginia Sports Radio Network
Announcers: John Freeman (play-by-play), Tony Covington (analyst), Jay James (sideline)
Satellite Radio:
SiriusXM — 108 or 202
SXM App — 965
Kickoff Forecast
Mostly sunny, 58 degrees
RealFeel — 61 degrees
Precipitation — 0%
Wind — NNE 7 mph
Humidity — 69%

(
Courtesy AccuWeather
)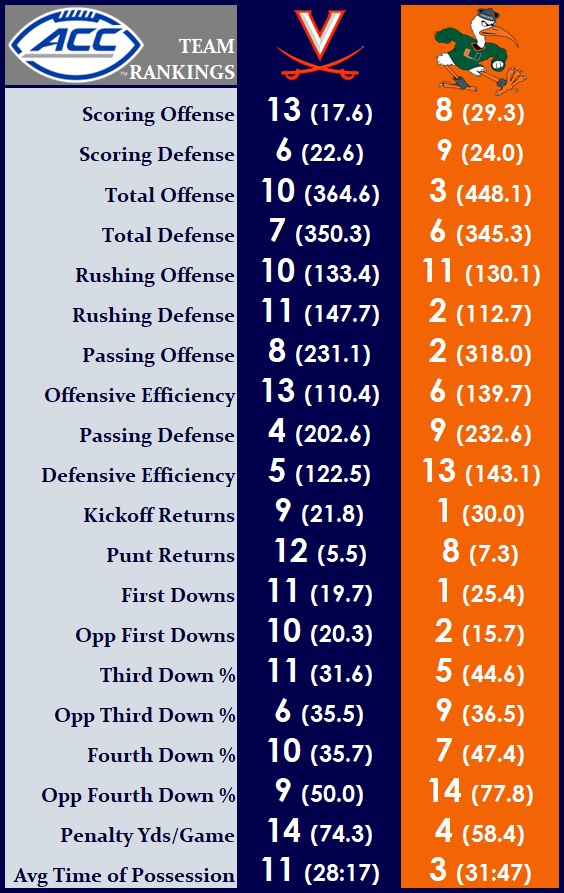 UVA Depth Chart
Offense
WR — 3 Dontayvion Wicks (6-2, 208 Jr.)
6 Demick Starling (6-0, 188 Jr.)
LT — 68 Logan Taylor (6-6, 300 So.)
52 McKale Boley (6-4, 331 Fr.)
79 Colby McGhee (6-3, 206 So.)
LG — 76 John Paul Flores (6-4, 308 Gr.)
77 Noah Josey (6-5, 316 So.)
C — 78 Jestus Johnson (6-3, 306 So.)
51 Ty Furnish (6-3, 279 So.)
RG — 67 Derek Devine (6-6, 295 Sr.)
71 Zach Teter (6-5, 314 Jr.)
RT — 64 Jonathan Leech (6-5, 291 Sr.)
75 Houston Curry (6-5, 270 Fr.)
TE — 85 Grant Misch (6-6, 247 Sr.)
44 Sackett Wood (6-4, 244 Jr.)
QB — 5 Brennan Armstrong (6-2, 210 Sr.)
16 Jay Woolfolk (5-11, 208 So.)
TB — 2 Perris Jones (5-7, 180 Sr.)
7 Mike Hollins (5-9, 208 Jr.)
WR — 99 Keytaon Thompson (6-5, 216 Gr.)
4 Billy Kemp IV (5-9, 176 5th) or
26 Ethan Davies (5-10, 189 So.)
WR — 1 Lavel Davis (6-7, 219 Jr.)
86 Sean Wilson (6-4, 219 Fr.)
Defense
DE — 82 Kam Butler (6-3, 265 Gr.)
1 Paul Akere (6-4, 258 Gr.)
NT — 90 Jahmeer Carter (6-2, 313 Jr.)
19 Olasunkonmi Agunloye (6-5, 283 Jr.)
95 Devonte Davis (6-4, 306 Gr.)
DT — 10 Ben Smiley (6-4, 274 Jr.)
94 Aaron Faumui (6-2, 282 Sr.) or
18 Michael Diatta (6-4, 268 So.)
Bandit — 15 Chico Bennett Jr. (6-4, 252 Sr.)
91 Jack Camper (6-5, 252 Gr.)
MIKE — 6 Nick Jackson (6-1, 234 Sr.)
41 D'Sean Perry (6-3, 230 Jr.) or
30 Stevie Bracey (6-0, 231 Fr.)
WILL — 33 Josh Ahern (6-3, 234 Jr.)
7 James Jackson (6-3, 228 So.) or
13 Hunter Stewart (6-3, 242 Jr.)
LC — 23 Fentrell Cypress (6-0, 184 Jr.)
22 Elijah Gaines (6-1, 201 So.)
RC — 3 Anthony Johnson (6-2, 205 Gr.)
26 Jaylon Baker (6-2, 187 Sr.)
SPUR — 20 Jonas Sanker (6-1, 204 So.)
8 Darrius Bratton (6-0, 193 Gr.)
FS — 9 Coen King (6-0, 191 Sr.)
27 Lex Long (6-3, 215 So.)
21 Donovan Johnson (6-2, 200 So.)
SS — 0 Antonio Clary (6-0, 199 Sr.)
5 Chayce Chalmers (6-1, 213 Jr.)
Special Teams
P — 38 Daniel Sparks (6-6, 203 Jr.)
PK — 17 Will Bettridge (5-10, 173 Fr.)
40 Brendan Farrell (6-0, 209 Sr.)
KO — 40 Brendan Farrell (6-0, 209 Sr.)
Hold — 13 Jared Rayman (6-2, 195 Jr.)
LS — 45 Aidan Livingston (5-11, 229 Gr.)
62 Lee Dudley (6-0, 225 Gr.)
PR — 4 Billy Kemp IV (5-9, 176 5th)
26 Ethan Davies (5-10, 189 So.)
KOR — 7 Mike Hollins (5-9, 208 Jr.)
6 Demick Starling (6-0, 188 Jr.)
ACC Standings and Schedule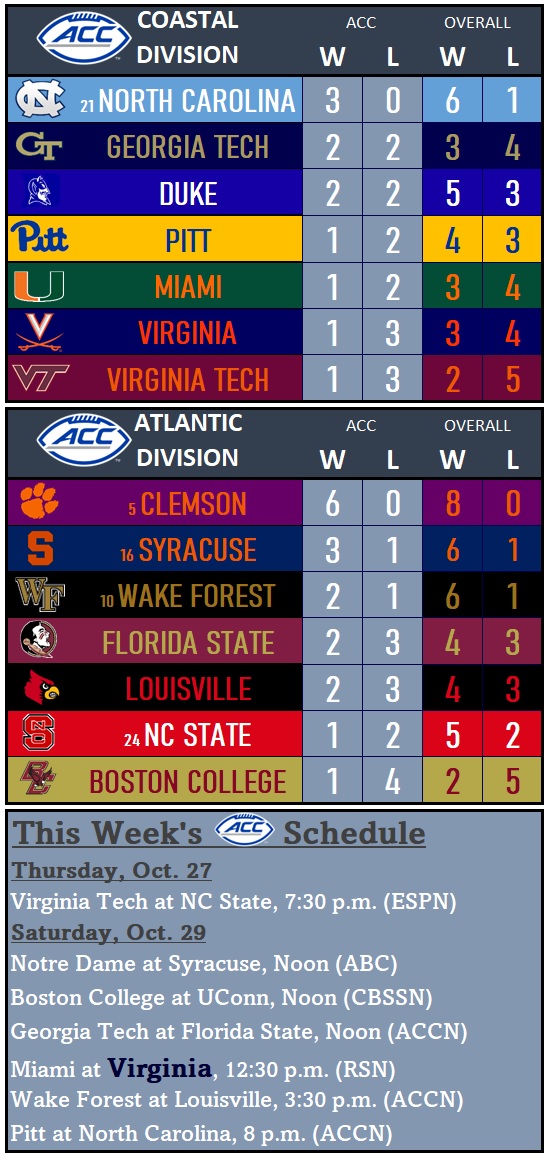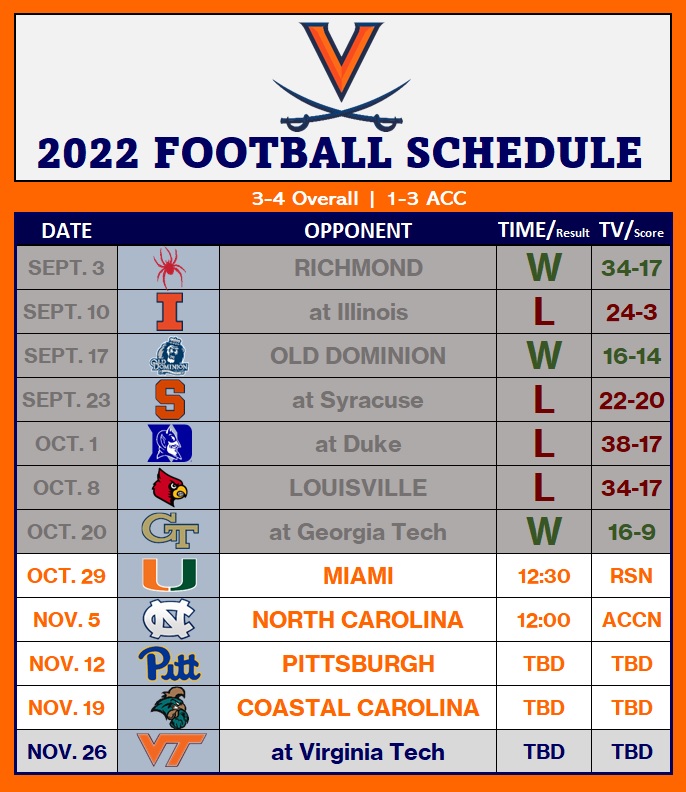 Comments