Wahoo Preview: No. 3 Virginia vs. Florida State
By Scott Ratcliffe
Third-ranked Virginia begins its 70th season of ACC competition Saturday at home against a struggling Florida State team at 2 p.m., but don't expect Tony Bennett to be taking the matchup with the Seminoles lightly.
FSU has stumbled to a 1-8 start, but have the talent and the weapons to eke out an upset and hand the 6-0 Cavaliers their loss of the season, should the Wahoos underperform.
The Seminoles, who lead the all-time series, 28-26, have taken six of the last 10 meetings with the Cavaliers, including two of the last four in Charlottesville, and will be hungry to jumpstart ACC play with a bang.
The Seminoles were among the top teams in the country three seasons ago, finishing first in the conference and fourth in the final AP poll in 2019-20 before the season was cut short due to the pandemic.
Longtime head coach Leonard Hamilton led his team to a second-place finish in 2020-21 with a loss to Michigan in the East Regional semifinals, but then missed the postseason last season with an overall record of 17-14 and a 10-10 mark (8th place) in league play, losing eight of nine games during one stretch.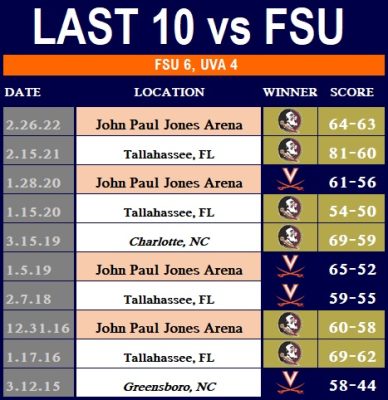 This season, Hamilton has four players averaging double-figures scoring, with junior guard Darin Green Jr. leading the way at 12.7 points per game. UVA fans will remember FSU sophomore guard Matthew Cleveland (12.3 ppg), who sank a long 3-pointer at the buzzer to beat the Hoos at JPJ on Feb. 26, 64-63, after it looked like Armaan Franklin had won it with a bucket in the closing seconds.
Meanwhile, junior guards Caleb Mills (12.3 ppg), who transferred prior to last season from Houston, and Cam'Ron Fletcher (11.8 ppg and a team-high 7.6 rebounds per game), who also transferred before last season after a year at Kentucky, have been solid contributors as well, despite the overall lack of success. After that, there's a significant dropoff in the scoring category, with the next-best average belonging to freshman forward Cameron Corhen at 6.4 points per game.
The Seminoles are also suffering from the absence of star 6-foot-11 freshman Baba Miller, who isn't eligible to play until next month as a result of an NCAA violation prior to his commitment. Miller was expected to come in and contribute immediately, and unsuccessfully appealed the decision, but the earliest he'll be able to suit up will be mid-January.
FSU is shooting at a 42-percent clip from the field (296th in Division I), and just 32 percent from 3-point range (266th), committing 13.7 turnovers a game with a rebounding margin of minus-8.
The Seminoles lost their first four games of the season — vs. Stetson, at Central Florida, vs. Troy and vs. Florida — before picking up their only win against Mercer on Nov. 21. Since then, FSU has dropped another four in a row against Siena, Stanford, Nebraska and Purdue.
UVA will be shooting for its first 7-0 start since the championship season of 2018-19, and is fresh off a come-from-behind road win at Michigan, 70-68, in the final ACC-Big Ten Challenge this past Tuesday.
Virginia has won its last 14 ACC openers, including all 13 under Bennett (322-117 at UVA, 391-150 overall), who needs just five more victories to pass Terry Holland (326-173) on the all-time wins list at UVA, and nine more to reach 400 for his career.
The Hoos will host James Madison on Tuesday (Dec. 6) at 8 p.m. before an 11-day exam break, and then the nation's current No. 1 team, the Houston Cougars, come to town on Dec. 17 in what could be one of the top matchups in college basketball all season.