Wahoo Preview: No. 4 Virginia vs. No. 13 Furman
By Scott Ratcliffe
The Virginia men's basketball team received the 4-seed in the South Region of the 2023 NCAA Tournament, and the Cavaliers will face the 13-seed, Furman, on Thursday at 12:40 p.m. (truTV) at the Amway Center in Orlando, Fla.
UVA (25-7) is back in the Big Dance after failing to make the field of 68 last season, and making its ninth NCAA appearance in 14 seasons under Tony Bennett. The Wahoos were also a 4-seed in 2021 when they lost to Ohio in the opening round in Bloomington, Ind., and hope to avoid another early exit.
Virginia fifth-year forward Jayden Gardner, who averaged 15.7 points (18 for 35 FG) and 8.7 rebounds across his three games at the ACC Tournament in Greensboro over the weekend, said the Wahoos need to "wipe the slate clean," get plenty of rest and recovery, and focus on getting back on track after falling in the conference finals to Duke.
"[We have to] get our bodies right, we just played three days in a row," said Gardner, who was named to the ACC All-Tournament First Team, "get back in the lab, the shots are going to fall."
UVA converted on just 16 of its 48 field-goal attempts against the Blue Devils (33 percent), and only 4 of 17 (24 percent) from 3-point range, after shooting right around 50 percent (54 for 109) from the field across the first two games in Greensboro.
"I think fatigue settled in tonight," Gardner said after the loss, "and we had a lot of uncharacteristic decisions and stuff we're not accustomed to, but I'm just glad of the effort provided on the defensive end. We didn't quit out there."
Redshirt junior forward Kadin Shedrick, who finished with 5 points, 7 rebounds and a block in the championship game, believes that it was just an off-night for the offense, and that the Hoos can build off of the defensive effort, in which they held their three tournament opponents to an average of 58 points, 38-percent shooting (57 for 151 FG) and 30-percent shooting from downtown (19 for 63).
"I thought our defense was good, so I think we'll learn a lot about what we did effectively on the defensive end and carry that into the next game," said Shedrick. "And then offensively, I think we got the shots that we wanted, the layups and finishes we wanted, it just wasn't going in today. So I think we'll just get in and work on that this week and make sure we're banging down shots for the tournament."
Senior Armaan Franklin and junior Reece Beekman were each named to the All-Tournament Second Team, but along with fifth-year guard Kihei Clark, the Cavalier starting guards combined for an 8-for-28 shooting night Saturday (2 for 12 from long range) and committed 10 of the team's 12 turnovers.
"Every possession counts and we didn't capitalize, and made a couple mistakes," Clark said after the loss, "and [the Blue Devils] definitely did capitalize on those, so tip our hats to them."
When asked about the reasons for the uncharacteristic errors, Clark admitted that the majority of them were self-inflicted.
"Just bad decision-making, you can't attribute it to anything but that," he said. "Just try to take care of the ball and be more sound. I thought we played two good games [Thursday and Friday], I thought we really battled hard with our physicality, I thought we played hard tonight, just a little bit of some execution things that didn't work out, but just look at the film and try to learn from those mistakes."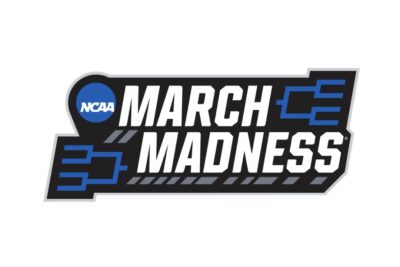 The Cavaliers can't afford to make similar miscues against the Paladins (27-7), who enter Thursday's game as one of the hottest teams in the country and were the regular-season and tournament champions of the Southern Conference (their first title since 2017), defeating Chattanooga, 88-79, in the SoCon finals last Monday in Asheville, N.C. The 27 wins are a program record, which earned them the No. 1 seed in the SoCon tournament for the first time since 1991, and the Paladins will be making their first NCAA Tournament appearance since 1980.
"Something that we've waited a very long time to be a part of," Furman coach Bob Richey said after his team punched its long-awaited ticket.
Furman won 15 of its 18 league games in the regular season before going 3-0 in last week's conference tournament, and the Paladins own a 5-2 record in neutral-site games this season (UVA is 4-1 in such contests). After coming up short in overtime against league foe UNC Greensboro on Jan. 14, Furman has been on fire, winning 14 of its last 15 games — including each of the last six — with the lone loss during that stretch coming by four points at The Citadel on Feb. 15.
The Dins' most impressive non-conference wins came against Belmont, Appalachian State, Stephen F. Austin and South Carolina, with losses to Penn State, NC State and Old Dominion.
For Furman, much of the offense revolves around fifth-year forward Jalen Slawson (15.7 ppg, team-high 7.2 rpg), who was named SoCon Player of the Year, while another fifth-year performer, guard Mike Bothwell, led the conference in scoring with 18.0 points per game. The duo is tied for the most wins in program history with 115 apiece.
Like Slawson, Bothwell has scored in double figures in all but four games this season (he had 9 points in three of those), with a dozen games registering 20-plus and a career-high 36 against SFA in mid-December. He also put up 35 at Samford on Feb. 25, including a season-high five 3-pointers.
Sophomore guard JP Pegues averages 12.0 points and a team-high 4.0 assists and has produced double-figures scoring in 15 of his last 16 outings after failing to do so in 13 of his first 18, while junior guard Marcus Foster puts up 10.6 points and 5.2 rebounds per game. Garrett Hien, a 6-9 junior forward, rounds out the projected starting five for Furman, averaging 8.0 points and 4.1 boards a night.
Richey, 39, is in his sixth season with the Paladins, and owns a career winning percentage of .723, ranking him in the top 15 among active Division-I head coaches with a minimum of 100 games coached. Bennett (also .723) is ranked just ahead of him by percentage points.
Richey admits that he has long been a fan of the UVA coach, adding that he's borrowed a few of Bennett's teachings and applied it to his own program.
"A lot of respect for our opponent," Richey said. "Tony Bennett is somebody that I admire in a lot of different ways. I think it's going to be a great storyline for the media in a lot of ways, just because we've talked a little bit about [the Cavaliers'] journey.
"You know, the 'ticket of adversity being able to get you somewhere that you couldn't have gone without it,' and really, as we went in our journey this last year, we drew on that some. And I've watched him for years. His values, the person he is, being a man of faith and being an unbelievable basketball coach, I've looked up to him in a lot of ways, and a lot of our defense, we've pulled from a lot of the different things that they do."
Virginia won the lone meeting against Furman in 2004 in Charlottesville, and as of Monday evening is a 5.5-point favorite to eliminate the Paladins on Thursday, according to Caesars Sportsbook.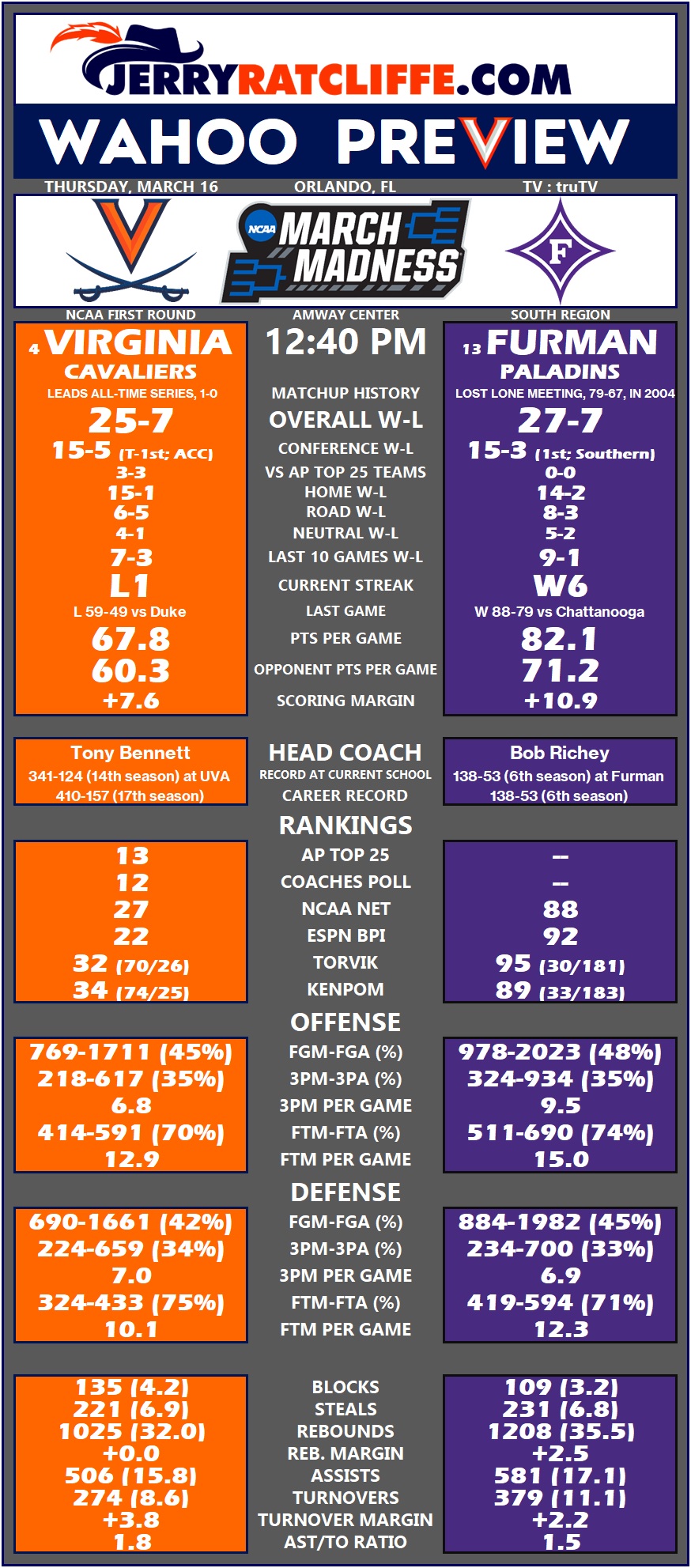 NCAA Tournament Bracket