Wahoo Preview: No. 7 Virginia vs. No. 2 Florida
By Scott Ratcliffe
Florida head coach Kevin O'Sullivan has taken his team to Omaha so many times in June over the past decade-plus, he says, that his daughter Payton and son Finn used to think it was just family vacation every summer.
The second-seeded Gators are making their 13th trip to the College World Series in program history, and will be looking for a second national championship after winning it all in 2017.
O'Sullivan, affectionately known to most as "Sully," is a 1991 University of Virginia graduate who was also an assistant with the Cavaliers under Dennis Womack in 1996-97. He has led Florida to the CWS in eight of his nine Super Regional appearances in just 16 seasons at the helm in Gainesville. When the Gators made it to Omaha the previous seven times (2010, '11, '12, '15, '16, '17 and '18) under O'Sullivan, his kids just weren't old enough yet to really take it all in, as the coach explained.
"As far as my kids are concerned, yeah, it's a lot of fun," said the coach during Thursday's media availability. "Obviously I enjoyed it because they were so much younger, but now that they're older, they kind of understand how cool it is. They've got friends coming in from Gainesville that will be out here as well. They were very, very excited about coming out here. I think before they were so young, they didn't know. They just thought, 'Yeah, we're going to Omaha, no big deal.' Now I think they think it's kind of cool."
After falling to Vanderbilt in the SEC Tournament semifinals, Florida dropped its second game in the Gainesville Regional to Texas Tech before winning three-straight elimination games to emerge victorious, closing it out with back-to-back victories over the Red Raiders.
From there, it was onto the Super Regional round last weekend against a familiar SEC foe, as the Gators hosted No. 15 South Carolina, a team that had swept them in Columbia in April. The two teams brought in a total of 17,290 fans last weekend at Condron Family Ball Park, setting attendance records on consecutive days for the largest-ever, on-campus crowds in the Sunshine State for a college baseball game (8,439 Friday, 8,851 Saturday).
Florida rewarded their fans with a two-game sweep of the Gamecocks and another trip to the ultimate destination for college baseball players, coaches and fans.
"We've earned our way here," said O'Sullivan. "It's been a very interesting ride throughout the year. Going through the SEC slate has been difficult at times, but we're just excited to be here. It's been a while since we've been here. It's been since 2018. I've been reminded over and over about that. It's good to see a lot of familiar faces that I haven't seen in a while."
Offensively, it all starts with star sophomore Jac Caglianone, an NCBWA first-team All-American who is one of three Golden Spikes Award finalists along with Dylan Crews and Paul Skenes from LSU. He is also one of five finalists for the Dick Howser Trophy, and was named the Perfect Game/Rawlings Two-Way Player of the Year, as he's also one of the top pitchers on the squad.
Caglianone (.336 average) leads the country in home runs with 31 on the season, and is tied for sixth nationally with 84 RBI (five behind UVA's Jake Gelof, who's tied for fourth with 89 entering the weekend). He hit 3 homers in one game against Cincinnati on Feb. 26.
On the mound, right-hander Brandon Sproat (8-3, 4.69 ERA, 120 strikeouts) was a second-team All-SEC selection, and he will get the start in Friday night's opener against the Cavaliers (7 p.m., ESPN). Sproat has recorded wins in five of his last seven starts. He will go up against Coastal Carolina grad transfer Nick Parker (8-0, 3.81 ERA), who is actually quite familiar with Florida catcher BT Riopelle, also a Chanticleer transfer.
"I was roommates with him my freshman year," Riopelle said of his relationship with the now-Wahoo hurler. "Fantastic guy. [He has] a really good motor and drive, and really wants to be successful. He is a tremendous competitor. He throws four good pitches for strikes. He doesn't have the most lights-out stuff in the world, but you know what you are going to get every single day. He is going to throw strikes. He is going to go long, long in games or pitch a long time in a game.
"He is going to hold runners. He has a really good pick-off move. He is going to field his position very well. He is a guy that's going to control the game when he is out there. That's something that we know. I know and have seen firsthand. We've seen it on film as well."
Parker was asked about his former teammate later in the day, and had this to say: "BT, he is a great dude, man. I'm glad to see he has been doing well over there at Florida. It's pretty neat after all these years we've run back into each other on this stage. Pretty neat. Pretty special."
Parker will not only have to deal with Caglianone, but another NCBWA first-team All-American in Wyatt Langford (.373; 18 HR; 48 RBI), along with Riopelle (16 HR; 65 RBI), shortstop Josh Rivera and the rest of the deadly Florida lineup, which has cranked out 129 homers on the season, tied for fourth nationally.
Rivera (.362; 17 HR; 68 RBI), the cleanup batter, recently notched his 200th career hit and was recently named a NCBWA third-team All-American. The Gators have a couple of talented freshmen in the mix as well — leadoff batter and second baseman Cade Kurland (.300; 46 RBI) was a Collegiate Baseball Freshman All-American, while designated hitter and backup catcher Luke Heyman (.327; 11 HR; 36 RBI) was named to the SEC's All-Freshman team.
Florida junior righty Hurston Waldrep (9-3, 4.15 ERA, 142 strikeouts), a projected first-round pick, has produced 25 strikeouts in 15 innings of work this postseason in wins over UConn and South Carolina. While the Hoos might be fortunate to not have to go up against Waldrep on Friday, there's certainly a chance of facing him next week, should the two teams meet again in the double-elimination portion.
Out of the bullpen, sophomore closer Brandon Neely has notched 13 saves on the year, and is one of 10 finalists for NCBWA Stopper of the Year. Neely was also an NCBWA second-team All-American.
"The depth of the bullpens in our league is just different," O'Sullivan said of the abundant pitching talent in the SEC.
Though O'Sullivan and O'Connor didn't cross paths during their respective tenures at UVA, they were teammates in the Valley League one summer for the Harrisonburg Turks, along with Wake Forest skipper Tom Walter. O'Connor spoke Thursday about going up against his friendly counterpart.
"I admire the job that Coach O'Sullivan has done at Florida," said O'Connor. "It's a great job in college baseball, and he has done as good as anybody has… What he has done to get his teams to Omaha, to win a national championship, to compete year-in and year-out is impressive. This game is hard. There's a lot of great teams that don't get here, and you come here as much as Florida has been speaks to the level of his coaching ability, his staff, and certainly his players.
"So he obviously played at the University of Virginia. I'm sure he is very fond of his time there at the university and has had one heck of a coaching career. I admire the work that he has done."
The two old friends will lock horns in primetime Friday in front of a national TV audience on the grandest of stages (see statistical breakdown, batting order, defensive alignments and brackets below), but it won't be the first time. In 2015, the Cavaliers upset the Gators — the No. 4 national seed that season — twice in Omaha, en route to the program's first and only national championship.
"We're looking forward to playing tomorrow night against a very, very good Virginia team," O'Sullivan said. "I'm very familiar with them and their coaching staff and how well of a job they do. From a coaching standpoint, they're very talented and fundamentally sound. It should be a very entertaining game tomorrow night."

Projected Batting Order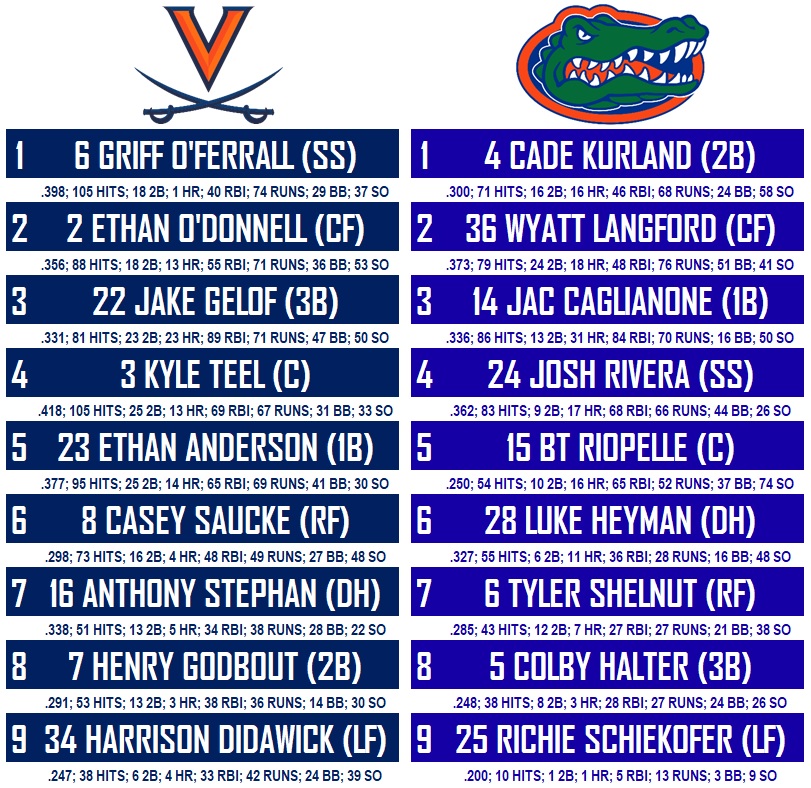 UVA Defensive Alignment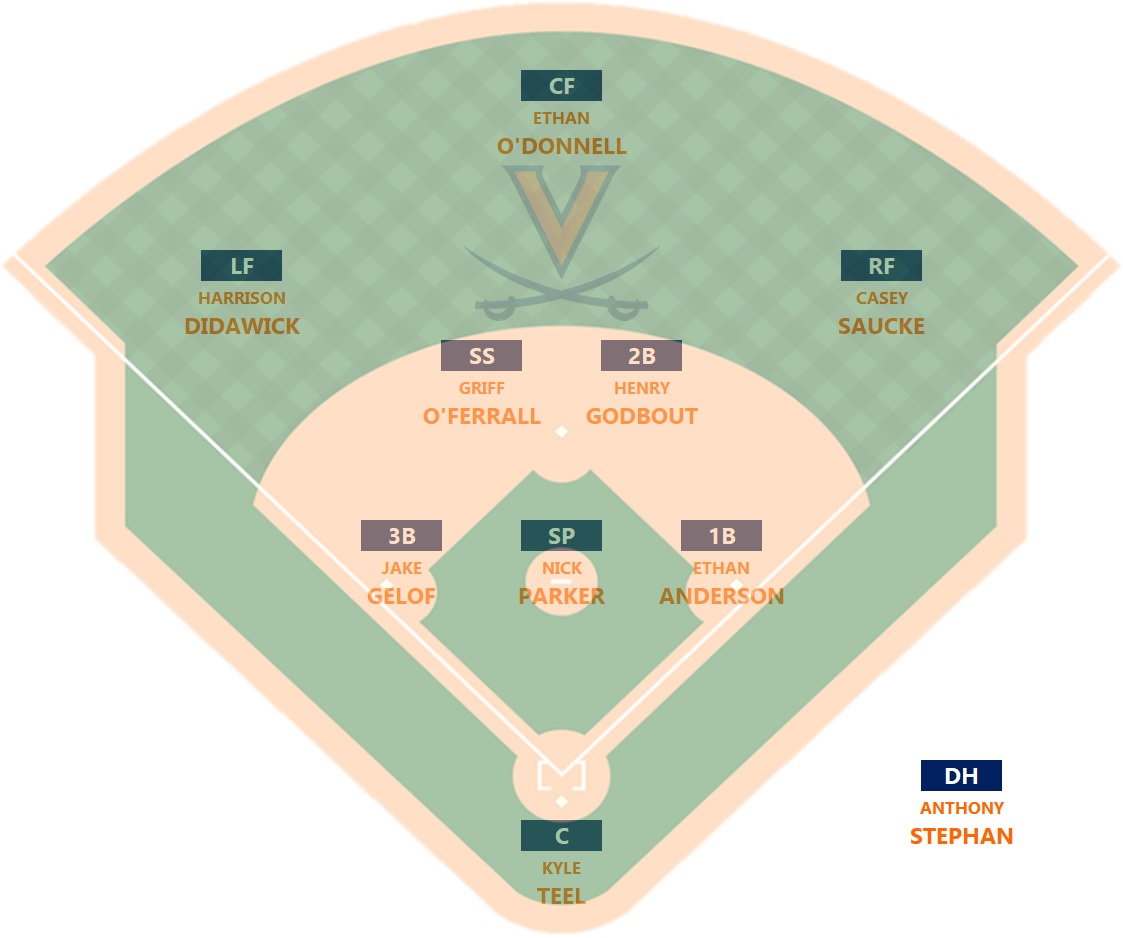 Florida Defensive Alignment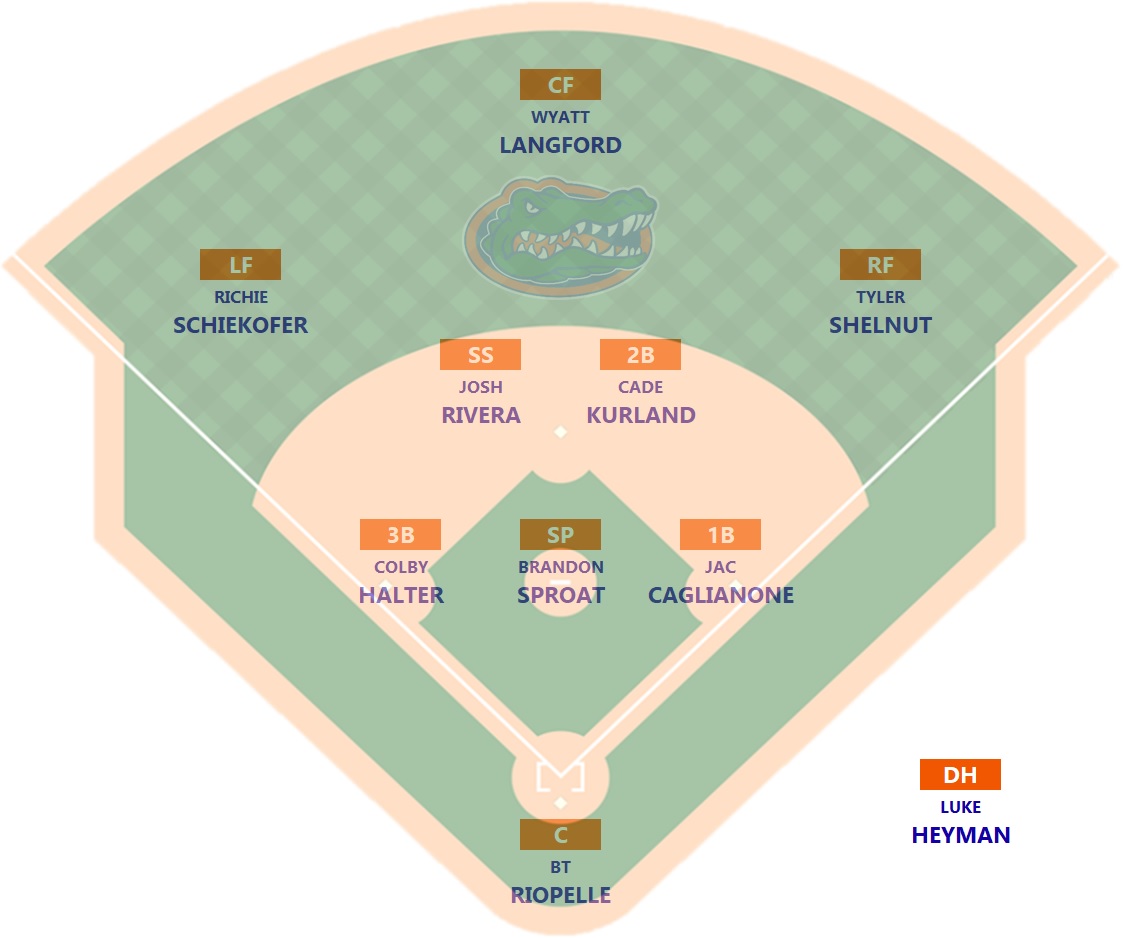 CWS Bracket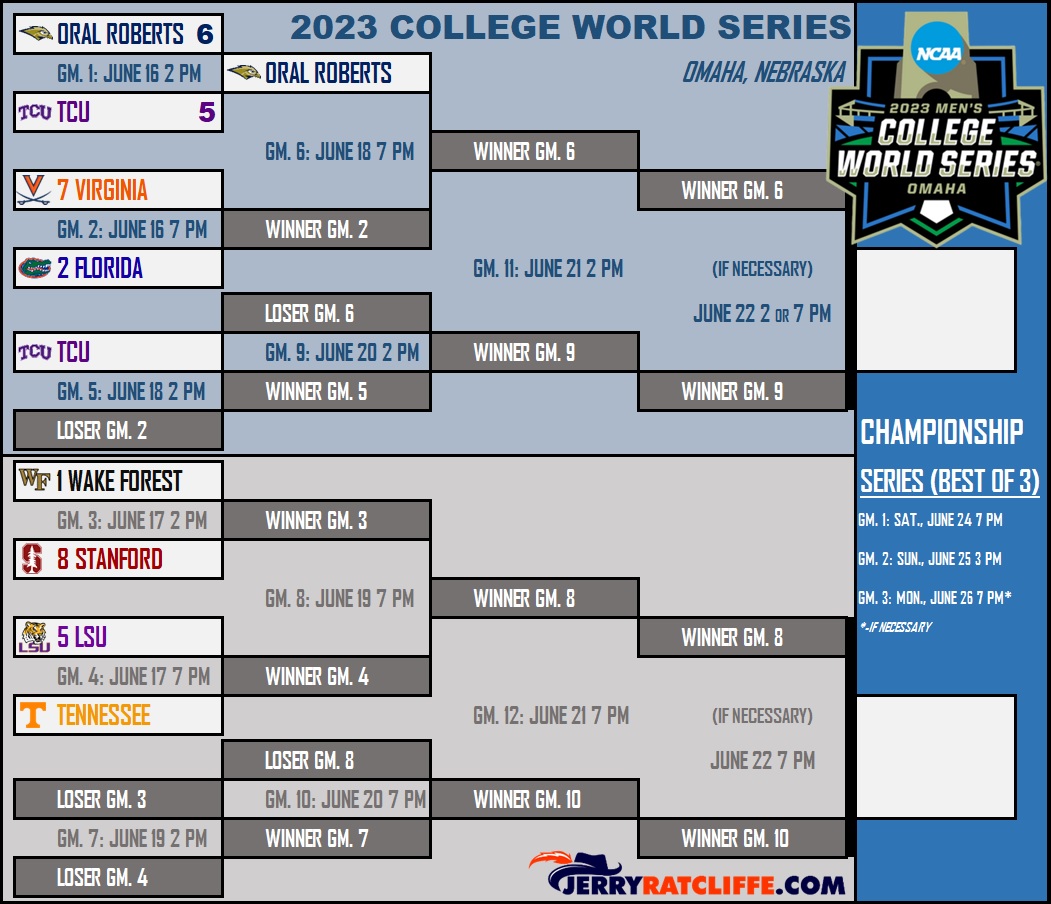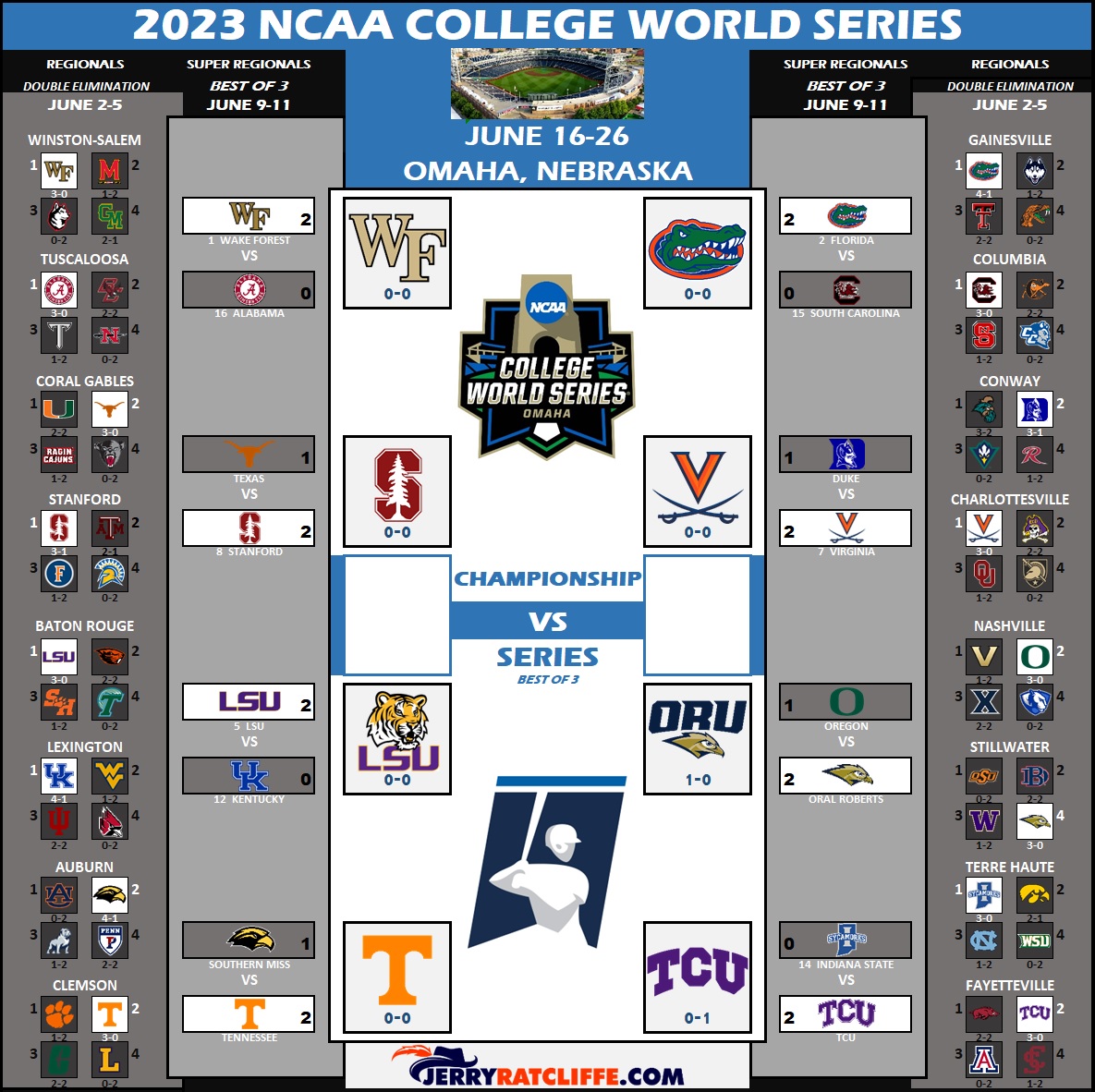 NCAA DIVISION I BASEBALL CHAMPIONSHIP
COLLEGE WORLD SERIES
Friday, June 16-Monday, June 26
Charles Schwab Field | Omaha, Neb.
All Times Eastern
BRACKET 1: No. 1 Wake Forest (52-10), No. 8 Stanford (44-18), No. 5 LSU (48-15), Tennessee (43-20)
BRACKET 2: No. 2 Florida (50-15), No. 7 Virginia (50-13), Oral Roberts (52-12), TCU (42-23)
DOUBLE-ELIMINATION ROUND
Friday, June 16
Game 1: Oral Roberts 6, TCU 5
Game 2: Virginia vs. Florida, 7 p.m.
Saturday, June 17
Game 3: Stanford vs. Wake Forest, 2 p.m.
Game 4: Tennessee vs. LSU, 7 p.m.
Sunday, June 18
Game 5: TCU vs. Game 2 loser, 2 p.m.
Game 6: Oral Roberts vs. Game 2 winner, 7 p.m.
Monday, June 19
Game 7: Game 3 loser vs. Game 4 loser, 2 p.m.
Game 8: Game 3 winner vs. Game 4 winner, 7 p.m.
Tuesday, June 20
Game 9: Game 5 winner vs. Game 6 loser, 2 p.m.
Game 10: Game 7 winner vs. Game 8 loser, 7 p.m.
Wednesday, June 21
Game 11: Game 6 winner vs. Game 9 winner, 2 p.m.
Game 12: Game 8 winner vs. Game 10 winner, 7 p.m.
Thursday, June 22
Game 13: Game 6 winner vs. Game 9 winner, 2 p.m. or 7 p.m. (if necessary)
Game 14: Game 8 winner vs. Game 10 winner, 7 p.m. (if necessary)
CHAMPIONSHIP SERIES
Best of 3
Saturday, June 24
Game One: Bracket 1 winner vs. Bracket 2 winner, 7 p.m.
Sunday, June 25
Game Two: Bracket 1 winner vs. Bracket 2 winner, 3 p.m.

Monday, June 26
Game Three: Bracket 1 winner vs. Bracket 2 winner, 7 p.m. (if necessary)