Wahoo Preview: No. 7 Virginia vs. TCU
By Scott Ratcliffe
Virginia looks to bounce back from Friday's heartbreaking loss to Florida — and keep its season alive — when the Cavaliers go up against TCU in an elimination game Sunday afternoon in Omaha (2 p.m., ESPN).
Brian O'Connor will turn to junior left-hander Connelly Early (12-2, 3.06 ERA) in Sunday's win-or-go-home affair.
The Horned Frogs (42-23) emerged from the Fayetteville Regional two weeks ago after upsetting SEC champion Arkansas, the No. 3 overall seed — not once, but twice — at Baum-Walker Stadium, one of the most intimidating venues in college baseball.
Not only did the Frogs beat the heavily favored Razorbacks, they outscored the Hogs, 32-9, in the two games to move onto the Super Regional round at Indiana State, where they swept the 14th-seeded Sycamores to punch their ticket to Omaha.
Like Virginia, TCU held a lead going into the ninth inning Friday before Oral Roberts stormed back with four runs — including a three-run, go-ahead blast by Blaze Brothers to left field — and the Frogs couldn't scratch one across in their final at-bats.
"It just sucks that we lost," said second-year skipper Kirk Saarloos after the defeat. "I thought the effort, the grit, the determination, everything — they played the exact same way. It just didn't go our way today."
In the bottom of the ninth, TCU had runners on first and second on the move with two outs when Brayden Taylor's line drive was snagged in left field for the last out of the contest. The Golden Eagles snapped TCU's 11-game winning streak in the process.
Saarloos, who said his team is "champing at the bit to get back on Sunday and get this taste out of their mouth," used his ace pitcher, freshman Kole Klecker, for five innings in Friday's loss, and will likely go with Sam Stoutenborough (5-0, 4.52 ERA), who has followed Klecker in his previous five outings, to start against the Wahoos.
On Friday, TCU first baseman Cole Fontenelle got the Frogs on the board first with a solo homer in the fourth, his third-consecutive game leaving the yard. He added another RBI in the bottom of the sixth to score Karson Bowen and tie the game at 2-2.
Then in the eighth, Fontenelle walked with the bases loaded as Elijah Nunez trotted in from third to give TCU a 3-2 edge. The next batter, Tre Richardson, was hit by a pitch to make it a two-run game before Kurtis Byrne's sac fly pushed the lead to 5-3.
Luke Savage gave up a Drew Stahl RBI single in the ninth prior to Brothers' go-ahead homer. Savage (5-4) took the loss after allowing 4 runs on 5 hits in 1.2 innings of work. Still, Saarloos has total confidence in one of his top relievers moving forward.
"Out on the mound, talking to Luke Savage, you run off this mound with your head up," Saarloos said of the conversation. "You have nothing to hang your head about because we're not here if it's not for you. [Brothers] put a great swing on a baseball, hit a three-run homer. It's tough. It's tough to swallow. But we'll wash it. We'll flush it. And the sun's going to come up tomorrow."
Both the Frogs and the Cavaliers certainly have their work cut out for them, now needing to win four games in five days just to qualify for the best-of-three championship series. Should the Hoos prevail Sunday and eliminate TCU, they would need to defeat Sunday night's Oral Roberts-Florida loser on Tuesday. If they get past that, they'd need to defeat the Golden Eagles-Gators winner twice (Wednesday and Thursday) to advance to the finals.
History is not necessarily on UVA's side, as only a dozen teams have gone on to win the national championship after dropping their first game in Omaha. The last team to pull off the feat was Oregon State in 2018.
"Certainly a challenging road in front of us, but we'll regroup at practice [Saturday] and be ready to go on Sunday and looking forward to that opportunity we have," said O'Connor.

Projected Batting Order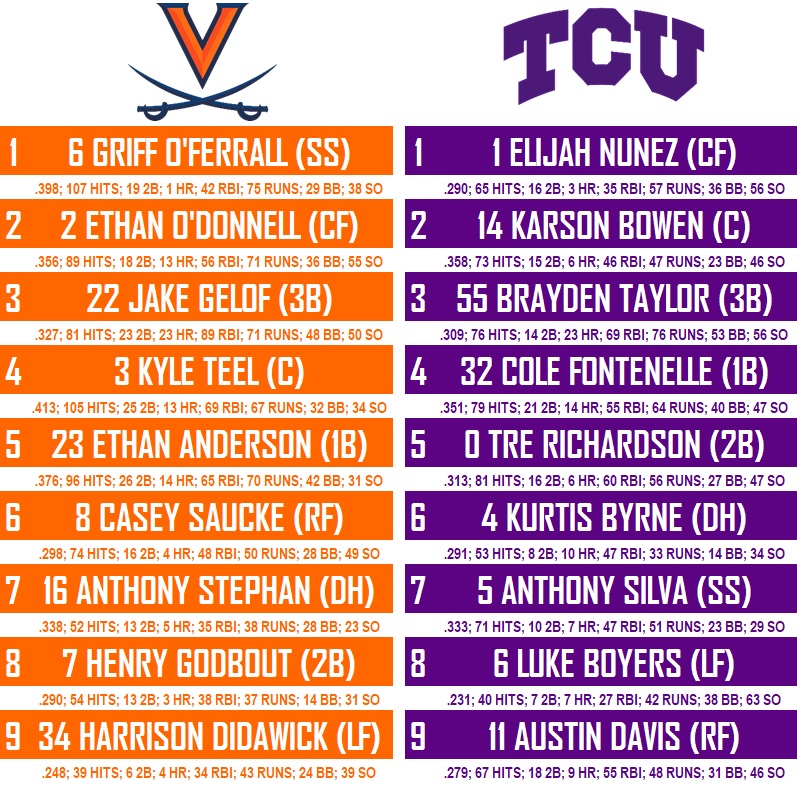 UVA Defensive Alignment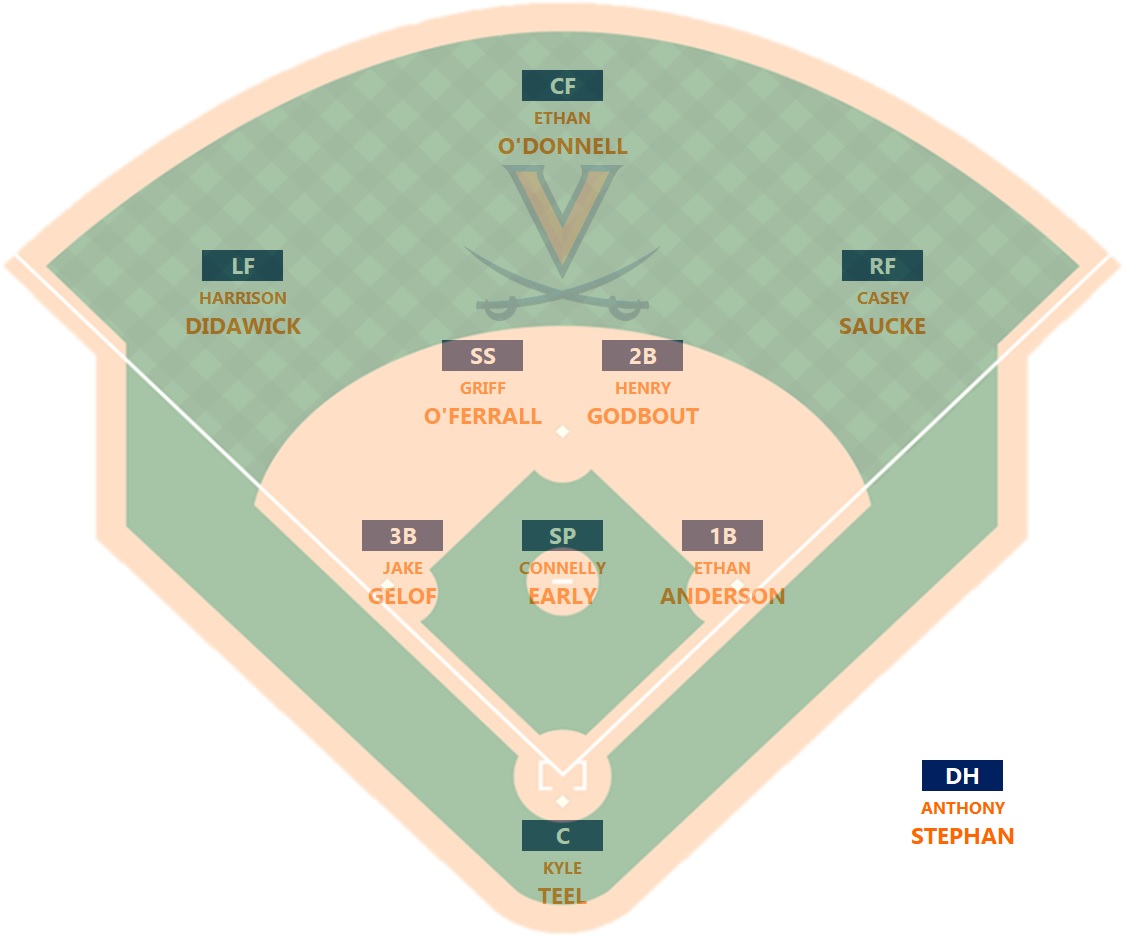 TCU Defensive Alignment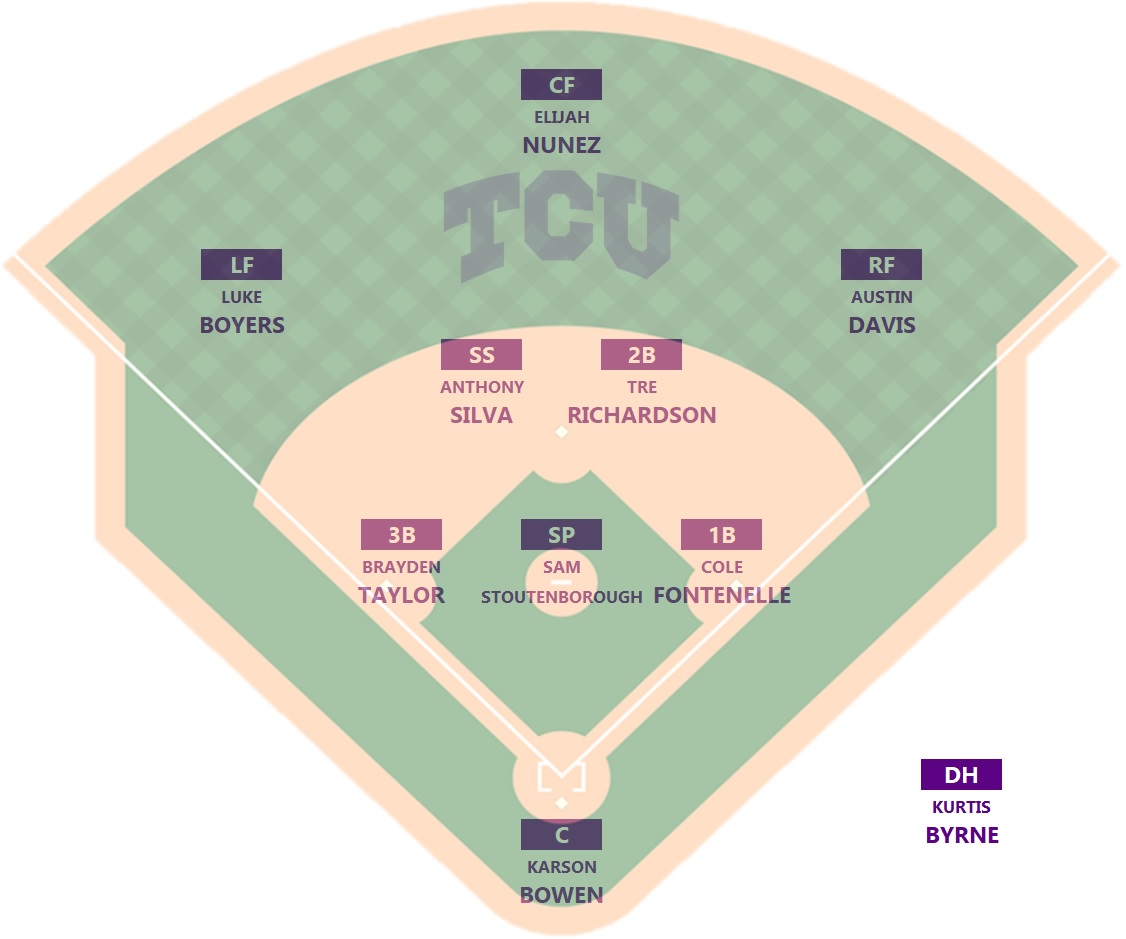 UVA Season Stats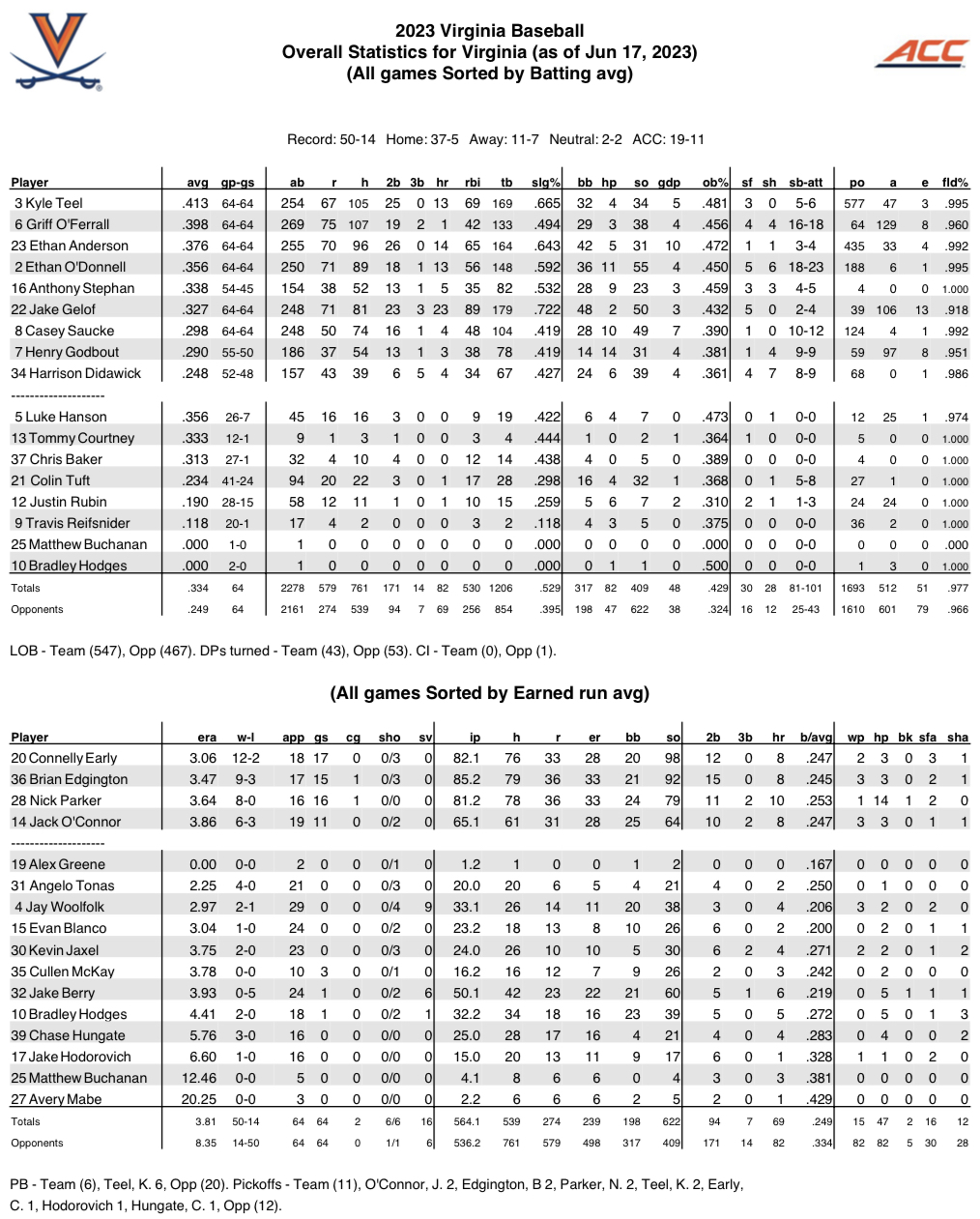 TCU Season Stats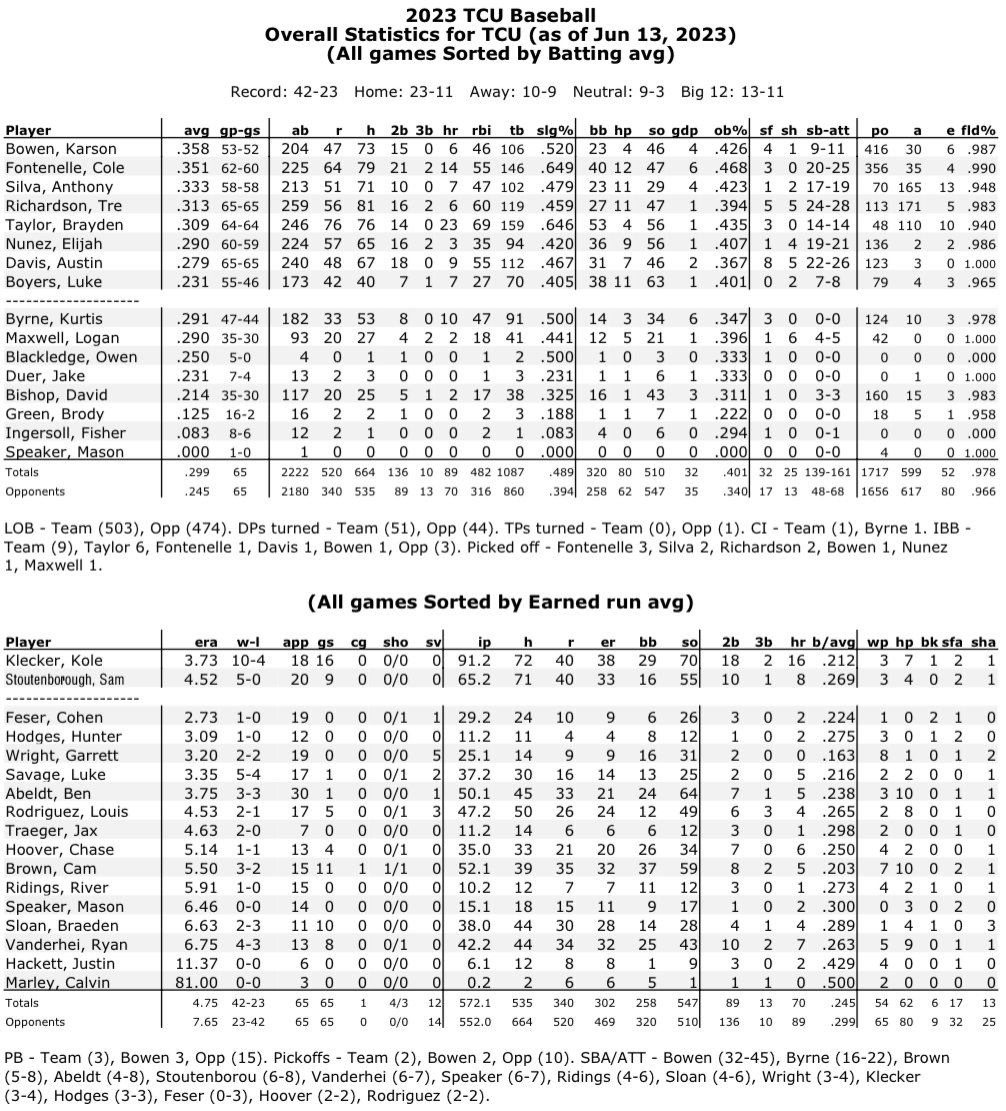 CWS Bracket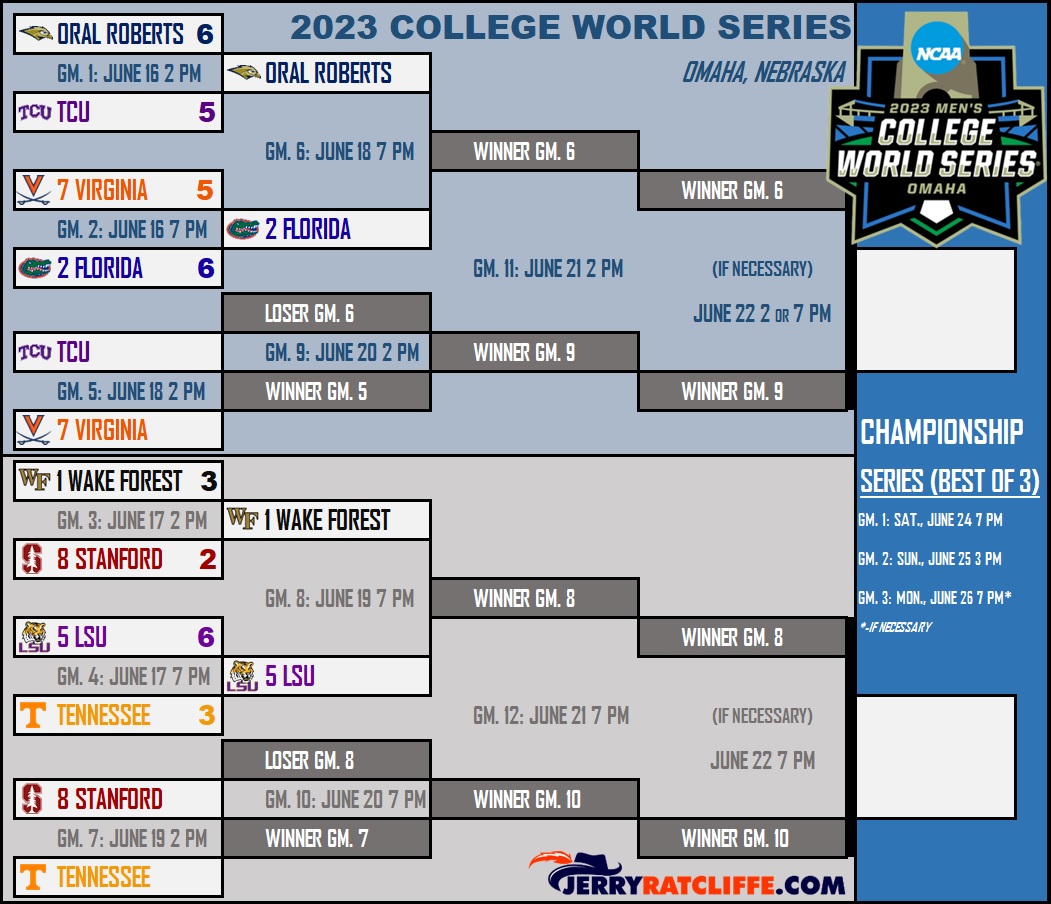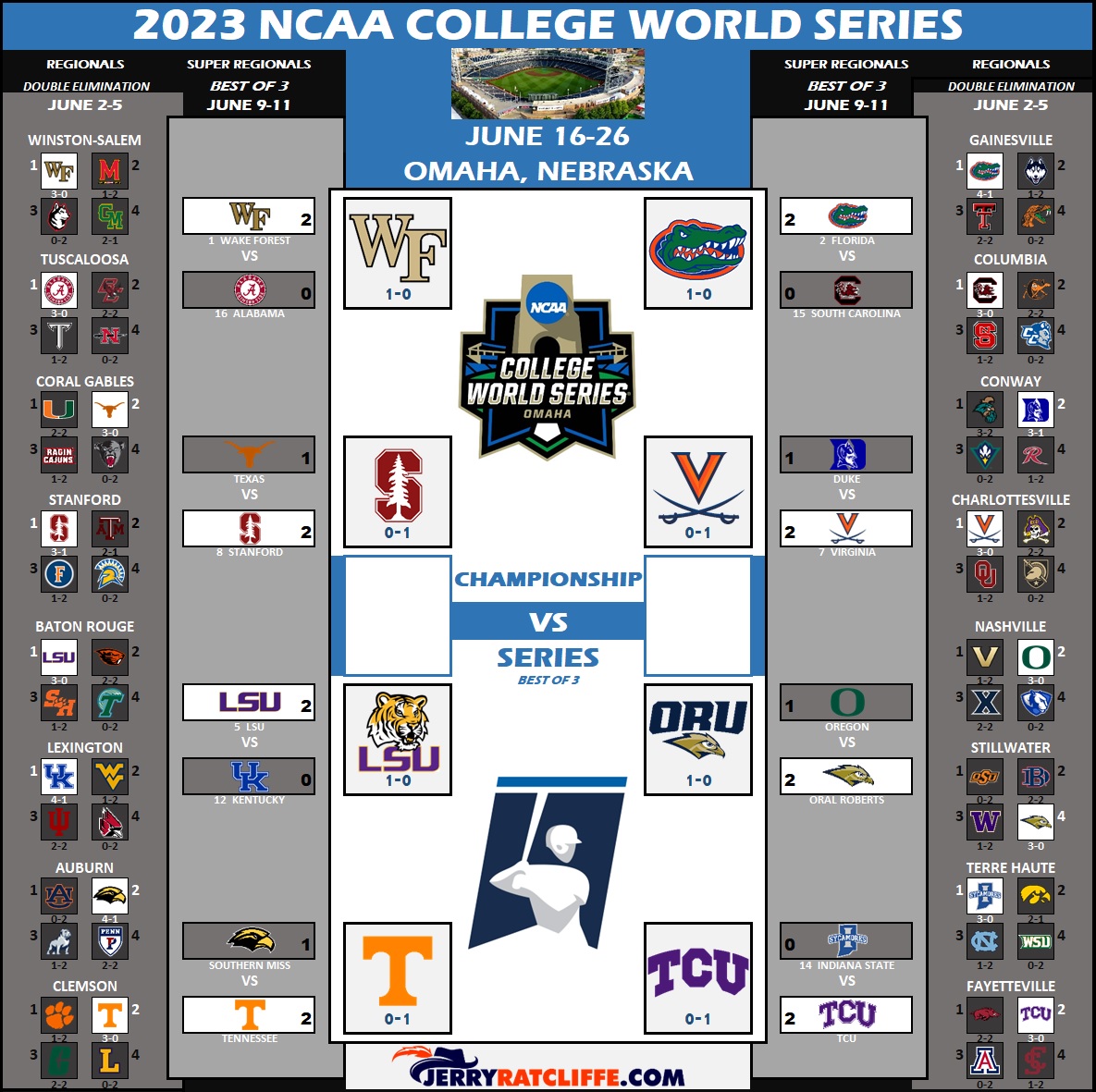 NCAA DIVISION I BASEBALL CHAMPIONSHIP
COLLEGE WORLD SERIES
Friday, June 16-Monday, June 26
Charles Schwab Field | Omaha, Neb.
All Times Eastern
BRACKET 1: No. 1 Wake Forest (53-10), No. 8 Stanford (44-19), No. 5 LSU (49-15), Tennessee (43-21)
BRACKET 2: No. 2 Florida (51-15), No. 7 Virginia (50-14), Oral Roberts (52-12), TCU (42-23)
DOUBLE-ELIMINATION ROUND
Friday, June 16
Game 1: Oral Roberts 6, TCU 5
Game 2: Florida 6, Virginia 5
Saturday, June 17
Game 3: Wake Forest 3, Stanford 2
Game 4: LSU 6, Tennessee 3
Sunday, June 18
Game 5: TCU vs. Virginia, 2 p.m.*
Game 6: Oral Roberts vs. Florida, 7 p.m.
Monday, June 19
Game 7: Stanford vs. Tennessee, 2 p.m.*
Game 8: Wake Forest vs. LSU, 7 p.m.
Tuesday, June 20
Game 9: Game 5 winner vs. Game 6 loser, 2 p.m.*
Game 10: Game 7 winner vs. Game 8 loser, 7 p.m.*
Wednesday, June 21
Game 11: Game 6 winner vs. Game 9 winner, 2 p.m.
Game 12: Game 8 winner vs. Game 10 winner, 7 p.m.
Thursday, June 22
Game 13: Game 6 winner vs. Game 9 winner, 2 p.m. or 7 p.m. (if necessary)
Game 14: Game 8 winner vs. Game 10 winner, 7 p.m. (if necessary)
*-Elimination Game

CHAMPIONSHIP SERIES
Best of 3
Saturday, June 24
Game One: Bracket 1 winner vs. Bracket 2 winner, 7 p.m.
Sunday, June 25
Game Two: Bracket 1 winner vs. Bracket 2 winner, 3 p.m.

Monday, June 26
Game Three: Bracket 1 winner vs. Bracket 2 winner, 7 p.m. (if necessary)