Wahoos And Wake Square Off Again — This Time For Semifinal Spot
By Jerry Ratcliffe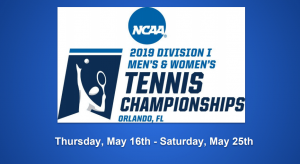 It has been a busy week for Andres Pedroso. He and his wife were blessed with the delivery of their third child the night after Virginia men's tennis defeated Stanford, sending the Cavaliers to the NCAA National Championships.
At noon today, Pedroso's Wahoos will be taking on ACC rival Wake Forest in the NCAA quarterfinals at the USTA tennis center in Orlando, Fla.
This will be the fourth time the Cavaliers and Deacons have faced off this season, with Wake having won the last two meetings, including the ACC Championship. The Deacs are defending national champions.
"Not a lot of sleep this week, so I'm running off adrenaline," Pedroso said Tuesday.
So is his tennis team, but adrenaline from a different source. The Cavaliers are fired up about their opportunity to knock off Wake and move to the national semis.
"We were hungry last year, but this year we have a lot of new players that are really good," said UVA No. 1 singles player Carl Söderlund in reference to last season's semi-slump. "It's exciting to be among the best eight teams here."
Söderlund, who was a big key in defeating Stanford last weekend, has formed his own rivalry with Wake's top player, Borna Gojo. They will likely square off again this afternoon.
"We have played a lot of times and we bring out the best of each other," said Soderlund, a Swedish native. "We're both very competitive. Throughout the entire lineup, you're going to see a total war."
Over the three previous meetings with Wake, Pedroso has noticed that up and down the lineup, he has felt that every match is even and could go either way.
"Both teams know each other really well," Pedroso said. "We scheduled a home and away match with Wake on purpose. I think they did the same because they wanted to play against one of the best teams more often."
The NCAA Championships are being held at the USTA's new multi-million complex in Orlando, and Pedroso likes the idea over the previous system — universities hosting the title matches.
"It's a neutral site but more than anything it's a beautiful place and a great facility," the UVA coach said. "It's the home of American tennis. I can't think of a better place to host the NCAA Championships, and hopefully it's here for many years to come."
The Deacs, arriving in Orlando as the No. 4-seeded team, are hoping to repeat as NCAA champions, having defeated Ohio State in last year's finals at the Wake Forest Tennis Complex, which is not a neutral site. It was the first NCAA tennis title in Wake's history.
Virginia enters today's match with a 24-4 record and is seeded fifth.

Comments