Wahoos finish No. 16 in season-ending AP Top 25 Poll
By Jerry Ratcliffe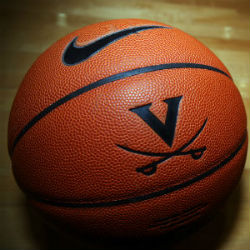 Virginia is one of four ACC teams that finished the season ranked in the Associated Press Top 25 poll. All four finished in the top 20, tied for the most teams of any conference.
Florida State (26-5 overall, 16-4 in the ACC) finished No. 4 in the AP poll, the Seminoles' best-ever finish in the national rankings and its second consecutive top-10 ranking.
Duke (25-6, 15-5) finished No. 11, followed by Louisville (24-7, 15-5) at No. 14. Virginia, which defeated FSU, Louisville and Duke, during its season-ending, eight-game winning streak, finished No. 16. The Cavaliers were 23-7, 15-5.
It was the seventh consecutive year that Virginia finished among the nation's top 25. It was also the seventh straight year when the ACC had at least four teams finish in the top 25 of the AP poll.
Odd as it may seem, Virginia only finished in the AP Top 25 twice between the end of the Ralph Sampson era and the fourth year of the Tony Bennett era. UVA finished No. 13 nationally in 1994-95 when the Cavaliers lost to Arkansas in the Elite Eight under Coach Jeff Jones. Virginia finished No. 16 in the 2000-2001 poll with a season-ending loss to Gonzaga in the opening round of the NCAA Tournament under Pete Gillen.
Prior to Bennett taking over the program, Virginia had finished seasons ranked in the AP poll only seven times.
1. Kansas (28-3)
2. Gonzaga (31-2)
3. Dayton (29-2)
4. Florida State (26-5)
5. Baylor (26-4)
6. San Diego State (30-2)
7. Creighton (24-7)
8. Kentucky (25-6)
9. Michigan State (22-9)
10. Villanova (24-7)
11. Duke (25-6)
12. Maryland (24-7)
13. Oregon (24-7)
14. Louisville (24-7)
15. Seton Hall (21-9)
16. Virginia (23-7)
17. Wisconsin (21-10)
18. BYU (24-8)
19. Ohio State (21-10)
20. Auburn (24-6)
21. Illinois (21-10)
22. Houston (23-8)
23. Butler (22-9)
24. West Virginia (21-10)
25. Iowa (20-11)

Comments