Wahoos In Crucial Series With Hokies
By Jerry Ratcliffe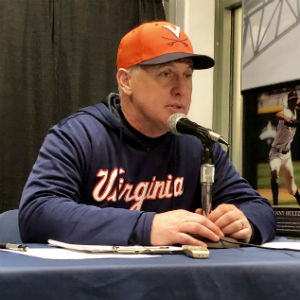 There's a lot at stake for Virginia's baseball team in its final regular-season weekend of the year beginning Thursday at rival Virginia Tech.
The Cavaliers, 30-21 overall and 12-15 in the ACC, are battling to find a way into the NCAA Tournament, while the host Hokies (25-25, 8-19) are trying to qualify for the ACC Championships next week. Virginia desperately needs to win the series and do some damage in the ACC event to avoid missing out on the NCAAs for the second year in a row.
"It's a big as it gets," UVA coach Brian O'Connor said in describing this weekend's series with Tech (Thursday-Friday-Saturday). "We put ourselves in this position. We need to win as many games as possible.
"Most years when we come into the final weekend we've got ourselves a little bit of a cushion and can line up our pitching the way we want for the conference tournament. We're not in that position right now. We just have to try to win the game in front of us."
Virginia has won 8 of its last 11 games, including two wins over No. 4-ranked Louisville, and two 5-4 losses at North Carolina. The Cavaliers came back strong to beat VCU by an 8-7 count on Tuesday night in their regular-season home finale.
"We've talked about [UVA's situation] for a couple of weeks," O'Connor said. "It's just a matter of us getting hot. You want to be hot at the end of the year. Nobody remembers if you start the season out 20-0 if you're not hot at the end of the year. They always remember what you do at the end and we have a great opportunity in front of us."
While some might consider playing your biggest rival with so much on the line as a distraction, the Cavaliers are embracing the series.
"I'm glad we're going there the last weekend," the UVA skipper said. "I think it will be a lot of fun. We're playing good baseball. We need everything we can possibly do to be successful. We've played great games with them over the years. John Szefc is a really good coach (former coach at Maryland) and they're still in position to possibly qualify for the conference tournament, so there's a lot to play for."
A lot of pressure will be placed on Virginia's 6-foot-8, right-handed junior pitcher Noah Murdock (3-5 won-loss record, 5.89 ERA), who will take the mound in Thursday night's opener (6 p.m.).
"We need to go down there and play really good baseball and that's going to start with Murdock getting us off to a good start," O'Connor said. "He needs to pitch up to his capability. If he does, we'll have a chance to win."
O'Connor said his team has been pretty loose for the past couple of weeks and that he and his coaching staff are trying to put them in the best position every day to win the game in front of them.
Senior outfielder Cam Simmons said he and his teammates don't need to be reminded of how important the next two weeks are for them.
"There's a little more sense of urgency because we know there's not much wiggle room," Simmons said. "Everybody in the locker room wants to play in the postseason. Missing out on last year sucks, so we're going to do everything we can to make that push to finish out strong."
Simmons said closing out the regular season against the Hokies is something he looks forward to taking on.
"It's always fun to play [Tech]," Simmons said. "It's a good rivalry. In my times here, we've always had their number. We've always beaten up on them pretty good. Hopefully we can do that this weekend."
The Cavaliers gained a lot of confidence coming out of the exam break and taking two out of three games against powerful Louisville, winning the last two contests versus the Cardinals.
"More than anything for us, confidence-wise is that it showed what we have in this locker room can stand up toe-to-toe with anyone in the country," said senior reliever Riley Wilson.
Wilson, the younger brother of former Wahoo and Baltimore Orioles pitcher Tyler Wilson, recorded the first save of his career Tuesday night against VCU.
O'Connor said he expects Virginia Tech's best effort and knows that the Hokies have lost a lot of close league games. He also knows Tech has a pair of strong left-handed pitchers.

Comments