Wahoos overwhelmed by No. 1 Gonzaga, in Texas beatdown
By Jerry Ratcliffe
Tony Bennett knew his team was in over its head early on in Saturday's 98-75 loss to No. 1 Gonzaga. During an intense halftime, when 16th-ranked Virginia trailed 44-31 –  helped by its own 7-0 run to reach the half – the Cavaliers coach implored his team to fight.
It was too late.
Little was clicking for the Cavaliers. They were overwhelmed by Gonzaga's quickness and savvy. UVA's defense, which hasn't resembled any previous Bennett teams, had no answers for the unbeaten Zags' offensive prowess. Virginia was turning it over at an alarming rate. Nothing, really, was working.
All of that led to a 23-point loss that could have been a lot worse in Bulldogs coach Mark Few hadn't disarmed late in the game, pulling Corey Kispert (32 points) and Drew Timme (29), both exiting with career highs. Bennett tried everything to stop Kispert, but it was ineffective as he finished 11 of 15 shooting and tied Gonzaga's record with nine 3-pointers.
"There's an old saying that you're never more open than when you first catch the ball," Kispert said. "So a lot of my shots didn't really touch my hands for very long."
Kispert never cooled off, nor did Gonzaga, which shot 68 percent from the field the second half.
Bennett was just trying to rally his guys at the break in hopes of making it a game in the second half.
"[Halftime] was about fighting. It was about soundness and toughness," Bennett said after watching his team fall to 4-2 in this pandemic-plagued season. "I thought for some guys it was a bit overwhelming, for some it was new experiences, and some it was, 'we just got to fight.'"
His passionate plea was a waste of breath. The second half was even worse when the Zags put up 55, in a loss reminiscent of Bennett's second year at Virginia, when his team was obliterated by a high-scoring Washington team, 106-63, in November of 2010.
Perhaps there was a lingering thought in Few's memory about a 108-87 pasting his Bulldogs received at UVA back in '06.
Whatever the case, this was a mismatch in every conceivable manner.
Gonzaga, the nation's second-most efficient offense, averaging 94.7 per game (geez, who is one slot better than that?), cut Virginia's defense – ranked fourth in the country – to ribbons. The Zags shot 60.3 percent from the field, the most ever against a Cavaliers defense under Bennett's direction.
Certainly, UVA's 15 turnovers, converted into 27 Gonzaga points, didn't help (margin of victory was 23), particularly early when the Cavaliers lost the handle on three consecutive game-opening possessions and quickly fell behind 7-0, then 13-3 before things spiraled completely out of control during a 13-0 Zags run that mushroomed their lead to 36-16.
"You won't have a chance against a team, really any good teams," Bennett said in reference to staggering out of the blocks. "They're the best we've played by far and appear to be well deserving of that ranking. But if you don't take care of the ball, it's hard enough to stop them when your defense is back and set. When you give them points off turnovers (19 points in the first half off UVA miscues), that puts you in a big hole."
A hole so deep that the Cavaliers would have required heavy equipment to dig their way out.
While Gonzaga hasn't been known for its defense, it certainly handcuffed Virginia. The Cavaliers shot 48 percent for the game (26-54) and 40 percent from the arc (10-25), but seemed to struggle to run its offense against a set Bulldogs defense.
Point guard Kihei Clark led UVA with a season-high 19 points (7-14 FG), followed by Trey Murphy III with 15 (4-6 from the arc) and Sam Hauser with 10. Clark also committed nearly half of the Cavaliers turnovers with six.
"Six turnovers, you're not going to win if you're a point guard and your leader has that," Clark said. "I don't think I played that well. I had 19 points, but the six turnovers is not good. I think that cancels out my offensive game."
Clark said he was just trying to find himself and his role on this team, this year.
Precisely said for not only Clark but for several pieces on perhaps the deepest team in recent Virginia memory. Lots of new parts but seemingly out of sync due in part to no preseason scrimmages, where Bennett likes to tinker with his team, and a 10-day layoff with no team practices due to a Covid issue.
The Cavaliers simply didn't look prepared for such a challenge at this time, something their coach admitted afterward.
"We weren't ready for it … it was too much," Bennett said. "I know Gonzaga is great. We made them look even better. We have some deficiencies."
Bennett said it was important, but painful, to play this game against a high-profile opponent before ACC play begins (Dec. 30 at Notre Dame), so he had no regrets in taking his team to neutral site Fort Worth, Texas, to play this game, which was scheduled out of the blue only a week ago. The Cavaliers had previously had games canceled against top-notch competition in Florida, Michigan State and Villanova, all virus-related.
"[Gonzaga] is very dangerous offensively, the way they can run," Bennett said. "When Kispert gets going like that, and Timme's a handful in the post. If you go and trap them, they've got guys out there that boom, they're set, ready to shoot it. And they score so well in transition (25 percent of the Zags points this season have come in transition)."
Bennett threw everything – including the kitchen sink – at Kispert. Nothing worked.
"[Kispert] is as good a shooter as I've ever coached, and like I said, nobody's worked as hard as Corey has at mastering his craft, and yet, he's incredibly unselfish," Few said. "I think it's very fitting that he's right there in the record books for that particular stat."
When Virginia's defense was stretching, the Zags exploited the Cavaliers in the post with layups at the rim. When they stayed closer to the paint too long, Kispert & Friends were wide open, and rarely missed.
"So they had us every time," Bennett said. "Anytime we got a little momentum, it was either a turnover or they just got an easy bucket. We haven't guarded well this year yet, and that's something we got to just keep trying to do."
Team Notes
No. 16 Virginia (4-2) fell to 1-31 all-time vs. top-ranked opponents
Tony Bennett is 0-6 vs. top-ranked foes (0-4 at UVA)
Gonzaga started the game on a 7-0 run and UVA ended the half on a 7-0 run
The Zags 44 first-half points were most by a UVA opponent since 44 at Louisville (2/8/20)
UVA had nine turnovers in the first half, leading to 19 points for Gonzaga
UVA fell to 0-2 vs. West Coast Conference foes in 2020-21 (San Francisco & Gonzaga)
Corey Kispert's nine 3-pointers tied for second-most all-time vs. Virginia
UVA had a season-high 15 turnovers, leading to 27 points for Gonzaga
The 98 points were second-most allowed under Bennett at UVA (Washington 106 in 2010-11)
Gonzaga shot 60.3 percent from the field (35 for 58), most under Bennett at Virginia
Series Notes
Virginia is 1-3 all-time against Gonzaga in the series that dates back to the 2000-01 season
Bennett is 2-2 all-time vs. Gonzaga (2-1 at Washington State)
Player Notes
Double Figure Scorers: Kihei Clark (19), Trey Murphy III (15) Sam Hauser (10)
Jay Huff (3 blocks) has multiple blocks in each of the first six games
Clark had a season-high 19 points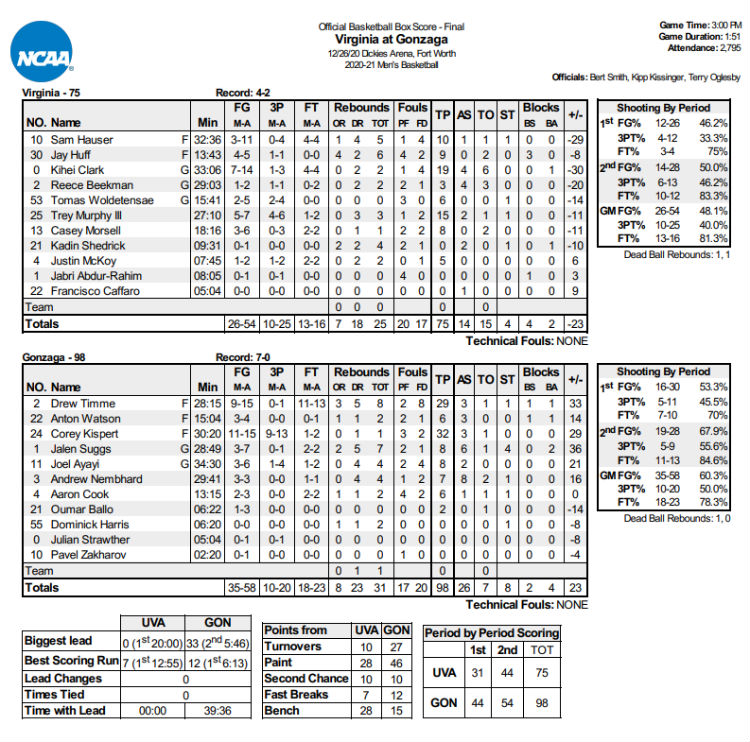 Comments