Wahoos stay atop the ACC while continuing dominance over Notre Dame
By Jerry Ratcliffe
With five Cavaliers scoring in double figures for the second time in three games, Virginia manhandled a struggling Notre Dame team, 80-68 on Wednesday afternoon for the UVA program's 200th win at John Paul Jones Arena.
Jay Huff knocked down four 3-pointers in the first half and finished with a team-high 18 points as the 18th-ranked Cavaliers bolted to a 37-25 halftime lead. From there, Virginia's advantage mushroomed to 24 points in the second half before a furious Irish rally was too little, too late.
"They made big jump shots in the first 10 minutes and we made none of our open ones," said Notre Dame coach Mike Brey. "The game was kind of over after that."
Brey was correct in his analysis. The Irish, winless in the ACC after five games and 3-8 overall, have been competitive in most of their combined first-half efforts in conference play, but have trended toward becoming unglued in the second half.
On Wednesday afternoon, it was the opposite. As Brey said, it was over before one could blink even though the late scoring flurry allowed the Irish to match UVA 43-43 for the second half.
Notre Dame entered the game as the ACC's most accurate 3-point shooting team and as one of the worst scoring defenses in the country. Both held true throughout the first half.
Virginia, boasting the ninth-ranked defensive efficiency in Kenpom.com's national statistical rankings, shut down the Irish until after midway of the second half. While UVA coach Tony Bennett wasn't completely pleased with some bad defensive habits returning down the stretch, he had to be pleased that Virginia kept Notre Dame winless in Charlottesville (0-7) and kept its 11-0 regular season dominance over the Irish intact.
The Cavaliers, improving to 8-2 overall, 4-0 and at the top of the ACC, extended their winning streak to four games after getting blown out by No. 1 Gonzaga to end the nonconference portion of their schedule.
Virginia's defense held Notre Dame to 10 of 30 shooting in the first half and a mere 1 of 11 from the 3-point arc. The Irish, who essentially play a five-guard offense, suffered when those five guards shot a combined 4 of 18 from 3 for the game.
Meanwhile, UVA was red hot. Sparked by Huff's four 3-pointers from the top of the key, the Cavaliers were 7 of 14 from the arc the first half. Trey Murphy, Sam Hauser and Casey Morsell added to Virginia's 3-point barrage in the half.
The Wahoos built a 46-33 lead in the first five minutes of the second half before going on an 11-0 run and a 57-33 advantage with 12:20 to play. Sparked by guard Ryan Cormac's late scoring antics (he scored all of his team-high 16 points in the final six minutes of the game), Notre Dame managed to chop the UVA lead to 10 on two occasions, 66-56 and 68-58 with five minutes to go. Virginia closed it out from there without Huff, who was called for his fourth foul at that point.
Joining Huff in double figures were Hauser (15), Morsell (15), Clark (12) and Murphy (10). Hauser was one rebound shy of his fourth straight double-double.
For Cavalier fans, Morsell's emergence was particularly encouraging. Having been quarantined for the previous 10 days due to Covid contact tracing, the sophomore guard made his first six shots and finished 6 of 7 from the field and 3 of 3 from the arc. The 15 points were an ACC career high for Morsell.
"You know [Morsell] is not a first year anymore," Bennett said. "He had a nice game after our Gonzaga game, a nice outing at Notre Dame (6 points on 2 of 9 shooting), and then had to be on the contact tracing time away and then he stepped back up."
Virginia had balanced scoring with the five players putting up points, the second time in the last three games (also against Wake Forest).
"I think that's important," Bennett said of the Cavaliers putting five players in the double-figures scoring column. "We just kept looking for ways. Notre Dame has been close, they just haven't been able to get one."
Virginia, which has owned the Irish in ACC play, only added to Brey and Notre Dame's misery this season with the Cavaliers sweeping the two games since Dec. 30.
"We're fighting, we're trying," Brey said as the Irish haven't won a game since Dec. 12 and lost their 27th consecutive game to a ranked opponent. "We're not the most confident group. We can't be when you've played the teams we've played and just haven't been able to go in the locker room and celebrate."
Having lost four in a row and six of their last seven games, Irish fans are frustrated. Since a 3-0 start in ACC play during the 2017-18 season, Notre Dame is a paltry 18-40 in conference play.
It was no surprise that Virginia scored 80 points on the Irish and shot 50 percent or better (54.5) for the fifth time this season. Notre Dame came into the game ranked No. 196 in the nation in defensive efficiency.
What was a surprise was the Irish' ineptitude in shooting the ball, particularly from 3-point range. Nate Laszewski, who lit up UVA for 28 points in the first meeting, was held to 12 on a 4 of 8 shooting performance, only 1 of 4 from the arc, guarded mostly by Hauser.
"They can shoot one through five," Bennett said. "When Laszewski plays the five, that's a problem. I think they missed a lot of open looks in the first half, and then you saw him get on a little mini run in that second half where, if you're a little delayed or low with your hands or not there on the catch, they'll stick it pretty quick. They are a dangerous team with how they move the ball and space the floor."
Huff said shooting his 3's from the top of the key is his favorite spot to launch.
"I took a bunch of those [shots] back in my high school days," Huff said. "That is just where they kind of show up in the offense that we've been running. So I think that all played a roll."
Morsell said it was tough missing the previous two games and being out for an extended period of time, but that it was nice to help carry the load and find his shot.
"It was tough," Morsell said. "I had to watch the game, just like everyone else. I had to watch on TV."
UVA will receive its stiffest test since the Gonzaga loss when it travels to Clemson. The Tigers are 9-1 overall and 3-1 in the ACC.
(COMING THURSDAY: A closer look at Casey Morsell's game and what's to come)
Team Notes
No. 22 Virginia (8-2, 4-0 ACC) has a four-game winning streak
UVA held Notre Dame to 10 of 30 shooting in the first half, including 1 of 11 from 3-point range
The Cavaliers led 37-25, marking their most first-half points in ACC play
UVA shot 50 percent or better for the fifth time (54.5%)
UVA is 6-1 when scoring 70 or more points in 2020-21
UVA is 37-1 overall when scoring 80 or more under Tony Bennett
Series Notes
Virginia is 16-2 all-time vs. Notre Dame, including an 11-0 ACC regular-season record, in the series that dates back to 1980-81.
UVA is 7-0 against the Irish in Charlottesville
Head coach Tony Bennett is 12-1 all-time against Notre Dame
Player Notes
Double Figure Scorers: Jay Huff (18), Sam Hauser (15), Casey Morsell (15), Kihei Clark (12), Trey Murphy III (10)
Huff made a career-high four 3-pointers
Huff (two blocks) registered his eighth multi-block game of the season (35th career)
Clark had a season-high six assists
Morsell had a season-high 15 points (6 of 7 FGs, 3 of 3 3FGs) in his return to action after sitting out the past two games
Morsell sank a career-best three 3-pointers
Reece Beekman had a game-high three steals and leads the Cavaliers with 17 overall
Francisco Caffaro tallied three points in a season-high 11 minutes off the bench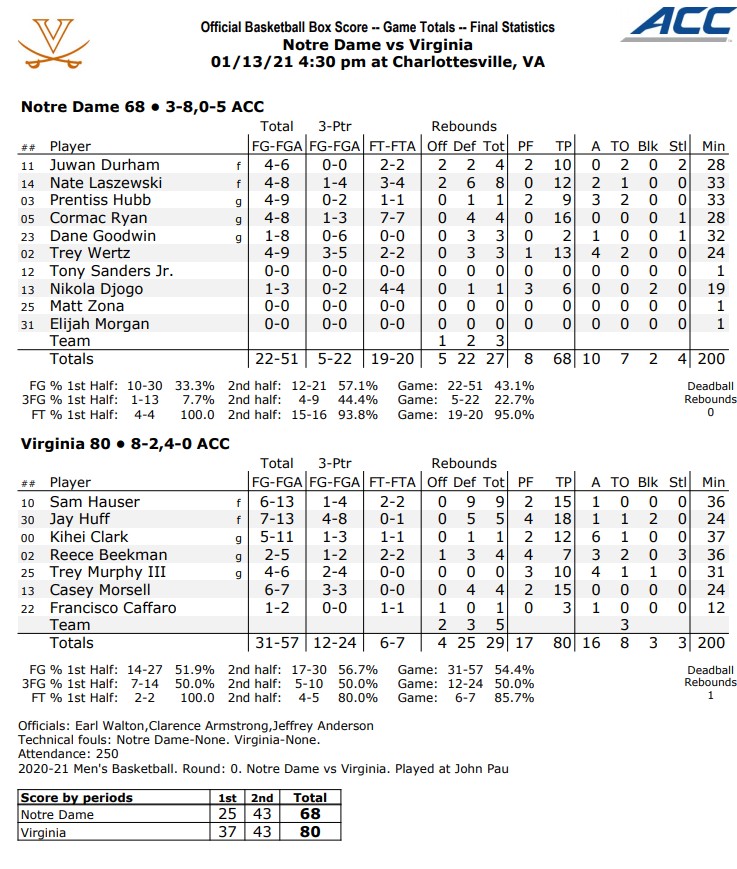 Comments