Washington has record-breaking night in UVA win over Blue Devils
By Jerry Ratcliffe
Record-breaking receiver Malik Washington showed up for postgame interviews Saturday night with his new best friend, the game ball from Virginia's 30-27 win over Duke. Washington clutched the ball the way a starving, shipwrecked sailor would a coconut.
"I'm probably going to sleep with this thing tonight," Washington grinned. "I probably won't let go of it for a little bit. It means a lot to me."
In only his 11th game as a Cavalier after having transferred from Northwestern as a grad student, Washington had UVA's statistics keepers reaching for the White-Out up in the Scott Stadium press box. Seemed like every time Washington made a catch against the Blue Devils, he broke another Virginia receiving record.
On his second reception of the game, Washington hauled in a pass from quarterback Anthony Colandrea, stiff-armed Duke safety Jaylen Stinson and raced 34 yards for Virginia's first touchdown. That catch broke UVA's single-season receiving yards record.
Later in the game, Washington broke the school's single-season receptions record to set up UVA's go-ahead touchdown in the third quarter.
So, what do you do for an encore?
How about fighting for a 7-yard touchdown pass over Duke's defender in the left corner of the end zone for a 23-10 lead, his ninth scoring catch of the season (tied for fifth-most in a UVA single season). Not only did he break Wahoo records, he placed himself either in or just on the outside of ACC top-10 performances for a single season with his night to remember.
Heck, he posted his sixth-straight, 100-yard receiving game, his ninth in 11 games (most in the nation) and another UVA record as he extended his streak of consecutive games with at least one catch to 36, going back to his days in the Big 10.
For the record, he was targeted nine times, had eight catches for 112 yards and the two scores. More like a running back than a receiver, of his 112 yards, 62 came after the catch.
With Virginia in desperate need of a win and seeking the Cavaliers' first ACC home win in the Tony Elliott era, Washington knew he could be a difference-maker, and he let his coach know it.
"He told me, and he's not a real fiery guy, he's pretty even-keel, but today I saw some passion and some fire," Elliott said of his prized receiver. "He basically told me, 'Coach, I want it. Give me the ball today.' And that was the first time he really said that, even though he's getting the ball a ton. He actually said for the first time, 'Coach, I want it.' So it was awesome to see that, man."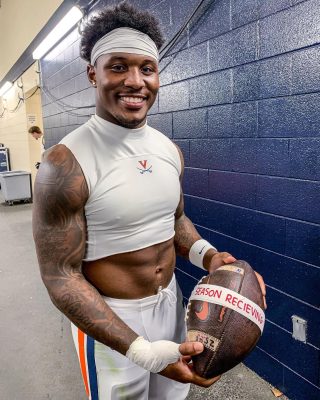 With his performance, Washington went over the 1,300-yard mark for the season on 90 catches. Consider the only other Power 5 receiver to do that in the past decade won the Heisman (Alabama's DeVonta Smith, 2020).
Also consider that Washington entered the game No. 2 in the nation in almost every major FBS receiving category, trailing only LSU's Malik Nabors, who has a Heisman Trophy candidate pitching him the ball. Instead, Virginia's star receiver has had to adjust to the different throwing styles of two quarterbacks, Tony Muskett (injured) and freshman Anthony Colandrea.
"It's actually really hard," Colandrea said about Washington having to adjust to two different quarterbacks. "Especially with timing. It's different timing with me and Tony, and it's crazy for him being able to do that comfortably."
While Elliott commented how rare it is for Washington to ask him for the ball, Colandrea gets it all the time from his receiver.
"It's funny, because in practice, he told me, 'If I'm open or not open, just throw the ball,'" Colandrea laughed. "I just love that about him. I have 100-percent confidence in him to make all the plays."
Such was the case on the third-quarter touchdown Saturday night. Washington wasn't really open, but made the catch with a Duke defender all over him.
"He always tells me, 'Just give me a chance,' and if I give him a chance, he's going to make the play and that's what he did," Colandrea said.
Most of the time, though, Washington finds a way to get open, which blows Colandrea's mind every time he watches film of practice and takes notice of No. 4, always open.
While all the records and touchdowns have mounted up this season, what really has meant more to Washington, was beating Duke or beating anyone. Winning means everything to him.
Earlier in the week, Elliott remembered sitting on the couch in Washington's apartment during the transfer-portal recruiting process. Elliott and offensive coordinator Des Kitchings wanted to find out all they could about this Big 10 scholar athlete and if he could help Virginia win.
Other than noticing Washington's apartment was organized and pristine, Elliott listened to what the receiver dreamed about, an 80-catch, 1,000-yard receiving season. Washington has surpassed that with one game to go.
"I didn't really imagine things like this happening, I just know the work that I put in and the work that we all put in all offseason, all throughout the winter, it's paying off and I love to see that," Washington said after rewriting UVA's record book.
In four seasons at Northwestern, Washington never had a 100-yard receiving game. In 11 games, he's had nine, more than the great Herman Moore had in his Virginia career.
"I knew it was somewhere in there," Washington said. "I just had to dig deep and I had to go find it. The opportunity presented itself and I took advantage."
While Virginia has won far fewer games than LSU, Elliott fears that may impact Washington's chances for winning the Biletnikoff Award, which goes to the nation's top receiver.
Maybe one more game of eye-popping numbers could push Washington over the top. Washington would be perfectly happy with one more win.
Maybe he could sleep with the Commonwealth Cup next Saturday night.