Wasted opportunities plague Virginia in 14-12, 4OT loss to Miami
By Scott Ratcliffe
Virginia let a second-straight win slip away on multiple occasions Saturday against Miami, instead falling 14-12 in a wild, quadruple-overtime affair at Scott Stadium.
After failing to put any points on the scoreboard in the opening half, the Cavaliers (3-5, 1-4 ACC) tied the game at 3-3 in the third quarter and then took a 6-3 advantage with just over 12 minutes left in regulation on a pair of Will Bettridge field goals.
Along with a few dropped passes that could have kept a few drives alive earlier in the contest, Virginia came up empty on a first-and-goal opportunity late in the third, as Brennan Armstrong's would-be touchdown pass from a yard out bounced off of tight end Grant Misch's hands and fell to the turf on fourth down.
That opportunity was made possible by the longest play from scrimmage — by either side — all day, as Armstrong threw a pass in the flat on third-and-3 to Mike Hollins, who made a move and hustled 64 yards down the home sideline and appeared to score a touchdown, but was ruled out at the 1-yard line. Misch slipped in the end zone on the following play, as Keytaon Thompson's jump pass intended for him also could've put six points on the board.
Still trailing by three, the Hurricanes (4-4, 2-2) got the ball back with a little over five minutes left in the fourth quarter and had a chance to put the game away after picking up a first down at the UVA 3-yard line with 1:29 on the clock.
The Cavaliers stuffed Jacurri Brown on first-and-goal, however, before senior free safety Coen King tripped up Miami running back Henry Parrish Jr. for no gain on the following play.
The Hurricanes were then flagged for an illegal substitution with 37 ticks remaining, backing them up to the 7-yard line. King again came away with a huge tackle, stopping Parrish short at the 2-yard line on third down, and Andres Borregales knotted the score at 6-6 with a 20-yard field goal as the fourth-quarter clock hit triple zeroes, and the game went to overtime. King finished with 13 tackles (9 solo) on the afternoon, second only to Nick Jackson's game-high 14 stops (4 solo).
Miami got the ball first and only picked up a yard before settling for a Borregales 42-yarder to take a 9-6 lead. Fentrell Cypress II nearly intercepted a Jake Garcia pass on third down that would've given the Wahoos a chance to win it with a score.
On Virginia's first series, Armstrong couldn't pick up a first down on two straight run plays, then was sacked for a four-yard loss on third down, and Bettridge nailed a 41-yard field goal to force a second extra session.
UVA got the ball first in double OT, but again had to settle for three after only gaining a yard on three plays. Bettridge's ensuing field-goal try got a lucky bounce off of the left upright and in, as his bank shot put Virginia back in front, 12-9.
Miami answered with a 37-yarder to tie it at 12-all, and from there, the teams alternated on one-play, 2-point conversions from the 3-yard line until a winner was determined.
Things again looked enticing for Cavalier fans after senior strong safety Antonio Clary intercepted Garcia on Miami's attempt, as the Hoos just needed to get the ball in the end zone from three yards away to clinch the victory.
"Clary flew around, all these guys flew around," UVA defensive coordinator John Rudzinski said of his defense. "They bled for the V-Sabre, and they bled over and over and over again. That's on all three phases of the ball."
However, Virginia committed a false-start penalty, moving the ball back to the 8, and Armstrong's ensuing pass into the end zone intended for Dontayvion Wicks fell incomplete.
UVA got it first to start the fourth overtime period, and Armstrong couldn't hook up with Lavel Davis Jr. along the back of the end zone. Garcia then put things on ice with a 3-yard keeper around the right edge and dove in for the deciding 2-point run, leaving the Wahoo faithful shocked and deflated. It was the only play of the game for either team that got past the goal line. The play was reviewed and confirmed, as the Hurricanes began to celebrate along the sideline.
"We just needed to make one more play than they did, and they made a play there at the end and we didn't make a play," said Virginia head coach Tony Elliott. "But it seems like that's been the theme with us offensively, is we're just leaving points on the field."
Virginia gained just 96 total yards in the first half (26 passing, 70 rushing) and only converted 4 first downs, going 2 for 7 on third down. The Hoos only had the ball for 12:16 and punted on all five first-half possessions.
Despite all of that, the UVA defense kept the Cavaliers in the contest, limiting the U to 3 points while coming away with 3 sacks and 5 tackles for loss across the first 30 minutes.
The offense finally got going to start the second half, as Armstrong completed a 30-yard toss to Thompson on the third play from scrimmage after halftime.
On the next snap, Davis snuck behind the Hurricanes' secondary and was wide open, but had to come back to secure the catch of the underthrown Armstrong delivery. Still, the play went for 47 yards and gave Virginia a first-and-goal at Miami's 3-yard line, but the Hoos lost 7 yards on a botched jet sweep before Armstrong was stopped for no gain on third down, and came away with just a field goal.
"Definitely not the outcome that we wanted, and the guys are going to be sick when they watch those four or five, maybe six plays that would have made a big difference in the game that we didn't make," said Elliott.
On the afternoon, the Cavaliers wound up with 327 total yards, while holding Miami — which was playing without starting quarterback Tyler Van Dyke — to 272. Armstrong completed 15 of his 25 passes for 208 yards while also leading the team in rushing with 67 net yards on 20 carries.
Game Stats
Scoring Summary
Miami      0 3 0 3 8 — 14
Virginia    0 0 3 3 6 — 12
Second Quarter
UM (0:00) — Andres Borregales 38-yard field goal. Miami 3, Virginia 0.
Third Quarter
UVA (10:42) — Will Bettridge 27-yard field goal. Virginia 3, Miami 3.
Fourth Quarter
UVA (12:11) — Will Bettridge 24-yard field goal. Virginia 6, Miami 3.
UM (0:00) — Andres Borregales 20-yard field goal. Virginia 6, Miami 6.
Overtime
UM — Andres Borregales 42-yard field goal. Miami 9, Virginia 6.
UVA — Will Bettridge 41-yard field goal. Virginia 9, Miami 9.
UVA — Will Bettridge 41-yard field goal. Virginia 12, Miami 9.
UM — Andres Borregales 37-yard field goal. Virginia 12, Miami 12.
UM — Jake Garcia two-point rush. Miami 14, Virginia 12.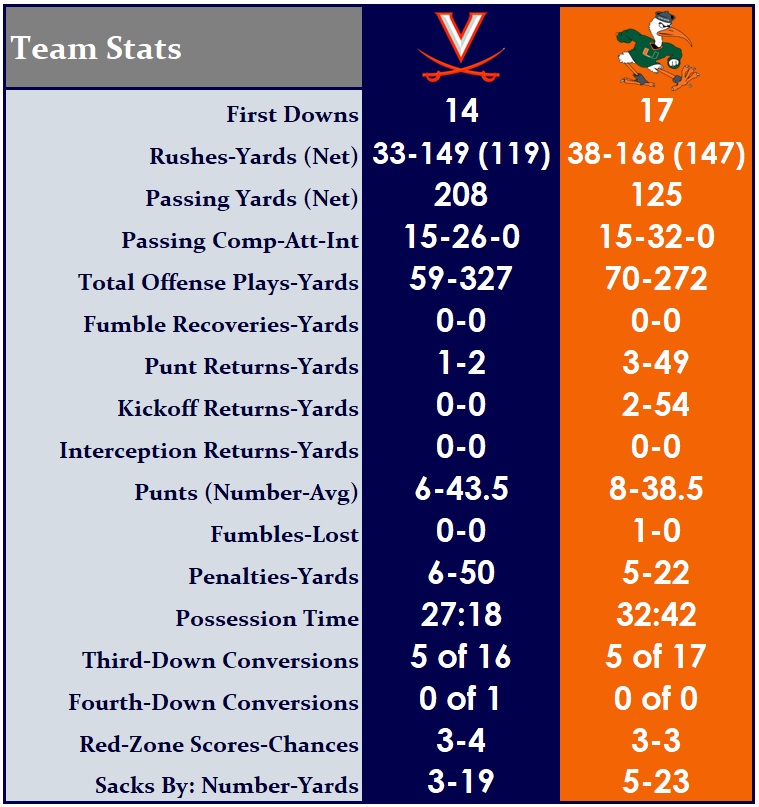 Player Stats
Rushing
UM — H.Parrish Jr. 24-113; J.Brown 5-28; L.Stanley 3-18; R.Brinson 1-(minus-3); J.Garcia 5-(minus-9). Total: 38-147. UVA — B.Armstrong 20-67; P.Jones 7-28; M.Hollins 2-16; X.Brown 4-8. Total: 33-119.
Receiving
UM — C.Young 5-46; W.Mallory 3-22; B.Smith 2-16; X.Restrepo 1-11; F.Ladson Jr. 1-10; J.George 1-9; K.Smith 1-7; H.Parrish Jr. 1-4. Total: 15-125. UVA — M.Hollins 1-64; L.Davis Jr. 1-47; K.Thompson 5-41; B.Kemp IV 5-28; D.Wicks 1-14; S.Wood Jr. 1-9; X.Brown 1-5. Total: 15-208.
Passing
UM — J.Garcia 15-29-125-0-0; J.Brown 0-3-0-0-0. Total: 15-32-125-0-0. UVA — B.Armstrong 15-25-208-0-0; K.Thompson 0-1-0-0-0. Total: 15-26-208-0-0.
Cavaliers' defense puts them in position in loss to Miami
Column: UVA's red-zone woes continue to mount; pass the Pepto please
UP NEXT
The Cavaliers will look to bounce back next Saturday when Coastal Division-leading North Carolina comes to town (Noon, ACC Network).