We Proudly Welcome In Legendary Sponsor Ragged Mountain Running Shop And 'The Sub-4″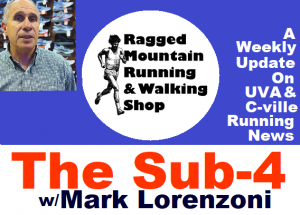 We are delighted to announce that legendary Ragged Mountain Running & Walking Shop, an iconic business in Charlottesville since 1982, has signed on as a new sponsor to the rapidly expanding JerryRatcliffe.com.
For anyone growing up in Charlottesville or running in area races, running for the University of Virginia, when the sport of running comes up, it is synonymous with Ragged Mountain. Mark and wife Cynthia Lorenzoni have been the lifeblood of running in our area for four decades.
Ragged Mountain is a family business, which specializes in running apparel of any sort, every shoe imaginable for both running and walking. It is a name you can trust because it is owned by runners who know every phase of the business and the sport.
As a bonus to sponsoring our website, which is dedicated to covering UVA athletics and the ACC, we convinced Mark to allow us to tap in to his expertise on a weekly basis for a Charlottesville area & UVA running news update.
We're going to call it "The Sub-4," standard in the running community for the sub-Four Minute Mile. Mark's weekly update will cram all the local running news into his audio (eventually video) in just shy of four minutes for your convenience.
Ragged Mountain Running Shop is located at 3 Elliewood Ave in Charlottesville, on The Corner. Stop by and give Mark and his family a shout out and let them know how you like his weekly "Sub-4."
Support JerryRatcliffe.com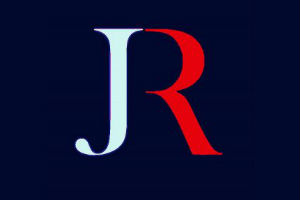 Make a one-time or recurring gift to support JerryRatcliffe.com online below. Your gift is not tax-deductible. Thank you for your support of JerryRatcliffe.com and the "Jerry Ratcliffe Show" podcast!