Weekly Gridiron Picks Sponsored By Riverside Lunch: Week 2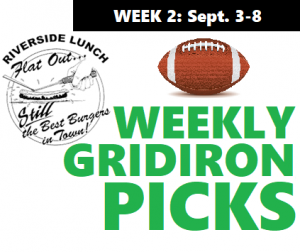 The first week of our college football pick 'em contest is in the books, and our winner is probably chomping down on some delicious Riverside Lunch cheeseburgers about right now as a result of his outstanding prognostications (see below).
As far as our expert picking panel goes, Lee Shifflett showed us he can do a lot more than flip great burgers. The Riverside Lunch owner beat us all with an excellent 17-3 record last week, edging out Hootie and the two Scott's (Ratcliffe & German), who all tied with four misses. Chris Graham of Augusta Free Press is fifth at 15-5 along with Blue Ridge Bank prez Gary Shook, just ahead of Mark Mincer (yes, that Mincer). Our celebrity guest picker, Elton Brown, had a solid 16-4 week as well (check below to see 'Hoo this week's guest picker is!).
This week's picks might prove to be a tad easier with a lot of nonconference matchups, but we'll see …
JerryRatcliffe.Com Weekly Gridiron Picks
Sponsored by Riverside Lunch
"Flat Out… Still the Best Burgers in Town"
Weekly Panel/Standings:
Lee Shifflett — Riverside Lunch (17-3)
Scott German — Augusta Free Press (16-4)
Jerry Ratcliffe — JerryRatcliffe.Com (16-4)
Scott Ratcliffe — JerryRatcliffe.Com (16-4)
Chris Graham — Augusta Free Press (15-5)
Gary Shook — Blue Ridge Bank (15-5)
Mark Mincer — Mincer's UVA Imprinted Sportswear (14-6)
Celebrity Guest Pickers:
A celebrity guest picker will join the panel each week throughout the season.
Week 1 — Elton Brown (16-4)
Week 2 — Ricky Stokes
How to Play:
We'll pick every ACC game all season long, plus the best of the rest from around college football (20 total games per week).
Fans can submit their own picks (sent to weeklygridironpicks@gmail.com, with "WEEK 2 PICKS" in the subject line) no later than NOON ET Friday (Note: We're looking into a more fan-friendly system for submitting your picks, stay tuned).
Tiebreaker:
Predict the score of the UVA game (or another designated big game if the 'Hoos are on a bye week):
Fans will predict the final score (i.e. Virginia 35, Opponent 21 … that fan's total score for the tiebreaker would be 56). The fan whose total score is closest to the actual total score will be declared the winner. If somehow two or more fans have the same total score (or are the same distance from the total score), the fan who is closer to UVA's score will win ("Team A" if UVA is not playing that week).
IMPORTANT NOTE: You MUST include a tiebreaker with your entry, or it will not be eligible to win.
Prizes:
The weekly winner will receive a gift certificate from Riverside Lunch and will automatically qualify to compete for the grand prize (TBD) during bowl season.
If a fan is named the weekly winner, he/she may still compete in the remaining weekly contests, but will not be eligible again for the weekly prize.
Click on the graphic for the entire grid, and/or check out the Week 2 picks listed below (on the graphic, the number to the right in green is the opening line, brought to you by our friend Anthony Esposito, Professional Sports Handicapper at krackwins.com):
Week 2 Picks:
This week's celebrity guest picker is former UVA basketball standout point guard Ricky Stokes (1980-84), a member of both the 1981 and '84 Final Four teams. We ran into Ricky in the press box at Heinz Field Saturday and invited him to join us this week.
"I currently serve as the Senior Associate Commissioner of Basketball for the Mid-American Conference," Stokes wrote. "I work to improve the performance and increase the visibility of both the Men's and Women's basketball programs. I firmly believe that UVA Football is trending in the right direction, after winning 8 wins last year and a bowl victory over USC so I'm predicting either 9 or 10 wins for this year's team. Go 'Hoos!"
Click on the graphic below for the entire grid (the number to the right in green is the opening line, brought to you by our friend Anthony Esposito, Professional Sports Handicapper at krackwins.com):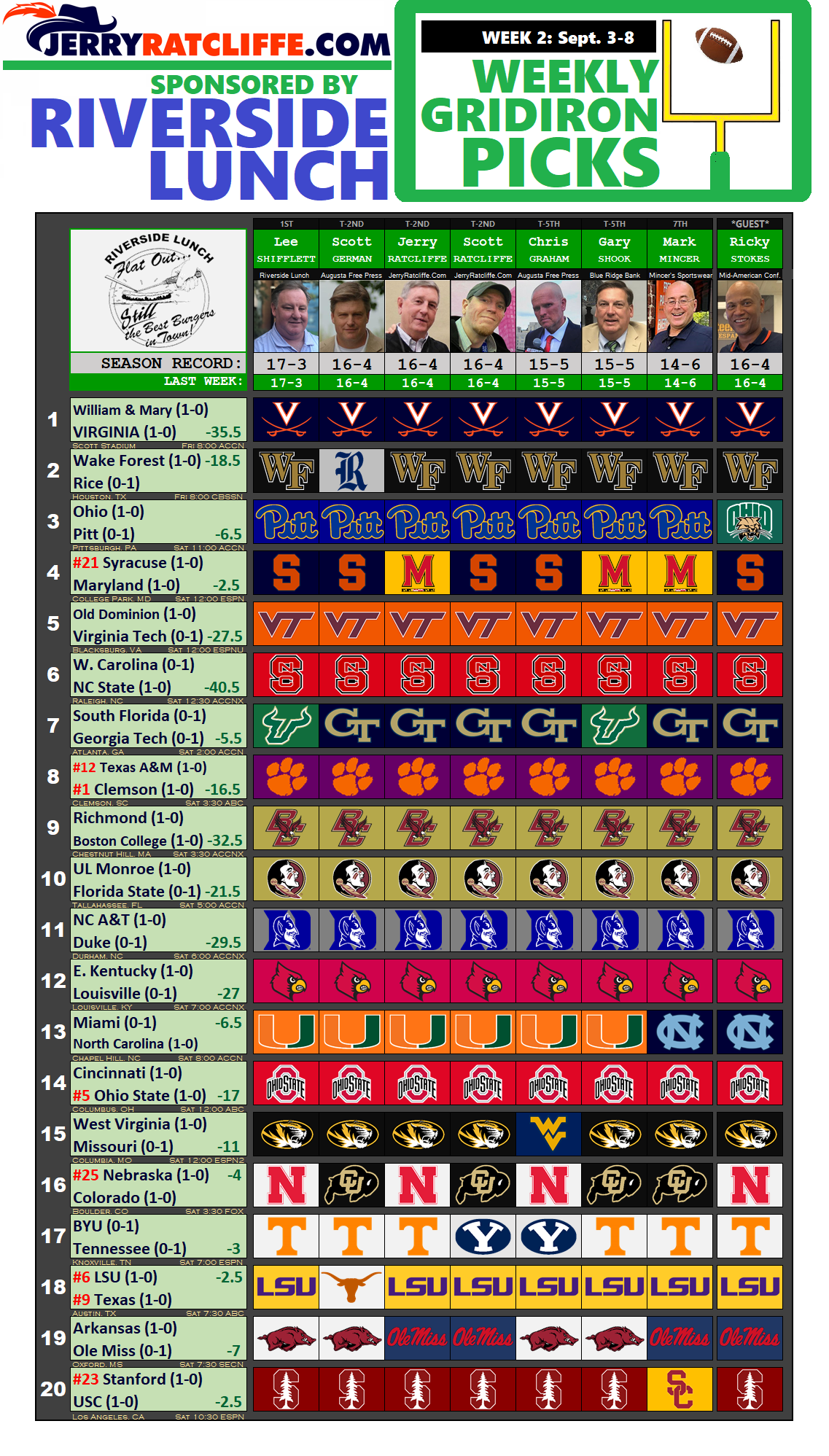 How 'Bout Them 'Hoos?
For the second week in a row, all seven panelists and our guest picker are going with the five-touchdown favorite Wahoos to take care of business against the Tribe Friday night.
Clean Sweeps

(Teams that were unanimously picked to win this week):
VIRGINIA
Virginia Tech
NC State
Clemson
Boston College
Florida State
Duke
Louisville
Running Solo
Picks made by just one panelist/guest:
Rice (Scott German; vs Wake Forest) — The Owls are pretty big underdogs against the Demon Deacons, but they are playing in Texas, so maybe Scott's onto something. We'll see if this one pans out better than that South Florida pick last week (Wisconsin beat the Bulls, 49-0).
Ohio (Ricky Stokes; at Pitt) — As noted above, Ricky works for the Mid-American Conference, of which the Bobcats are a proud member, so we can understand this one. Or was it because Stokes didn't like what he saw from the Panthers in person last week?
West Virginia (Chris Graham; at Missouri) — It wasn't pretty, but the Mountaineers survived a scare in their opener in Morgantown against James Madison last week. Graham believes new WVU coach Neal Brown will follow it up with a win in Columbia.
Texas (Scott German; vs LSU) — It's a top-10, SEC-Big 12, prime-time showdown in Austin, and it should be a good one. German sees the Longhorns escaping with what would be a huge resume-boosting W.
Southern Cal (Mark Mincer; vs Stanford) — In what could be an interesting late-night Pac-12 affair, Mincer thinks the Trojans have what it takes to achieve the upset and outlast the Cardinal at The Coliseum.
Once a weekly fan winner is determined, we will contact them via the email address they used to submit their picks and get their contact information to redeem their prize.
You still have time to e-mail us your Week 2 picks! This week's deadline is Friday at noon.
Weekly Winners:
Congratulations to Adam Hawes, who emerged as our Week 1 winner in a tiebreaker over Jerry Kidd. Both competitors only missed two games (both picked South Carolina and Florida State), so it came down to the UVA-Pitt score to determine the winner. Adam's total score was 38, Kidd's was 58. The actual total score was 44, giving Hawes the victory (that's why it's important to include your tiebreaker!). As will be the case with each of our weekly winners, Adam will receive a gift certificate from Riverside Lunch and will be entered into the grand-prize contest during bowl season.
Week 1 (Aug. 26-Sept. 2) — ADAM HAWES (18-2)
Week 2 (Sept. 3-9) — 
Week 3 (Sept. 10-16) — 
Week 4 (Sept. 17-23) — 
Week 5 (Sept. 24-30) — 
Week 6 (Oct. 1-7) — 
Week 7 (Oct. 8-14) — 
Week 8 (Oct. 15-21) — 
Week 9 (Oct. 22-28) — 
Week 10 (Oct. 29-Nov. 4) — 
Week 11 (Nov. 5-11) — 
Week 12 (Nov. 12-18) — 
Week 13 (Nov. 19-25) — 
Week 14 (Nov. 27-Dec. 2) —

Comments