Weekly Gridiron Picks Sponsored By Riverside Lunch: Week 3
We're into Week 3 of our Gridiron Pick 'Em Contest, and looky here, Mark Mincer just pulled off one of those "Worst to First" deals.
Mincer, whose family is an institution on "The Corner," headed into Week 2 in last place among our panel of experts, but bounced back with a near-perfect record. If BYU hadn't wrecked Tennessee and given Big Orange fans another nightmare weekend, Mincer wouldn't have had a single blemish. He was the only panelist to correctly pick Mack Brown to beat Manny Diaz and for USC to derail Stanford.
With the great week, Mincer is tied with Scott Ratcliffe, who continues to show up his old man, for first place. The old man, by the way, is alone in third.
Meanwhile, Lee Shifflett — who sponsors this whole shebang — fell out of first place, and Blue Ridge Bank prez Gary Shook was the picture of consistency with back-to-back 15-5 records. Scott German dropped like a box of rocks and is tied with Chris Graham in the cellar. Former Wahoo point guard Ricky Stokes was our guest picker and showed that he's multi-dimensional, and that he knows football by posting a 15-5 mark.
On with the show…
JerryRatcliffe.Com Weekly Gridiron Picks
Sponsored by Riverside Lunch
"Flat Out… Still the Best Burgers in Town"
Weekly Panel/Standings:
Mark Mincer — Mincer's UVA Imprinted Sportswear 33-7 (19-1 last week)
Scott Ratcliffe — JerryRatcliffe.Com 33-7 (17-3)
Jerry Ratcliffe — JerryRatcliffe.Com 32-8 (16-4)
Lee Shifflett — Riverside Lunch 30-10 (13-7)
Gary Shook — Blue Ridge Bank 30-10 (15-5)
Scott German — Augusta Free Press 29-11 (13-7)
Chris Graham — Augusta Free Press 29-11 (14-6)
How to Play:
We'll pick every ACC game all season long, plus the best of the rest from around college football (20 total games per week).
Fans can submit their own picks (sent to weeklygridironpicks@gmail.com, with "WEEK 3 PICKS" in the subject line) no later than NOON ET Friday (Note: We're looking into a more fan-friendly system for submitting your picks, stay tuned).
Tiebreaker:
Predict the score of the UVA game (or another designated big game if the 'Hoos are on a bye week):
Fans will predict the final score (i.e. Virginia 35, Opponent 21 … that fan's total score for the tiebreaker would be 56). The fan whose total score is closest to the actual total score will be declared the winner. If somehow two or more fans have the same total score (or are the same distance from the total score), the fan who is closer to UVA's score will win ("Team A" if UVA is not playing that week).
IMPORTANT NOTE: You MUST include a tiebreaker with your entry, or it will not be eligible to win.
Prizes:
The weekly winner will receive a gift certificate from Riverside Lunch and will automatically qualify to compete for the grand prize (TBD) during bowl season.
If a fan is named the weekly winner, he/she may still compete in the remaining weekly contests, but will not be eligible again for the weekly prize.
Week 3 Picks:
Click on the graphic for the entire grid (the number to the right in green is the opening line, brought to you by our friend Anthony Esposito, Professional Sports Handicapper at krackwins.com):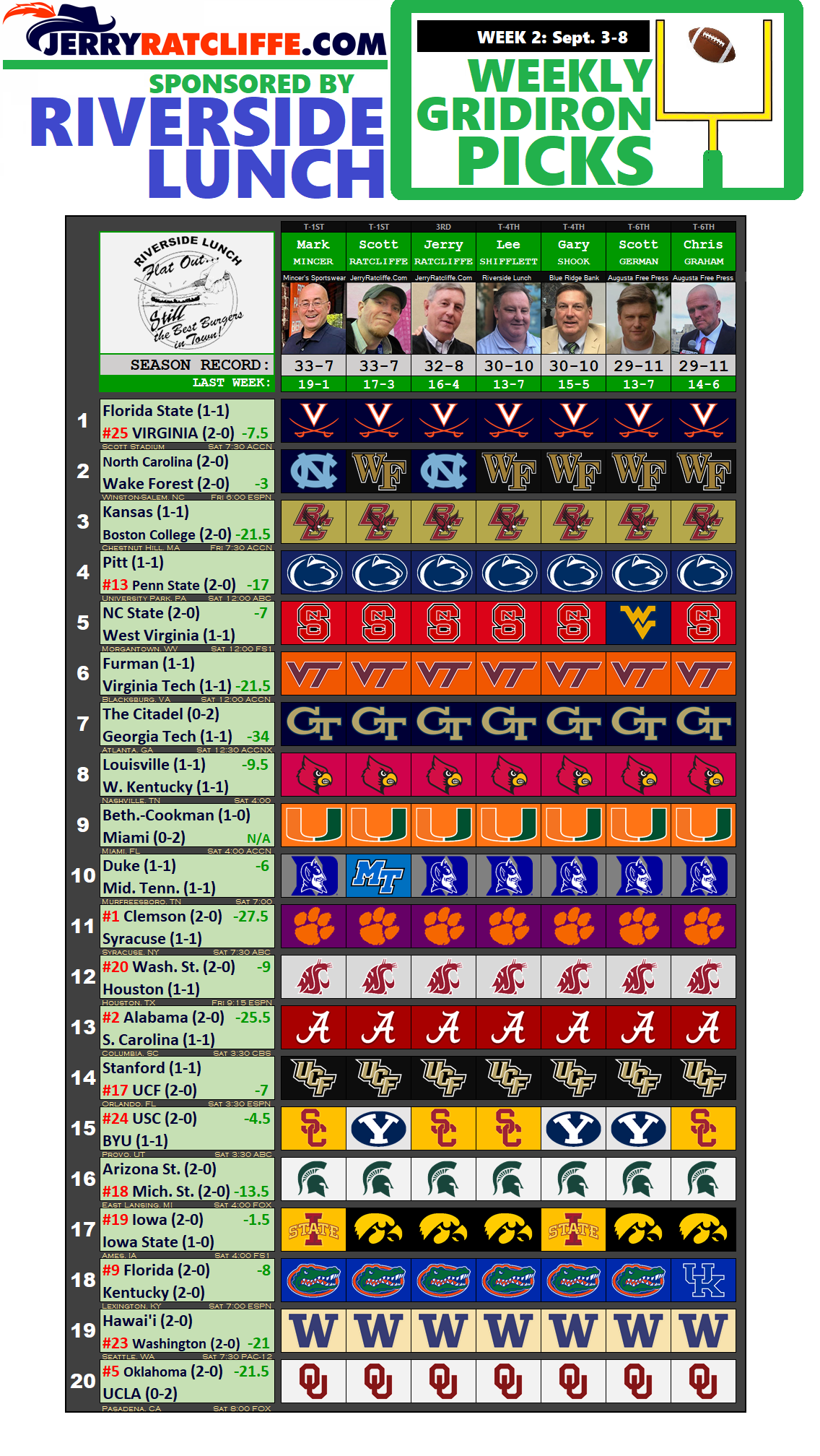 Once a weekly fan winner is determined, we will contact them via the email address they used to submit their picks and get your contact information to redeem your prize!
Weekly Winners:
Congratulations to Micah Morris, our Week 2 winner! Micah went 17-3 and edged out Lance Speidell by coming closer on the tiebreaker score for UVA-W&M. Morris' total score for the game was 52, Speidell had 47, with the actual score being 69.
As will be the case with each of our weekly winners, Micah will receive a gift certificate from Riverside Lunch and will be entered into the grand-prize contest during bowl season.
Week 1 (Aug. 26-Sept. 2) — ADAM HAWES (18-2)
Week 2 (Sept. 3-9) — MICAH MORRIS (17-3)
Week 3 (Sept. 10-16) — 
Week 4 (Sept. 17-23) — 
Week 5 (Sept. 24-30) — 
Week 6 (Oct. 1-7) — 
Week 7 (Oct. 8-14) — 
Week 8 (Oct. 15-21) — 
Week 9 (Oct. 22-28) — 
Week 10 (Oct. 29-Nov. 4) — 
Week 11 (Nov. 5-11) — 
Week 12 (Nov. 12-18) — 
Week 13 (Nov. 19-25) — 
Week 14 (Nov. 27-Dec. 2) — 

Comments