What can Virginia possibly do to avoid slow starts in the future?
By Jerry Ratcliffe
Slow starts are killing Virginia's football season, and until that's corrected, the Cavaliers are going to struggle.
Thanks to seven turnovers by Duke in the opener, the Cavaliers overcame a slow start when UVA fell behind 10-0 to the Blue Devils as new starting quarterback Brennan Armstrong struggled early but finished strong.
Ditto last week at Clemson, when again, Armstrong started slow, finished strong and the Cavaliers at least made the nation's No. 1 team sweat a little.
Saturday at rainy Scott Stadium, it was a threepeat. Armstrong struggled, but so did the rest of the team, and this time there wasn't much chance of a comeback thanks to a season-high four turnovers.
While Virginia has the potential to be a good football team, it isn't strong enough to show up not ready to play. That's exactly what happened Saturday, and Bronco Mendenhall was baffled by the whole thing.
UVA was at least a touchdown favorite over a visiting NC State team that was playing its third straight road game and had a depleted secondary. The Cavaliers had been invulnerable at home, having reeled off nine consecutive wins in Scott Stadium dating back to 2018.
Before one could blink, the Wahoos had fallen behind 24-0.
"My job is to predict it right, try to anticipate where we are and how we'll play, and I didn't see it coming, not the first half," Mendenhall said. "I have to do a better job of anticipating and seeing it. I really thought our preparation was strong.
"I thought we were in a different place after the first two games, so I was surprised. I think the team was surprised."
Virginia has been outscored 34-0 in the first quarter of its first three games. It's not like the coaching staff hasn't made it a point of emphasis.
"Going into the Duke game and even double emphasis after the Duke game, and then even more emphasis after the Clemson game, so yeah, I would say that it has been targeted," Mendenhall said. "It certainly hasn't been targeted effectively yet. Otherwise, the right outcome usually reflects preparation and the proper planning and the right solutions.
"So we haven't cracked that code yet."
Backup quarterback Lindell Stone filled in admirably for starter Brennan Armstrong, who was injured late in the first half, and said he too was a little surprised with yet another slow start.
"But it wasn't an accident or a fluke," Stone said. "We didn't prepare well enough to win. We didn't have the right mindset coming into the stadium this morning."
Say what?
"I think it really just starts with practice, and our coaches for the past two weeks emphasized — to the offense especially — that we have to start fast," Stone said. "We didn't really take ownership of that during practice this week."
Stone said the offense just hasn't been able to get into a rhythm and isn't making the easy plays.
"We've got to start with completions, moving the ball," he said. "That's kind of where we are, and it's up to us as players to do that."
Virginia, which was one of the nation's leaders in turnover margin coming into the game, lost the ball four times to State and didn't force any turnovers.
"We dropped three [more] interceptions," NC State coach Dave Doeren said.
He was right.
"Their quarterback really struggled in the first half with the coverages we were running. He was just throwing it to us," Doeren said. "It was more them just doing a poor job and us taking advantage of it."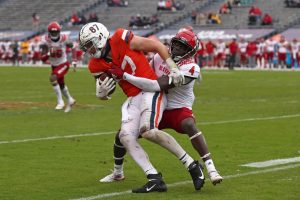 The Cavaliers couldn't run the ball well in the first half and Armstrong struggled. On the defensive side of the ball, Virginia couldn't generate much of a pass rush for the second straight game. The defense posted one sack at Clemson, which is somewhat understandable, but got none against NC State.
"I think just enough differences amongst opponents, enough uncertainty with a developing quarterback and some new players offensively," Mendenhall said of the slow starts. "Just not quite cohesive enough in execution, precision.
"And quite frankly, it's just a little bit off in terms of the chemistry, execution and coordination right from the beginning, and it seems to build over the game. Replicating that or having that coming into the game, there is still a lag there."
Coaches say that there is an effort to call plays early in the game to get Armstrong comfortable, throws that he feels good about, in order to establish a rhythm, but it hasn't necessarily worked out that way.
Then there was the hiccup play-calling on the goal line after UVA had fallen behind 14-0 late in the first quarter, and the Wahoos drove from their own 25 (thanks in part to back-to-back Armstrong passes to Terrell Jana for 27 yards and Lavel Davis Jr. for 14 yards to the State 32). Virginia moved the ball for a first down at the Wolfpack 5 and that was it.
Offensive coordinator Robert Anae stubbornly called four straight running plays, tailback Wayne Taulapapa for two yards, then again for two yards to the 1. From there, Armstrong attempted to score on two consecutive running plays and was stymied.
It was reminiscent of Anae's terrible play calls at Miami in a loss last year when the Cavaliers were in the red zone several times and came away with nothing.
Saturday against the Wolfpack, things just didn't evolve the way Mendenhall had hoped.
"It was as if everyone was waiting, and just knowing that it was going to happen, but it didn't," Mendenhall said afterward. "That was the reality, is we needed it to happen and it didn't happen.
"We needed a few key stops on defense and it didn't happen. We need a touchdown from the one and that didn't happen. We just weren't consistent enough, didn't execute well enough and didn't earn the victory. Bottom line, we didn't make the plays we needed to. It never felt like the game would get away from us. It just seemed like one or two plays."
Mendenhall admitted that this loss was a reality check, a wake up call, however you want to describe it.
Next week's opponent, by the way, is Wake Forest, which lost 45-42 to NC State in the opener.

Comments