'What If?' Bronco Dreams Of Virginia's Program Never Looking Back
By Jerry Ratcliffe
Last of a two-part series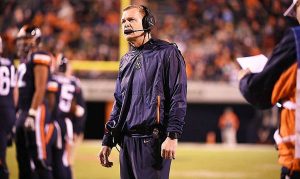 We had finished up an interview segment about Bronco Mendenhall's reasons for giving Virginia a half-million dollars to kick off the campaign for the new football complex and Olympic sports building (see Part 1). The coach proudly posed beside the Belk Bowl trophy sitting on a small table in his office.
While we were inside on a rather chilly day, Mendenhall's sentiments about the weather were worn on his cap. It was blue and white with an orange panel on the front, emblazoned with an embroidered fish hook.
UVA's football equipment manager, Greg Klimas, knew of Mendenhall's love of fly fishing, so when he spotted the hat in Cavalier colors, he knew he had to grab it. The coach joked that while he's still on the job, the fish hook symbol gives him some solitude, and because it's in Wahoo colors, he can get away with it.
With a bowl win over another Power 5 Conference opponent in his third year on the job (which happens to coincide exactly with what Hall of Famer George Welsh accomplished at UVA in 1984), Mendenhall believes the program is on an amazing trajectory.
I told him that having covered Virginia football for such a long period of time, most fans believed it would take him five years to reach this point. Mendenhall said he had cut out something and kept it and wanted to show it to me.
He walked across his office and came back with a small piece of paper.
"This program (the one on the sheet) is being recognized as one of the strong turns that's happening in college football and rightfully so," Mendenhall said. "So I was using it to calibrate what's happening because I think that program has done a really nice job."
The sheet Bronco showed me was the progress of Kentucky's football program since 2013.
Kentucky had gone 2-10 for the second consecutive season in '13, but jumped to 5-7 in 2014, 5-7 in 2015, 7-6 in 2016, 7-6 in 2017, and 10-3 in 2018.
In a six-year span, the Wildcats had reversed from 2-10 to 10-3.
Mendenhall couldn't help but draw a comparison. He believes that if Virginia can duplicate that, the Cavaliers' turnaround would be even more remarkable than that of the 'Cats.
"What does industry standards say and what can you do to deliver on the worth of your hire? I'd like to exceed what good is," Mendenhall said. "Taking off from this season and adding to it, the task will be more challenging but even more meaningful. If and when that happens, it will be fun to see what the reaction is and what happens in Charlottesville and the University of Virginia community."
No one could blame the coach for being fired up about the future, especially considering how his team had dominated South Carolina in the Belk Bowl. A conversation immediately after that game gave him even more encouragement.
"The comments from Will (Muschamp) to me after the game was about how tough our team was, which culturally is a frequent thing I hear, that they're tough and physical, and we play hard," Mendenhall said.
"As my assistants cross paths with other assistants through conversations, etc., the common sentiment is that something special is being built in Charlottesville. That's what's being recognized. That starts with the 'who,' but it is also strongly tied to the approach. In three short years, it's about as fast as you can get to where we are, and that's remarkable in and of itself. If the players have learned that quickly, and if sustainability also occurs in addition to that, it can become exceptional."
We all recognize that every game is an entity in and of itself, and things can change dramatically in just a week's time depending on circumstances.
However, we saw South Carolina's offense put up more than 600 yards on eventual national champion Clemson, and then we saw Virginia shut out the Gamecocks in a dominating performance, and then saw Clemson shut down a powerful Alabama offense in the title game.
What were Mendenhall's thoughts as he watched the championship, recognizing the aforementioned facts?
"It made me feel great but from a different standpoint," Mendenhall said. "I watched [Carolina] gain over 600 yards, 35 points, and Clemson didn't really come close to stopping them in that game. Clemson outscored them.
"Then, I watched four (former) graduate assistants of mine, defensively work together, four guys that have played for me and been in the same room with (co-defensive coordinator) Nick Howell. It was like Star Wars, the young Jedis, in there working together, and to put a great plan together, and inspired our players. I was every bit as gratified by my defensive staff — those four — as the players."
Mendenhall said it was like his sons were coaching. He observed and took joy in seeing how much fun they were having, but also to note how specific and detailed the plan was. All that experience had arrived through the generations of Mendenhall's system.
"So what that lends to say is that from the most dynamic offenses in the country, that our defense, with so many players coming back, it's a top 25 defense, which we had traditionally always been (at BYU). In year three, there's enough traction to be that again.
"The reality that it's sustainable is likely. When you have a defense that teams have trouble scoring against, and you have a dynamic quarterback (Bryce Perkins) returning, that combination lends to optimism and hope, which is what I think people are feeling."
While the Cavaliers posted an 8-5 record, Mendenhall knew that his team was oh, so close to 10-3 (that Kentucky number). UVA lost its last two games of the regular season, both in overtime, both on the road, to Georgia Tech and Virginia Tech. Those were stinging, back-to-back losses in games that the Wahoos should have won.
Bouncing back in the bowl game was significant.
"To have that outcome against an equivalent opponent from a league that is credible, and for it not to be close, it shows that the lessons we had learned from a couple of close losses while we were competing for the Coastal title in year three, we then learned and applied some of those things and had an outcome that showed that.
"And what, wait? Bryce is coming back? With seven starters on offense and eight starters on defense? Wait a second, that means we can do it again," Mendenhall said. "Folks now are starting to view it as it's not abnormal. That means this could actually be replicated."
The thought excited Mendenhall, especially when he considered if it could happen again, that means it could happen again and again.
"I sense a tipping point," the UVA coach said. "Let's say we win the Coastal, go to another bowl game and win. Possibly at that point, Virginia's football program never looks back. There have been eras in the past here that have looked like that. It has been done here before. There has been a blueprint laid."
Mendenhall and his staff will use the success parlayed with a UVA education, and that Charlottesville is close to home, when approaching potential recruits not only in the state but in the Mid-Atlantic, especially in state. Prospects will have to ask themselves, 'Why am I not going there?'
"All that erases previous perceptions," the coach said. "Doesn't mean it's erased, but it's becoming harder to answer."
A lot in 2019 will be riding on Perkins, perhaps the most underrated quarterback in the country in 2018. Mendenhall believes the easier part of building this fall's team will be building on Perkins.
"Coach [Robert] Anae (offensive coordinator) and the offensive staff did a nice job of developing and grooming Bryce and helping him throw accurately and efficiently in addition to being a dynamic runner," Mendenhall said. "We were very effective on third down, our time of possession was great, our defense was playing well.
"So we designed the offense and maximized what Bryce could do at that point in his first year. There are many more things that we wanted to do, but it was just a little too much too soon. We held back. We pushed but held back appropriately to where we could function and execute as much as possible. I think that will be easier and more exciting."
Mendenhall expects significant growth in Virginia's offense this fall, and the defense returns eight starters.
Meanwhile, there will be seven new head coaches on Virginia's 2019 schedule, which means he and his staff will have their offseason work cut out for them in researching offensive and defensive styles at William & Mary, Louisville, North Carolina, Georgia Tech, and Liberty (in addition to FSU's Willie Taggart and Old Dominion's Bobby Wilder, whom he and his staff have never faced).
"You're never certain what they'll do, but that's our offseason [work]," Mendenhall said. "It's becoming so typical in college football. It's hard to win, it's hard to stay. The money being paid has accelerated everything.
"I make an amazing salary ($3.4 million), but I still consider myself a teacher. The college game is moving fast to entertainment, commercialization and professionalism. It's harder to make sense of it.
"One of the reasons I would love for our program to have significant success is to capture this essence that you can still have amazing student-athletes, morals, values, be ethics driven, and team-first and contribution-oriented, focusing on what they're going to do in the world. I want more than anything for our program to demonstrate you can do it all."

Comments