While UVA attempts to improve running game, Wahoos lose Reinkensmeyer for season
By Jerry Ratcliffe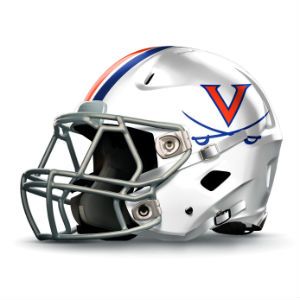 While Virginia's defense is dealing with the sudden unexpected loss of starting nose tackle Jowon Briggs, the Cavaliers offense is going to have to call the next man up as well as they prepare to face nonconference Abilene Christian on Saturday afternoon.
Bronco Mendenhall announced Monday that UVA's starting left guard, senior Dillon Reinkensmeyer's season is over. Reinkensmeyer suffered a significant lower extremity injury early in the second half of the Cavaliers 31-17 win over Louisville.
Reinkensmeyer's backup, sophomore Joe Bissinger, finished the game out and is expected to start against Abilene.
"We have a combination of seven or eight guys we've been using all year and now we're down to seven or six guys," said UVA offensive coordinator Robert Anae. "It's an opportunity to move a couple of guys into the rotation. Joe Bissinger is right in the heart of that."
Bissinger is a 6-foot-6, 310-pound lineman (Number 52) from Houston, Texas.
"With Rink out, that's going to hurt because of the contribution he has made, but it's an opportunity for other guys," Anae said.
Reinkensmeyer has helped UVA's offensive line, the most experienced in the ACC, to have continuity throughout the first half of the season and has helped the Cavaliers improve their running attack significantly.
"With four games left, where would we like [the running game] to end up?" Anae said. "We would like it to improve each week.
"We're in a much better place on the stat chart than we were a year or two ago and that's progress. Run yardage does not usually answer for points. The big deal is when it's time to run the ball, we have to run it. There were times last week when we needed to run the ball and we did not run the ball successfully."
Virginia rushed 42 times for 165 yards (3.9 per attempt) against Louisville but had a couple of drives stall due to an inability to gain first downs rushing. The Cavaliers had 10 first downs with its running game, eight via passing and three by penalties.
Anae said the continuity on the line has helped the running game, helping the offense move the chains and dominate time of possession. He wasn't satisfied that the offense managed to run only 65 plays against Louisville, an opponent the Cavaliers believed going in that they could put up for than the 368 total yards they recorded against the Cardinals.
Bobby Haskins, who started on the line last year before suffering a significant injury, has worked his way back to the backup position at left tackle behind Ryan Nelson. Anae said Haskins is working hard on his comeback.
"Bobby should continue to play a rising role," Anae said. "There were times when Bobby was a starter last year. We hope he can return to that. His injury was significant, but he is getting stronger and playing more. It's like you start all over again. He's finding himself and getting himself back aligned with what he can do."
As far as the Cavaliers' run game, the addition to Ronnie Walker, Jr., has helped create depth as the season has gone alone. Walker, a native of Hopewell and a transfer from Indiana, had to patiently wait to clear appeals for eligibility and once he overcame that hurdle, he got sick.
In his first carry of the season last Saturday against Louisville, Walker ran for 11 yards and a first down. He finished the game with 20 yards on five attempts (4.0 average).
"Ronnie brings a fresh set of legs," Anae said. "He has a skill set running the ball. When it's time to block, he blocks. When it's time to catch, Ronnie can do all those things.
"We started the year with (starter) Wayne [Taulapapa] doing all that work. Shane (Simpson) got healed up, and now we have Ronnie. We have fresh guys and that's a way different deal than what we've had in the past."
Virginia presently is ranked seventh in the 15-team ACC in rushing offense, averaging 170.7 yards per game. The Cavaliers finished the 2019 season averaging 121.2 yards rushing per game, which was No. 117 in the nation.

Comments