Who needs practice? Virginia hammers W&M, looks ahead to No. 1
By Jerry Ratcliffe
Virginia's players had a lot to chew on since they last took the court on Dec. 4. That's when the Cavaliers pulled out an overtime win against Kent State.
Between that brush with disaster and Tuesday afternoon's lopsided win over William & Mary, the Covid-hit Cavaliers had to cancel high profile games against Michigan State and Villanova. It was not business as usual.
Tony Bennett and his staff had to conduct virtual meetings with the team. Players were allowed to report to the practice facility individually to get up some shots in a half court setting.
All the while, it's a sure bet that Bennett was keeping his team focused and thinking defense.
So when they did come back for an early-week matinee against their visitors from Williamsburg, the 16th-ranked Cavaliers made it look easy.
Virginia 76, William & Mary 40.
It was never really a game against the Cavaliers' oldest basketball rival (1905-06). UVA jumped to a 7-0 boltaway and never looked back, leading 36-14 at halftime.
"I think our guys came out focused and ready and looked fairly sharp," Bennett said of his 4-1 squad. "Theyre probably going to say, 'See coach, practice is overrated … we can rest for 10 days and go in those stretches.'"
Practice, schmactice. Stealing a line from the great Virginian whose quote about practice has gained immortality: "But we're talking about practice, man. What are we talking about? Practice? We're talking about practice, man."
That came from Allen Iverson 15 years ago in a rant during a Philadelphia 76ers interview.
Tuesday's Virginia postgame wasn't a rant, but rather a tongue-in-cheek Bennett moment. All in all, he was impressed with his team for the most part.
He knew the Tribe was a warmup for Saturday's game against No. 1-ranked Gonzaga in Fort Worth, Texas, an event put together by CBS, scrambling to fill TV basketball slots in an unpredictable pandemic world.
"They came out ready, knocked some somes and I thought we played fairly alert defensively," Bennett said. "The issue we had a couple of times was not possessing defensive rebounds. I think that was big and we gave up second chance points … but we got good shots and did what we were supposed to do."
Before  the game, Bennett mentioned two of his program's pillars to his team, about whether it would be humble and play with passion.
The Cavaliers answered definitively on both counts. National ranking, eh, meant nothing. Plenty of passion to go around.
Virginia's defense was solid, limiting W&M to 28 percent shooting for the game (14 of 50) and even less from the arc, 17.6 percent (3 of 17). The Cavaliers held the Tribe's best scorer, Luke Loewe to a 2-for-10 afternoon from the field and a mere five points.
William & Mary's 40 points was a season low against UVA's defense.
By contrast, UVA shot 50.9 percent for the game (28 of 55) and 34.6 from the 3-point line (9 of 26).
Transfer Trey Murphy III led the Wahoos with a game-high 15 points (6 of 9 overall and 3 of 6 from behind the arc), followed by freshman Kadin Shedrick's 10 points (see attached boxscore at the end of this piece).
"Three days ago, we all came in prepared knowing we had a big game ahead of us against William & Mary," Shedrick said. "We had to focus, lock in, and really hone in on what we had to do to win this game. It was difficult at first to come in after 10 days, but it was a lot easier than I thought it would be. It felt like we hadn't missed that much."
Shedrick said the team had Zoom calls every night during quarantine and watched film, talk about the team plan, plus the isolated shooting practices at the John Paul Jones practice courts to prevent their shooting touch from fading.
Murphy, who transferred from Rice in the offseason, said that the team remained in good shape during the quarantine because it was doing different conditioning. He said it helped that the coaches "didn't try to kill us on the first day back … I think that was a little bit of a help as well."
Murphy said that the quarantine actually made the team a little hungrier to get back and play a game, and that the first day of practice, last Saturday, went really smooth.
"It was really clicking, like it was crazy that we were out for 10 days," Murphy said. "That first practice back was one of our better practices. I think we really just missed each other a lot and we're all just happy to play."
Team Notes
No. 16 Virginia (4-1) returned to action after pausing its program on Dec. 9 due to COVID-19 issues within its program
William & Mary's 40 points marked a season-low against Virginia's nationally-ranked defense
UVA is 100-2 all-time under Tony Bennett when limiting its opponents to fewer than 50 points
UVA is 4-0 when scoring 70 or more points
The Cavaliers have a 12-game winning streak against the Tribe
UVA is 82-7 against nonconference foes at JPJ under Tony Bennett
Virginia started the game on a 7-0 run and led 36-14 at halftime
Series Notes
Virginia is 56-26 all-time against William & Mary in its oldest rivalry that dates back to UVA's first season in 1905-06
The Cavaliers are 40-9 all-time vs. William & Mary in Charlottesville
UVA has 13-game winning streak against the Tribe in Charlottesville
The Cavaliers have won 27 of the last 29 games in the series
Player Notes
Double Figure Scorers: Trey Murphy III (15), Kadin Shedrick (10)
Huff blocked three shots to move past Jason Clark (2002-05) into seventh on UVA's all-time list with 113
Huff has multiple blocks in each of the first five games
Murphy III made his first start at Virginia
Murphy III has score 10+ in three games
Shedrick reached double figures for the second time in five career games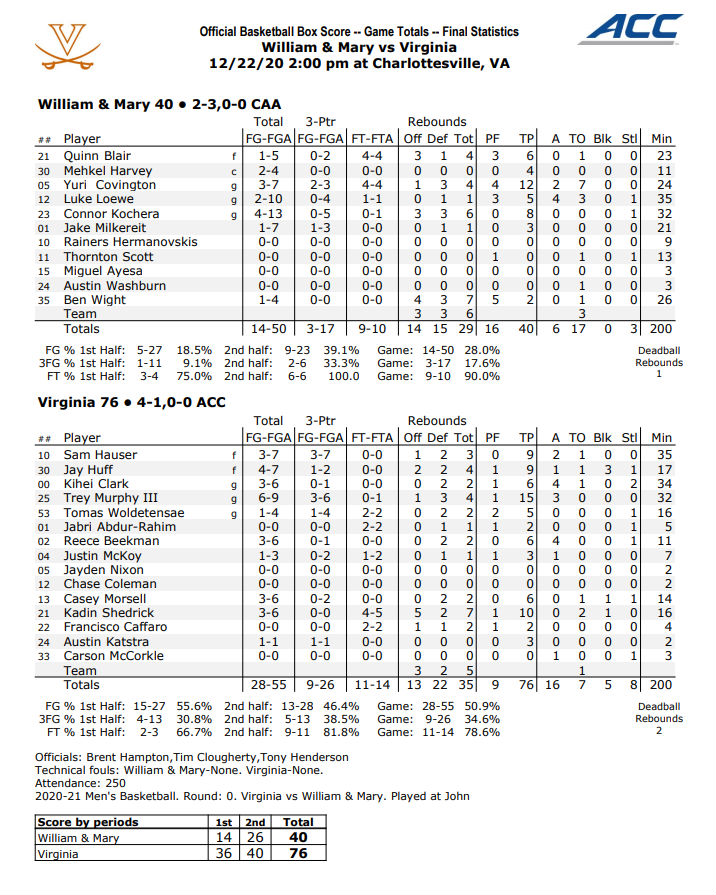 Comments