Will Joe Harris be united with De'Andre Hunter on Atlanta Hawks roster?
By Jerry Ratcliffe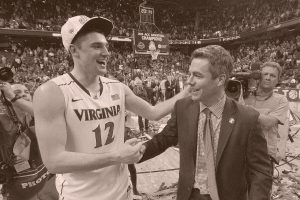 Could it be that before the week is over that former Virginia basketball stars Joe Harris and De'Andre Hunter could become teammates?
According to reports out of Atlanta, the Hawks are prepared to make a significant offer to Harris, who plays for the Brooklyn Nets. One of the NBA's premiere 3-point shooters, Harris is an unrestricted free agent and considered among the top free agents in the game.
Not only do the Hawks have the No. 6 pick in Wednesday's NBA Draft, but have significant room under their salary cap to go after free agents to strengthen their relatively young roster.
Last season, the 23-year-old Harris averaged 14.5 points, 4.3 rebounds and 2.1 assists per game. A strong catch-and-shoot guard, Harris connected on 48.6 percent of his field goal attempts, 42.4 percent of his 3-pointers and 71.9 percent of his free throws.
"We've always looked to take advantage of our cap space," said Atlanta general manager Trent Schlenk. "We've been doing that ever since I got here. I think the difference is, in the past, we've taken on quote-unquote dead money to gain assets, and this year we're going to go out there and look to sign guys that we think mesh or blend well with our guys, so it's turning the corner a little bit from asset accumulation to hopefully talent accumulation."
Hunter, who was a key figure on Virginia's 2019 national championship team, was the fourth overall pick of the '19 NBA Draft by the Hawks. The former Cavalier was originally taken by the Los Angeles Lakers then immediately traded to the New Orleans Pelicans in the Anthony Davis trade, then traded to Atlanta  along with Solomon Hill in exchange for picks Nos. 8, 17 and 35 in that draft.
Hunter started 62 of 63 games for the Hawks, averaged 12.3 points and 4.5 rebounds per game. He shot 41 percent from the field, 35.5 from behind the arc, and 76 percent from the foul line.
There is no question that Harris would blend well with the current Hawks. The question is how badly the Nets will work to keep him.

Comments