Woldetensae and Clark both put up career highs, but No. 5 Louisville survives with 80-73 win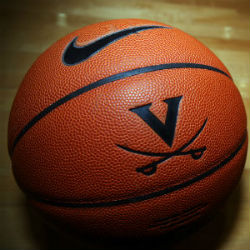 After erasing a 14-point halftime deficit, Virginia fought back to take a two-point lead with 3:25 to play, but No. 5 Louisville made eight of its 10 free-throw attempts over the final three minutes and held on for an 80-73 win Saturday.
The Cardinals (21-3, 12-1 ACC) won their 10th game in a row, while breaking a nine-game skid in the series against the Cavaliers (15-7, 7-5). Both Tomas Woldetensae and Kihei Clark set career highs in scoring, as the Wahoos shot the ball much better than they have in a long time while only turning it over seven times all day, but it ultimately wasn't enough.
Woldetensae caught fire from the perimeter in the second half, sinking six of his game-high seven 3-pointers over the final 20 minutes, the last one tying the game at 68-all with 3½ minutes left.
After not taking a single shot from the charity stripe in the first half Saturday, Louisville connected on 21 of 24 attempts from the line after halftime, and it proved to be the difference as the Cardinals' last FG-make tied the game with 3:11 to play after Clark had just given the 'Hoos their first lead since it was 4-3 on a pair of technical free throws (provided by UL coach Chris Mack, who argued a non-call on the other end).
Louisville's David Johnson scored in the lane to knot it back up at 70-70 on the ensuing possession, and then Mamadi Diakite went to the line for a 1-and-1 at the 2:47 mark but misfired on the front end, and Jay Huff was whistled for an over-the-back violation on the scramble for the rebound. UL big man Steven Enoch proceeded to sink a pair of freebies to put his team on top to stay.
The Cardinals added two more points from the line before Clark dropped in a layup with 1:02 remaining to make it 74-72. The 'Hoos fouled Johnson with 40 ticks showing, and the freshman knocked down both free throws to push the lead to four.
Clark was fouled and made the front end of a 1-and-1 but missed the second with 33 seconds left, and Ryan McMahon — one of the conference's top free-throw shooters — sank two freebies with 23 seconds left to all but put it out of reach. Diakite misfired on a 3-point try on the following trip and UL secured the rebound to ice it.
Louisville came out firing Saturday, nailing five of their first six shots — all from beyond the arc — and built an early lead, but the 'Hoos hung around. UL later used a 10-3 spurt to extend the lead, which got up to 16 points just before a Huff jam in the closing seconds cut it to 44-30 at the break. UVA shot 52 percent from the floor in the first half — with only five giveaways — and trailed by double digits, as Louisville went 18 for 30 from the floor (60 percent) and buried eight triples by halftime.
Woldetensae hit four 3s in a span of just over 10 minutes to draw the 'Hoos within five, 60-55, by the under-eight media timeout, and he then found Clark in the corner for 3 more with 5:10 to go, cutting it to 64-62. That triple set a new career high for the sophomore point guard.
Woldetensae's next long ball allowed him to set a new career high of his own and cut the Louisville lead to a single point, 66-65, with 4:26 left, as UVA never threw in the towel.
Woldetensae led all scorers with 27 points (10 for 13 FG, 7 for 10 from downtown), besting his previous high of 21 set at Wake Forest a few weeks back. Clark added 23 points, which topped his old career mark of 18, set against Virginia Tech last month, while dishing out 7 assists and grabbing 5 rebounds and a pair of steals in 40 minutes.
Diakite, who also played 40 minutes, struggled a bit offensively (3 for 11 FG), but notched double figures with 10 points, as UVA finished the game shooting 53 percent (26 of 49) and 50 percent from deep (11 for 22). Louisville outrebounded the 'Hoos, 31-19, and had 15 second-chance points on eight offensive rebounds (Malik Williams had five of those). Louisville's bench outscored Virginia's, 29-2.
ACC Preseason Player of the Year Jordan Nwora scored 15 of his team-high 22 points — 12 of which came from long range — in the first half, and hauled down a game-high 7 rebounds to lead the Cardinals. Enoch and Williams each scored 13, and all 9 of Darius Perry's points came via the 3 over the opening five minutes.
Virginia will look to rebound at home against a hot Notre Dame team Tuesday night at 9 p.m. (ESPN2).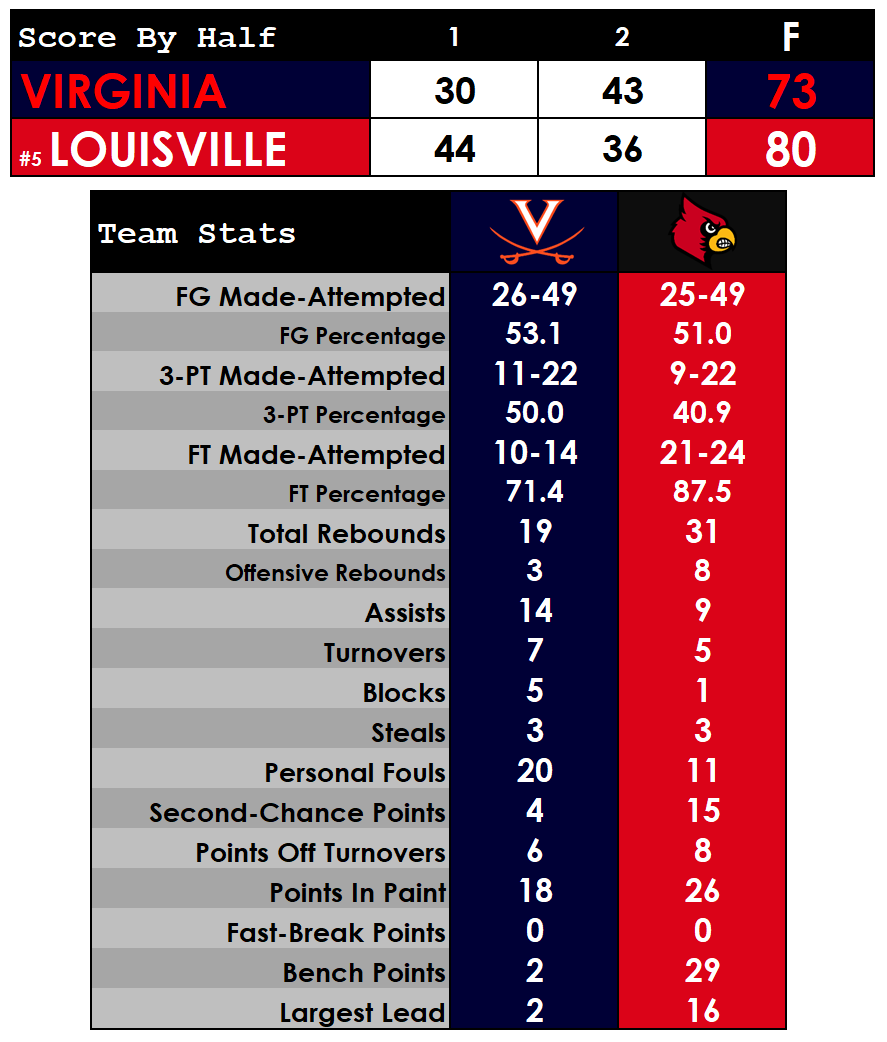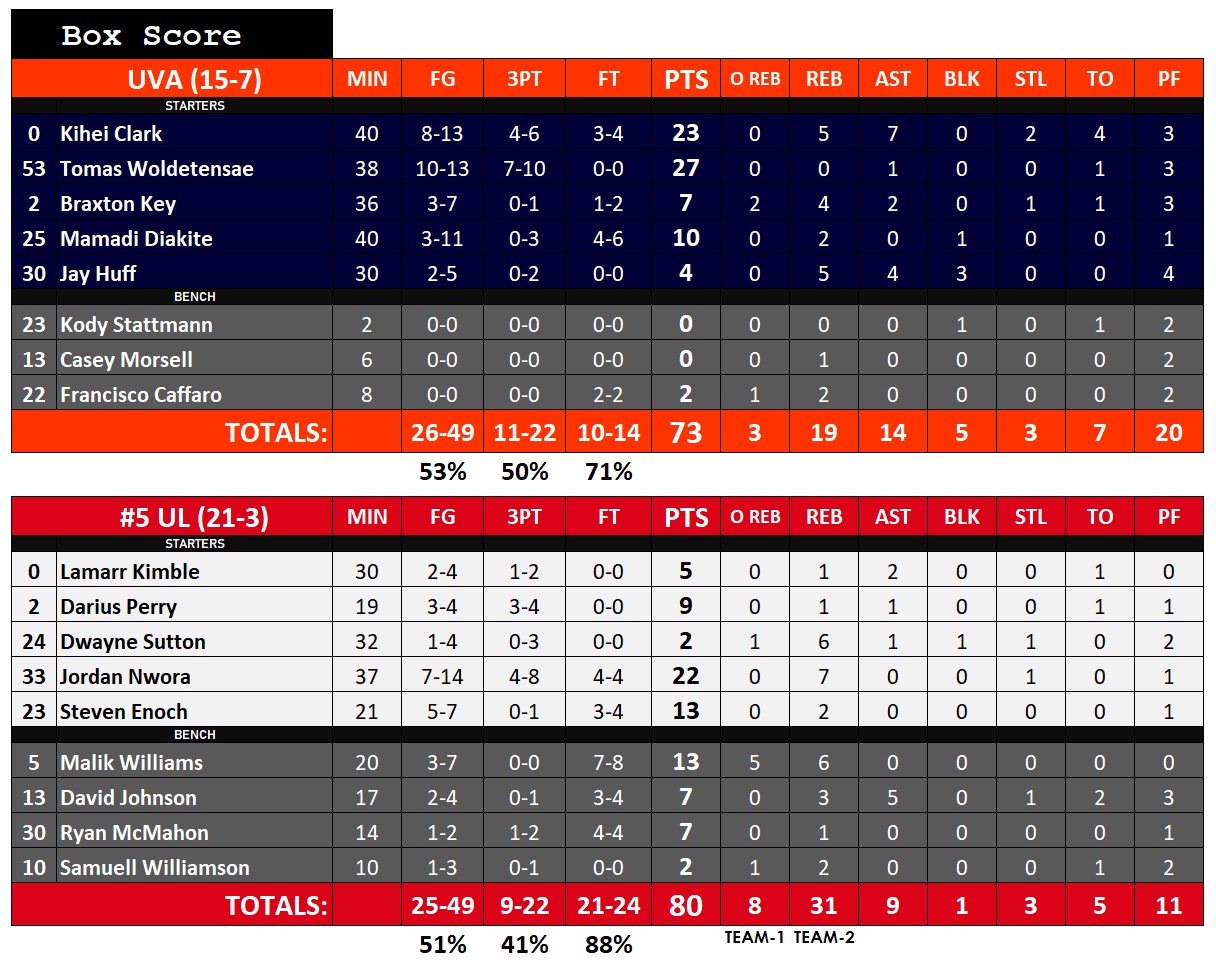 Courtesy UVA Media Relations:
Team Notes
The Cavaliers fell to 15-7, 7-5 ACC
Virginia scored a season-high 73 points, but allowed a season-high 80 points
Virginia is 2-2 vs. ranked opponents (1-2 vs. top-5 foes)
Virginia's nine-game winning streak vs. Louisville ended
Virginia is 6-2 all-time at the KFC Yum! Center
Virginia had a season-high 11 3-pointers and 50 percent 3-point percentage
UVA shot a season-best 53.1 percent in ACC play
Virginia had a season-low seven turnovers
Virginia yielded a season-high 44 points in the first half
The 44 first-half points vs. UVA since allowing 48 at Tennessee (12/30/13)
Louisville made six of its first seven 3-pointers
UVA was outrebounded 31-19
Series Notes
UVA is 15-5 all-time vs. Louisville in a series that began in 1923-24
The Cavaliers are 7-4 vs. the Cardinals in Louisville, including a 4-2 mark at KFC Yum! Center.
Tony Bennett is 10-2 vs. Louisville as head coach at Virginia.
Player Notes
Double Figure Scorers: Tomas Woldetensae (27), Kihei Clark (23), Mamadi Diakite (10)
Woldetensae had a career-high 27 points
Clark had a career-high 23 points and career-best four 3-pointers
Woldetensae matched a career-high with seven 3-pointers
Braxton Key (7 points) joined the 1,000 point club (1,003 career points at Virginia and Alabama)

Comments