Woldetensae's sharp shooting leads comeback effort as 'Hoos win in OT at Wake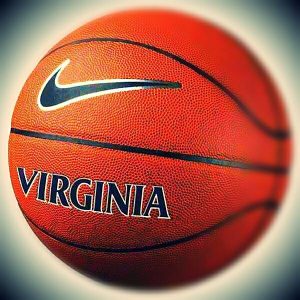 Tomas Woldetensae put up a career-high 21 points — including seven 3-pointers — as Virginia rallied from a 12-point, second-half deficit and escaped Winston-Salem with a 65-63 overtime win Sunday afternoon.
Woldetensae's final triple came with 3:51 left in the extra session, breaking a 58-58 tie and giving the Cavaliers (13-6, 5-4 ACC) the lead for good.
Wake's Isaiah Mucius sank a 3-ball of his own to get the Demon Deacons (9-10, 2-7) within a point, 63-62, with 1:47 left in OT, but Wahoo senior Mamadi Diakite was in the right place at the right time for a putback of a Braxton Key miss with a little over a minute remaining, and got the soft bounce on the front of the rim to make it a three-point contest.
Wake center Olivier Sarr was fouled with 42 ticks showing, splitting his two free-throw tries. Virginia ran the clock down and missed a shot with just over 10 seconds left, and Sarr grabbed the defensive rebound as Wake coach Danny Manning called a timeout to set up one last play with eight seconds on the clock.
When play resumed, Torry Johnson attempted to drive to the hole but was cut off by Kihei Clark and passed it to Sarr with time ticking away, but he was unable to get a shot off as the clock hit triple zeroes, the red light lit up on the backboard and the 'Hoos escaped with the conference victory on the road.
Wake was playing without its top two scorers — guards Brandon Childress and Chaundee Brown, both out with leg injuries — but led by seven at halftime after a 1-for-16 start from the field, as the 'Hoos grabbed an early 19-12 advantage.
The Deacs answered with a 15-2 run and sank their last six 3-pointers of the half to lead 35-28 at the break. Wake's Andrien White hit another 3 out of the locker room off of a Cavalier turnover, and then freshman guard Jahcobi Neath slammed one home on a follow in transition, giving Wake its largest lead of the day, 40-28, with 17:40 left in regulation 
The Deacs went ice cold and UVA roared back with a 21-6 scoring run over the next 13-plus minutes (Wake missed nine of its 10 shots at one point during that stretch), and took a 49-46 lead on Woldetensae's sixth long ball with 4:25 to play.
White swished a pair at the foul line with 52 seconds to go, briefly putting the Deacs on top, 53-51, as Jay Huff re-entered the game after picking up his fourth personal foul at the 6:24 mark.
Huff mysteriously hadn't taken a shot all day up to that point, but as Woldetensae drove the lane and was smothered, he found Huff in the corner for three and the lead with 38 seconds left and splashed it through, 54-53.
After a couple of Wake misses on the other end, Clark secured a board and drilled two shots from the stripe to push the lead to 56-53 with 19 seconds left.
White was bumped by Casey Morsell on a 3-point try on the ensuing possession, and sank all three to knot it back up and send it to OT, as Clark nearly won it at the end of the second half with a three-quarter-court heave at the buzzer that drew iron, but clanged off.
Woldetensae finished the game 7 for 14 from long range. Take away Huff's 3-ball and the rest of the team shot 0 for 15 beyond the arc. Woldetensae's previous scoring high was 11 against North Carolina last month. He has made 13 3-pointers over the last four games, despite not scoring against NC State Monday.
Diakite added 16 points (7 of 10 FG) and 7 rebounds, while Clark had 13 points, 8 rebounds, 7 assists and a pair of steals. Key struggled with his shot (2 for 16, 0 for 4 from deep), but chipped in with 7 points, 8 boards and three steals, as Virginia shot 36.5 percent from the floor (23 of 63) and won the rebounding battle, 42-39, while turning it over 14 times (only five times after halftime).
White led the Deacons, who shot 31.5 percent (17 for 54) on the day, with 21 points, while both Mucius (16 points, 10 rebounds) and Sarr (11 points, 10 boards) each registered a double-double in the loss. Wake made 21 of its 24 free-throw attempts and committed 15 turnovers.
Virginia faces fifth-ranked Florida State Tuesday night in another crucial ACC battle (7 p.m., ESPN).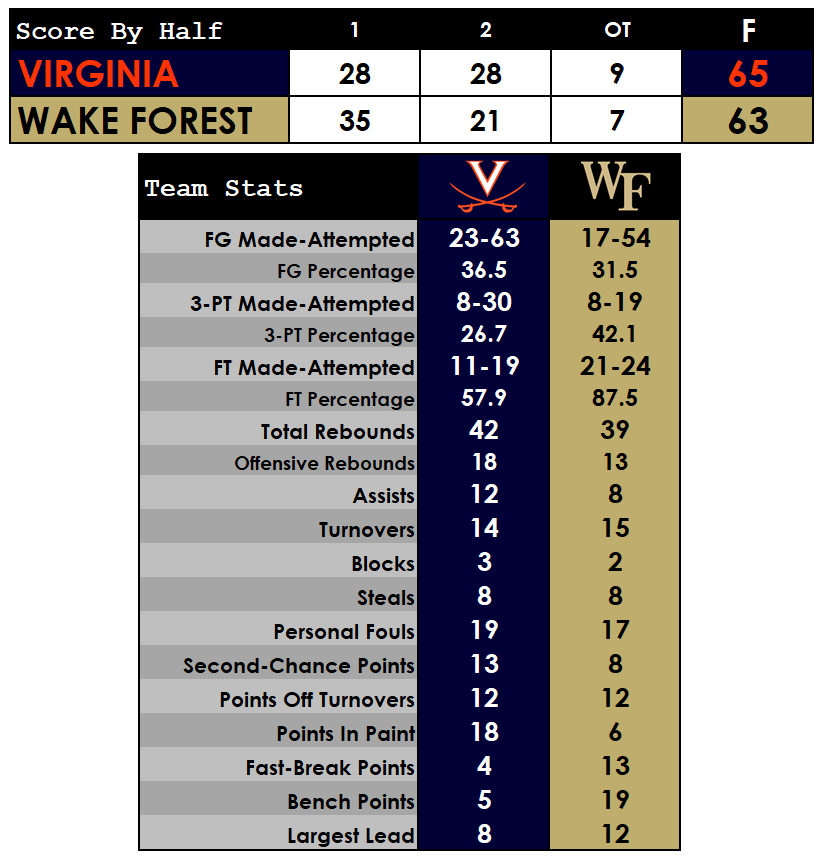 Team Notes
The Cavaliers improved to 13-6, 5-4 ACC
UVA is 1-1 in overtime this season
UVA matched a season high with 65 points
UVA has an eight-game winning streak against Wake Forest
Andrien White's three free throws with 1.7 seconds left sent the game to overtime tied at 56-56
Jay Huff's corner 3-pointer with 39 seconds left gave UVA a 54-53 lead
UVA out-rebounded Wake Forest 42-39
UVA went on a 9-0 run to gain a 46-44 lead
UVA won for the first time when trailing at the half (1-6)
Wake Forest went on a 10-0 run to gain a 25-21 first-half lead
Wake Forest missed 15 of 16 shots to start the game, but finished 9 of 24 in the first half
Wake Forest made 21 of 24 free throws, including 11 of 12 in the first half
Series Notes
Virginia is 68-70 all-time vs. Wake Forest, including a 17-41 mark in Winston-Salem, in the series that dates back to 1910-11.
UVA has won nine of the last 10 meetings in the series
UVA has a four-game winning streak at Wake Forest
Tony Bennett is 9-4 vs. Wake Forest as head coach at Virginia
Player Notes
Double Figure Scorers: Tomas Woldetensae (21), Mamadi Diakite (16). Kihei Clark (13)
Woldetensae had career highs in points (21) and 3-pointers (7), and matched a career-best with six rebounds
Woldetensae was 7 of 14 from 3-point range, while the rest of UVA was 1 of 16
Clark led UVA with seven assists and tied for the team high with eight rebounds
Kody Stattmann missed the game with a concussion

Comments