Women's Basketball: Cavaliers Outlast Duke, 53-47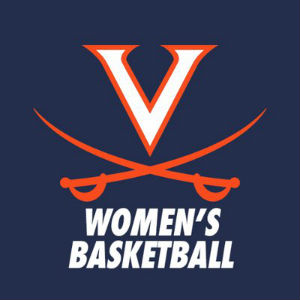 By Kipperly Tidball
The University of Virginia women's basketball team pulled off a gritty 53-47 win against Duke Sunday afternoon at John Paul Jones Arena, picking up its first win against the Blue Devils since January 30, 2000, ending a 26-game losing streak.
It was an impressive show of defensive fight and free-throw execution that gave the Cavaliers the edge in the end.
"I'm really, really, really proud and excited about our defensive effort," said head coach Tina Thompson. "We did a really great job of just keeping all of [Duke's] players under their season averages. That can only happen when you are exact and paying attention to tendencies and just not allowing people to do the things that they do well.
Duke's effort was lead by junior guard Haley Gorecki who currently leads the ACC for the most double-doubles (8) and came to this game with four straight double-doubles, the longest active streak by any player in the ACC this season. Her last two games included a triple-double against Pitt and a double-double against 9th-ranked North Carolina.
Gorecki, who averaged 23.5 points and 11 rebounds in the four games prior to this match and who owns the most 20-plus games in the ACC this season, was held to only 13 points and six rebounds against the Cavaliers.
Duke freshman guard Meila Goodchild, who ranks seventh nationally with a 46.8 average beyond the arc, was held to 0-3 in three-point shooting and 2-5 from the field during her almost 32 minutes of playing time.
Gorecki and junior forward Leaonna Odom led the scoring for Duke with 13 points each. Junior forward Onome Akinbode-James was the only other Duke player in double figures with 10 points.
Duke head coach Joanne P. McCallie characterized the game as a "very physical, blue-collar game."
"It was a low-scoring game. It was a defensive game," she continued. "This team (Virginia) played pesky."
Coach Thompson replied, ""We need to be pesky, we need to be a pain in the you-know-what and we need to make people feel uncomfortable. It is our gift. We rely on our defense to create opportunities for our offense. It always leads to positive things when we can do that."
Turnovers were a problem for both teams in the first half with Virginia committing 12 and Duke committing 11.  The Cavaliers were able to convert only three points from turnovers in the first half while the Blue Devils scored 10 points from turnovers.
The half ended with Virginia trailing 26-23 with UVA junior guard Dominique Toussaint leading both teams with 10 points, 4-4 from the field and 1-1 from 3-point range. She would finish the game with 14 points.
Junior guard Jocelyn Willoughby, who ranks third in the ACC in free-throw percentage (75.6 percent) and 26th in the nation, had quiet numbers in the first half but played noticeably more aggressive in the second half.
"Yeah, I think in the first half I was in foul trouble [with two fouls], so I couldn't be as physical and had to try and play smart," explained Willoughby. "But in the second half I could play with two fouls at that point. Definitely being aggressive and getting started in the second half was a mindset of mine."
Willoughby only shot 1-4 from deep, but scored a game-high 20 points and 10 rebounds. It was her third double-double in the last four games and sixth of the season.
Willoughby has led the team in rebounds now in four of the last five games. Junior guard Lisa Jablonowski tied her 10 rebounds in this game. Jablonowski was fierce on the boards, in offense with seven points (including one 3-pointer), and in defensive effort causing turnovers.
The Blue Devils would add 16 more turnovers in the second half for a total of 21 in the game. By contrast, the Cavaliers would only add seven in the second half. In the end, Virginia scored 6 points from turnovers; Duke, 14.
On limiting turnovers in the second half, Willoughby said, "I think we started executing more. [We] understood that Duke scores a lot in transition off of our turnovers. Coming into the game, that was a game plan of ours, limit our turnovers so that they couldn't score and make them play in the half court. I think they struggled a little bit."
"She [Willoughby] had a pretty stellar game. I believe she was a big difference-maker in this game," said Duke coach McCallie. "Her game has grown. I've watched her as she's played in the league. She's such a physical player. She uses her physicality. Obviously, she used it a lot more in the second half than in the first half. We kind of had her matched up in the first half. Then she got away from us… [It was a] huge concern about her getting a rebound and flying down the floor, not stopping her properly in transition, her making a strong move getting fouled or finishing a lay up."
"Those layups and fouls that they got in the second half," recalled McCallie, "They never got them during the first half and that put us on our heels a little bit… We needed to do more on defense, more attacking and more stops in that second half. And be more of a 40 minute defensive team."
"Those fouls" led to 15 points of 19 in free-throw shooting for Virginia, an accuracy of 79 percent as a team, which clinched the win for the Cavaliers. Two players executed free throws at 100 percent: Senior forward Moné Jones (2-2) and Willoughby (9-9).
"The fact that we shoot free throws every single day in practice is working," said Coach Thompson. "It is a part of our practice plan. We shoot them when we're tired, we shoot them at the beginning of practice, and we shoot them at the end. It's necessary for us to make free throws because of the type of team that we are.
"We're going to continue to attack. We want to score in transition and we want to score at the rim. So, when you're making attempts at the basket in that way, more times than not you're going to get fouled. So, we have to make free throws. It's an emphasis on just who we are as a personality. I'm glad that we shot the way we did tonight. It's what we expect and it's what we need to do."
The Cavaliers have a bye this Thursday before heading South to play at North Carolina on Sunday. They are feeling confident from their performance in their last two games but will continue to strive to improve even more.
"We can't rest on our laurels," commented Willoughby. "Two wins back-to-back is great for us. I don't think it's something we've done in the ACC so far this season, especially one over Duke. That's a team that we haven't beaten in years, so that definitely shows our growth as a team.
"We can't just say, 'Okay, two wins and that's enough for us,'" Willoughby continued. "It's like, 'Okay, this is great for us. We see it all coming together. We've been waiting for this moment, but we'll keep building on it.'"

Comments