Women's Lacrosse: Sonia LaMonica hired as new UVA head coach
Courtesy UVA Media Relations
Virginia women's lacrosse announced the hiring of Sonia LaMonica as its fourth head coach in program history, athletics director Carla Williams announced on Wednesday.
"Coach LaMonica is a fearless competitor who had a dominant career as a player at Maryland and as the head coach at Towson," Williams said. "She'll hit the ground running here at UVA. Her teams are tough, skilled and disciplined and Towson has competed with the best in women's lacrosse throughout her career. She is a wonderful person, coach and role model and she will be an amazing addition to our department and coaching roster. We are excited about the future of UVA Women's Lacrosse as we welcome Coach LaMonica and her family to Charlottesville."
LaMonica takes over UVA's storied program after serving as the head women's lacrosse coach at Towson for the last 14 seasons. At Towson, she amassed a 139-91 record and owns a 147-101 all-time coaching record after starting her head coaching career at Mount St. Mary's for one season.
"I'm excited and deeply humbled to be appointed as the head women's lacrosse coach for the University of Virginia," LaMonica said. "I would like to thank President Jim Ryan, Athletics Director Carla Williams and Deputy Athletics Director Steve Pritzker for this incredible opportunity and for their support throughout this process. It is abundantly evident that our vision and aspirations for the UVA women's lacrosse program are in alignment. Moreover, the University's outstanding reputation, incredible alumni support, and the solid groundwork already established provide an ideal environment to transform those aspirations into reality.
"It is an absolute honor to follow in the footsteps of a legend. Julie Myers' dedication and love for this program has been unwavering and a source of inspiration. Joining the esteemed Virginia athletics family, as well as embracing the vibrant Charlottesville community, represents a once-in-a-lifetime opportunity. I am eagerly anticipating the chance to work with these extraordinary student-athletes and further cultivate and solidify a winning culture at this wonderful, dynamic university. Go Hoos."
During her tenure at Towson, LaMonica led the Tigers to seven NCAA Tournament appearances and four Colonial Athletic Association (CAA) Tournament Championships. She has been named the CAA Coach of the Year five times.
Towson finished first or second in the CAA in 10 of her 14 seasons at the helm and made nine CAA tournament championship game appearances, including six-straight. LaMonica has coached six players to All-America honors and has had numerous All-CAA and All-Region honorees.
LaMonica consistently challenged her teams with tough schedules against top-ranked opponents. Towson finished .500 or better in 12 of the 14 seasons she oversaw the program, with one of the two being cut short due to the pandemic.
A native of Darlington, South Australia, LaMonica (pronounced La – MAHN – ick – uh) was named the 10th head coach in the history of the Towson women's lacrosse program after the 2010 season. She returned to lead the Tigers after a one-year stint as the head coach at Mount St. Mary's.
As the Mountaineers' head coach, LaMonica led Mount St. Mary's to an 8-9 record in 2010 and a berth in the Northeast Conference (NEC) semifinals. She coached five players who earned All-NEC honors.
Prior to becoming the Mountaineers' head coach, LaMonica spent two seasons as a member of Missy Doherty's staff at Towson and helped the Tigers win a pair of Colonial Athletic Association (CAA) championships.
Before joining the Tigers' staff, LaMonica was an assistant coach at the University of Denver, helping the Pioneers to a 15-5 record during the 2006 season. She coached the Mountain Pacific Sports Federation (MPSF) Player and Rookie of the Year along with three all-conference selections and the program's first IWLCA All-West/Midwest region honoree.
LaMonica is also the head coach of the Women's Professional Lacrosse League's (WPLL) Baltimore Brave. LaMonica led the Brave to the league championship in 2019 and guided the team to the title game in the inaugural season a year earlier.
In addition to her success as a coach, LaMonica is a member of the Australian National Team. She helped Australia win the gold medal at the 2005 World Cup Championship and a silver medal at the 2009 World Cup Championship. In the summer of 2013, LaMonica played a key role in helping Australia earn a bronze medal at the World Cup Championship in Canada.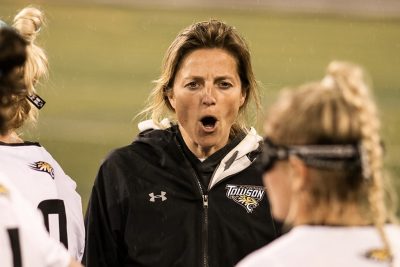 Named to the 2005 IFWLA All-World Team, she was also a member of the U-19 Australian National Team that won the silver medal at the 1999 World Championships and was also the recipient of the U21 South Australian Sportswoman of the Year award.
A 2003 graduate of Maryland, LaMonica was a three-year starter for the Terrapins. She earned first team All-America honors and was a candidate for the Tewaaraton Trophy during her senior season after leading Maryland to the Atlantic Coast Conference (ACC) championship. A team captain during her senior season, she was a member of three ACC championship teams and helped the Terrapins win the 2000 and 2001 NCAA titles.
LaMonica scored 111 goals in her college career, including 49 goals as a senior, along with 55 assists.
Formerly Sonia Judd, LaMonica is married to former Maryland men's lacrosse standout Michael LaMonica. The couple resides in Parkton, Md., with their sons, Luca and Bodhi and daughter, Marley.
Michael LaMonica, a member of the Towson coaching staff, will join Sonia as an assistant coach for the Cavaliers.